Some boat maintenance chores are simply a pain to do, and it's easy to let them slide a little longer than the recommended interval. We tell ourselves that we haven't noticed a problem with the _______, and it'll be okay if we don't do _______ right on time.
This story happened to a member of The Boat Galley team, Cory Nickerson. Cory gave me permission to share it to bring home the basic point that you never know when a problem may appear. And it may be not just a problem but a situation that could jeopardize your boat and life.
Cory's Story
Well. Almost lost the boat today.
So we were leaving Cave Cay Marina. Wind was perfect. Lines released and the wind is backing us out of the slip. Wind was moving the bow around into the right direction with no assistance. Nice and easy. When the bow was pointing where I wanted it I had Mendy put her in gear and give it some throttle for steerage.
So when you put a sailboat in gear at low throttle they are slow to respond. We were still going in the right direction however we didn't seem to pick up speed or gain steerage. After a few moments, I realized we didn't have any throttle going. Ran forward and dropped anchor. It's a small basin after only putting out 2 to 1 scope we were 120ft from the rocks. Scary but stable.
I went below and went through some tests the throttle cable worked but when in gear the shaft would spin very very slowly. At a loss at the moment, I radioed the marina for assistance getting back to the slip. The harbormaster, Shark, came out in a big skiff with a 115hp engine. We side tied to him so he could act as propulsion while we steered. I raised anchor and He waited for the boat to swing its nose in the right direction.
However, a keelboat doesn't steer until it has momentum for the water to act on the rudder so we just drifted. He was waiting for us to be pointing the right way and we couldn't point until he gave us throttle. I don't think we communicated well.
As I started getting concerned Mendy started yelling ROCKS. I looked back we were maybe 10 yards from drifting into the rocks on shore. I'm yelling ROCKS to Shark. He looks back and sees them; I start dropping anchor in a panic hoping to slow us down. Shark untied from our boat and quickly goes forward and ties to the front and starts accelerating away from the beach slowly inching us away from the rocks.
Finally, with some momentum, we get back to the slip weak in the knees and shaking a bit.
Whew.
Anyway, some idiot hasn't checked the tranny fluid in a while. Primarily because it's a pain in the ass to get to it. Takes 20 minutes just to empty the lazarette and get down there and another 20 to put it all back. It's topped up now and seems to be working fine.
And I'll admit, we've been guilty of the same thing. On Que Tal, our Tayana 37, the transmission dipstick was in a difficult to access location and didn't get checked as often as it should. Until one day when we hauled up the anchor and nothing happened when we put the boat in gear. Luckily, we were in a wide-open anchorage. You can bet we never put off checking the transmission fluid again . . . and practice plus a little rearranging of the lazarette meant that it wasn't nearly so hard to get to.
List of Boat Maintenance Chores
And while I've used two examples of checking the transmission fluid levels, there are plenty of other maintenance items that might be the missed one on another boat:
checking the fuel level
sight bowl for Racor (is there water in the fuel?)
changing fuel filters
gear linkage (check for fraying cable or loose connection)
bottom cleaning (a badly fouled bottom can make it almost impossible to build any speed or steer)
coolant full
alternator/serpentine belt not fraying
all hose clamps on engine cooling system — no leaks
watering batteries if using wet cells (a battery that won't hold a charge won't start an engine) — read about an easy way to water your batteries
Any of those can result in a boat that either doesn't motor period, or motors very poorly. And in a tight location or emergency situation, that could mean the difference between a nice, simple exit and losing the boat.
The Black Box Theory
Years ago, I read John Vigor's Black Box theory, which basically says that you never know what's going to happen out there, but when it does you want to be as prepared as possible. All you've got is your preventive maintenance and acts of good seamanship. I recommend reading it and then when you're tempted to put a chore off, decide instead to work on filling the black box up. It can never be too full.
P.S. One way to get points in that black box was suggested by a Facebook follower who read my original sharing of Cory's post: one of his standard procedures is to always put the engine in both forward and reverse before hoisting anchor or casting off dock lines. Now, why didn't I think of that?
Read Next
Like it? Pin it for later?

---
Our FREE Provisioning Spreadsheet
Wondering how much of what foods to take on your next trip? Know just how much to buy of what — all arranged by grocery store aisle — with our handy Provisioning Spreadsheet. Includes detailed instructions to edit it for your favorite foods, how much your family eats, and how long you'll be gone. No spreadsheet skills needed!
It's FREE — get it here.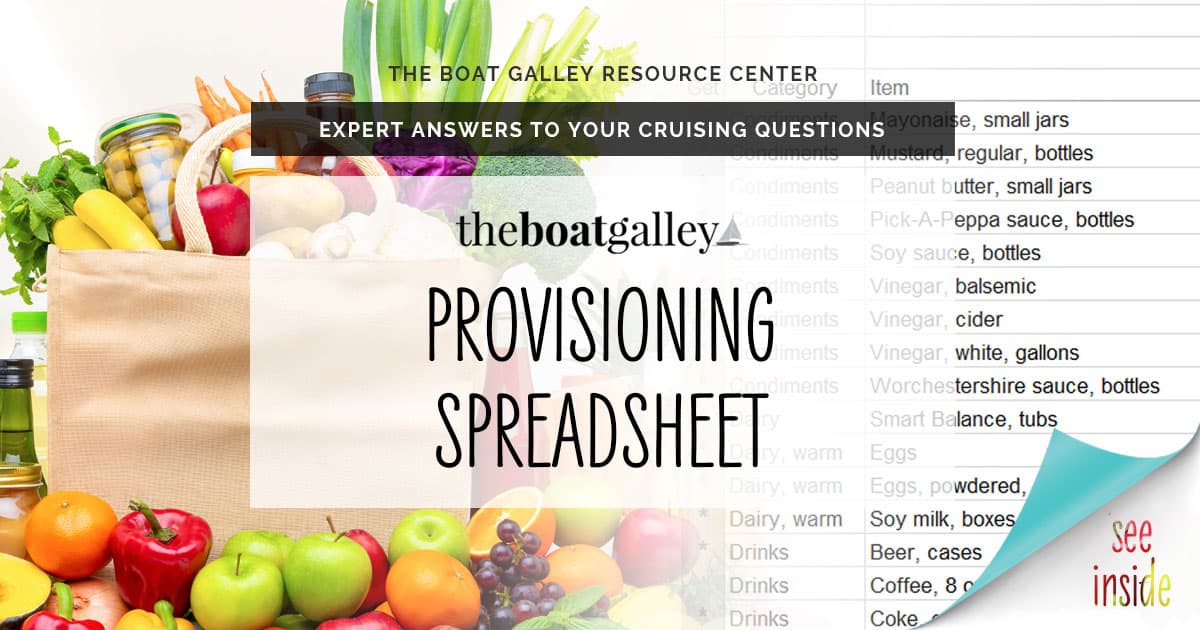 Some links above (including all Amazon links) are affiliate links, meaning that I earn from qualifying purchases. Learn more.