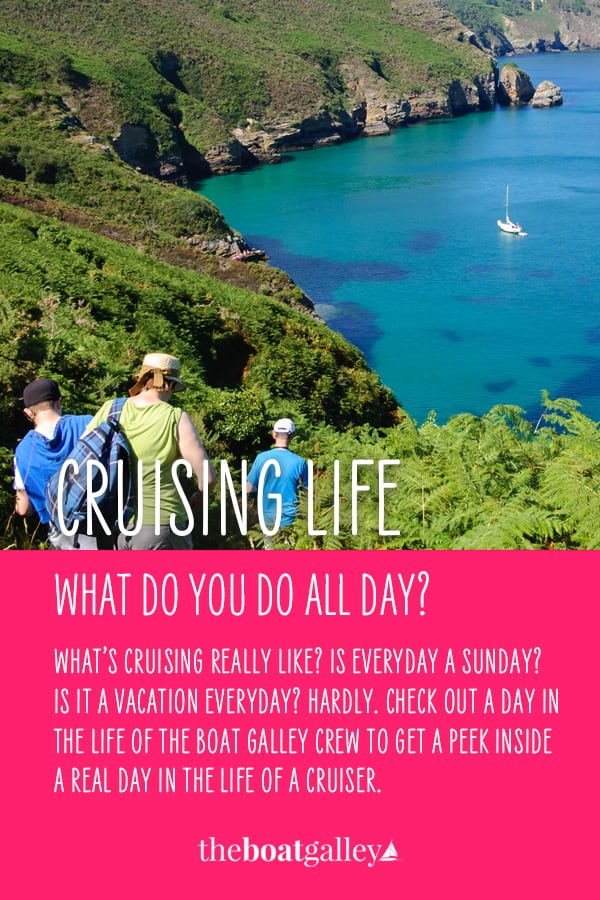 What's living on a boat and cruising really like? When most people dream of cruising, they tend to think of days being similar to what they are on a bareboat charter. In other words, vacation. Play.
There is a certain amount of that . . . but there's also a certain amount of "everyday life" and almost always at least a little bit of repair or maintenance.
No two days are ever identical, but a July day (when I originally wrote this piece in 2016) at Shroud Cay in the Bahamas was fairly typical of days when we aren't underway or visiting a town.
The previous day, we had said we'd like to explore an old well in a nearby cove and take our dog Paz to the beach, I hope to clean a bit of the boat bottom, and we've decided that the next day we're going to move to Warderick Wells Cay, about 20 miles away.
Living on a Boat at Anchor
Here's how our day actually played out:
7:30 AM
I get up and check email with the tiny bit of cell phone signal we have. More often, we have decent internet via the cell phone and I can check in on the blog and post pictures on Facebook. Not today. I double-check that the camera and handheld VHF did get plugged in to charge last night and are ready to go.
8:00 AM
Weather comes on the VHF at 8 and I listen and make notes while Dave and dog Paz wake up. While Paz is still half asleep, we do a bit of dog grooming.
8:30 AM
Dave lowers the dinghy, checks the gas in it, adds more (we're planning to go a couple miles and have done several other long trips in the last few days) and then he makes the bed and vacuums the carpets and settees while I fix breakfast and do other cleaning as I wait for the coffee water to boil.
Oops, partway through cooking the freshwater pump won't turn on. We do some quick checks to make sure it's nothing simple like a flipped circuit breaker. Nope, it's going to take more troubleshooting to determine if it's electrical, the pump motor or just the pressure switch. Good news, though: we have plenty of water in our filter dispenser and also in a jerry can so we can go explore this morning while it's cooler and then deal with the pump this afternoon.
10:00 AM
We're ready to go. Dog Paz can't go on the trails in the national park, so we make sure she's taken care of "business" on her piece of carpet on the bow (read more) and has plenty of water in her bowl. We leave all the hatches open for a nice breeze for her and also turn on a fan . . . but we do close the door to the cockpit so she can't go out on deck while we're gone.
For ourselves, we toss a couple of bottles of water, the camera and a handheld VHF into a day pack and go for our excursion. We both wear swimsuits with a t-shirt for sun protection and wear sturdy hiking sandals (Keens) – the trails generally have a lot of sharp rock.
We dinghy to the beach where the trail starts, and toss out the anchor in knee-deep water. We get out and wade to shore with the day pack and then stand to watch how the dinghy drifts in the wind and current. Darn! It's beaching itself . . . so I go back out, take the anchor out a little further, bury it well, and also shorten the rode. Good thing I wore the swimsuit as I ended up in water up to my waist!
It's not a long hike and we explore a bit of the area, then go back to the beach where we left the dinghy.
Here's Dave checking out the water from the well: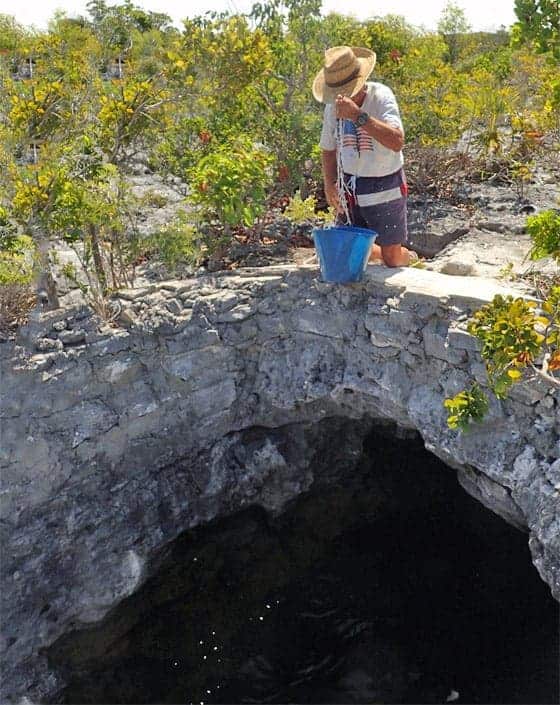 A quick swim to cool off, then it's back to the boat. We use our solar shower for a quick freshwater rinse in the cockpit so that we're not tracking salt into the salon.
Noon
I fix lunch and Dave gets out various tools for dealing with the water pump. Our email weather forecast has come in while we were gone this morning, so we look at that as we eat lunch. Nothing serious looming but it looks like our trip the next day will have about 10 miles pretty much straight into the wind.
Afternoon
Dave works on the pump, occasionally asking me to flip a circuit breaker or try the water faucet. I had hoped to do some bottom cleaning on the boat today, but he needs my assistance just often enough to make it impractical.
Instead, I plot the route for tomorrow's trip – I use Garmin HomePort to do it on the laptop and then transfer it to the chartplotter via SD card. (NOTE: So far, Garmin charts have been spot on; I believe they use Explorer data.) I double-check by looking at the route on our Explorer paper charts. As long as the charts and books are out, I do a bit of research on other nearby anchorages we might enjoy. Other days, I may write posts for The Boat Galley.
At the same time I'm doing the chart work, I bake a loaf of wheat bread for sandwiches (no stores in the national park) and also a loaf of zucchini bread that we can eat as breakfast underway tomorrow – the two can fit in the oven at the same time so I don't have to heat up the boat twice. I make some potato salad that we'll have with dinner and I run the watermaker.
5:00 PM
Dave has the pump fixed – it was the pressure switch, so he just had to clean up the contacts and didn't have to swap out pumps. He also found some problems in how the pump was mounted and corrected them – this is how a one-hour job takes three, but hopefully will avoid some problems in the future. Now, all the tools are put away and everything that had to be moved to get to the pump has been put back.
Good news – there's still time to take Paz to the beach for a nice long walk and some wading. We try hard to get her some good exercise the day before we're going to be traveling so she's tired and happy to nap when we're underway.
6:00 PM
Back on the boat and again a quick rinse to get the salt off (yes, Paz gets rinsed too – she's not just salty but has rolled in the sand numerous times). We sit in the cockpit with a cold beer, then I finish up dinner while Dave takes the motor off the dinghy in preparation for tomorrow's journey (it rides on the stern rail), then raises the dinghy in the davits and straps it down.
7:30 PM
Dinner in the cockpit and then we watch the sunset. We talk for a bit, and then Cyndi from Pablo's Girl texts us on our DeLorme inReach to see where we are. Yes! Our paths are going to cross on Thursday night and we make plans to share happy hour.
8:30 PM
Dave and I spend a bit of time just talking, but we want to get underway tomorrow at sunrise, so it's a early evening.
TL; DR – Living on a Boat
So that's a typical day, living on a boat. Some just normal life stuff – cooking, cleaning and making plans with friends – and some routine chores because of living on a boat and/or being in an out of the way anchorage – dog grooming, raising, lowering and gassing the dinghy, making bread, route planning, weather checking and running the watermaker. Then there's the unexpected boat work in having to fix the pump instead of the "planned" work on cleaning the bottom. Finally, we had two bits of fun – the hike to the well and taking Paz to the beach. Life's good.
Related Posts
This post was originally written in August 2016. It was substantially expanded in March 2020.
Some links in this article (including all Amazon links) are affiliate links, meaning that we earn from qualifying purchases.