Instead of taking along a bunch of canned kidney beans, black beans and so on — with the space and weight they take — use Thermos cooking to prepare dried beans for use in other recipes. If you haven't heard of Thermos cooking, you can read more about it here. No need for you to spend hours watching a pot on the stove — or put all that heat into the boat.
UPDATE: For larger quantities, and for cooking main dishes, take a look at a thermal cooker (I love mine!).
This makes the equivalent of one typical can of beans, such as kidney beans, pinto beans, black beans – whatever.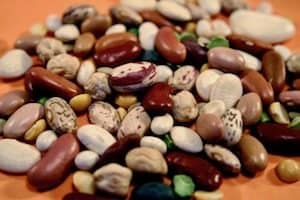 Dried Beans In A Thermos
Cooking dried beans in a thermos is an easy way to prepare them to use in another recipe – do something else while they cook. Less sodium and easier to store than canned beans.
Print Recipe
Pin Recipe
Ingredients
3/4

cup

dried beans

Water
Instructions
Preheat a 16-ounce Thermos by filling it with boiling water.  Cap it and let it sit for at least 3 minutes.

While the Thermos is preheating, measure the beans and check through the dried beans for stones or anything else that's not a dried bean.  If the beans were purchased in bulk, rinse them.

Put the beans and 1 cup water into a covered saucepan.  Do NOT add salt or salty spices, as these will toughen the beans and increase the cooking time.  Bring beans to a boil over high heat and let boil 5 minutes.

Pour the hot water out of the Thermos and save it.  Put the boiling beans and water into the Thermos.  If the Thermos is not quite full, add some of the reserved water until the water is about 1/2" below where the stopper will be.  Let the beans sit in the Thermos for at least 2 hours – this is the equivalent of soaking overnight.

At the end of this time, drain the beans and discard the water.  Discarding the water considerably reduces the "gassiness" of the beans but if you're really short on water, you can re-use it.  Be sure to re-stopper the Thermos as soon as you remove the beans to keep the heat in.

Place the beans in a covered pan and add 1 cup water (you can use more of the saved water from when you preheated the Thermos).  Still don't add salt!  Boil for 10 minutes.

Pour the beans back into the Thermos, again adding additional boiling water if needed. Put the stopper back on the Thermos and let it sit for at least 3 hours.  You're now "cooking" the beans.

At the end of the time, open the Thermos and try a bean.  It should not be hard, although it won't be as "mushy" as canned beans.  Don't be alarmed by the taste – remember that you haven't added any salt yet.

If the beans weren't done, replace the stopper and let them sit for another hour, then try again.

When done, add salt or spices as desired, then use in any recipe in place of one can (15 to 16 ounces) of beans.  If the recipe calls for draining the can of beans, discard the water; otherwise include it – or replace it with an equal amount of fresh water if you want to further reduce the beans' gassiness.
Notes
This recipe is designed for use with a 16-ounce Thermos (find it on Amazon). You can double or triple the recipe in a 34-ounce or 48 ounce Thermos, or if you only want one batch in a larger Thermos, you'll still need to fill it with water (if you leave the Thermos only half full, it will not cook properly).
For this to work properly, you need a good Thermos.  Read about what I think are the best Thermos bottles. If you didn't see steam when you first opened the Thermos, you need to re-heat the beans – and know for future recipes that your bottle doesn't hold heat well and needs to be frequently reheated.
Nutrition Facts
Dried Beans In A Thermos
Amount Per Serving
Calories 116
% Daily Value*
Fat 0g0%
Cholesterol 0mg0%
Sodium 4mg0%
Potassium 468mg13%
Carbohydrates 21g7%
Protein 7g14%
Vitamin C 1.6mg2%
Calcium 29mg3%
Iron 2.3mg13%
* Percent Daily Values are based on a 2000 calorie diet.
Want over 800 boat-friendly recipes, over 100 substitutions, and tons of tips for cooking on a boat?


Some links in this article (including all Amazon links) are affiliate links, meaning that we earn from qualifying purchases.