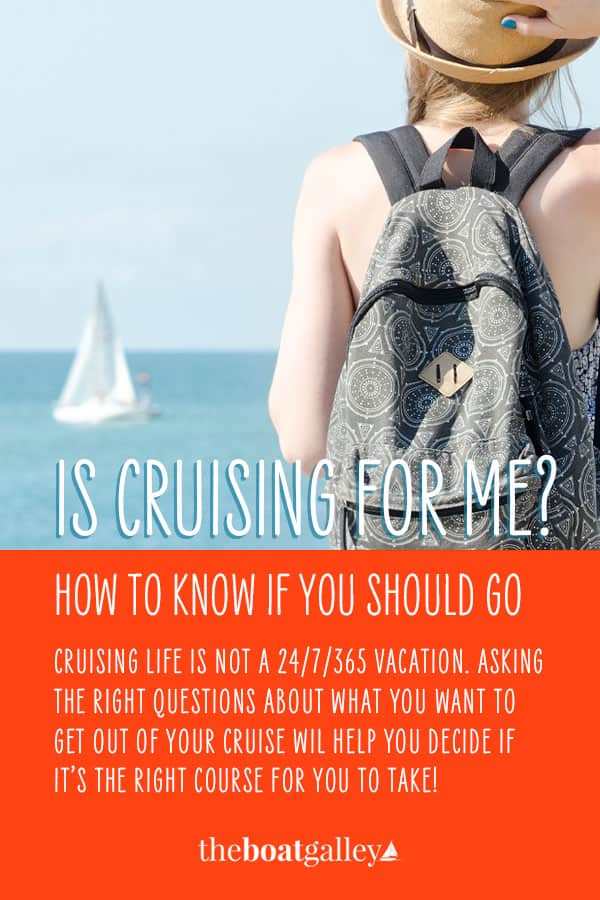 Should I go cruising? That's a huge question and yet one that I know many people are wrestling with. Dave and I tossed it around for a couple of years before we finally decided to buy a boat and go.
No one can make the decision for you, and it's more complex the more people in your family. But I can tell you the things that went into our decision and give you some other things that might play into yours.
Get Discover Living on a Boat (free mini-course). Explore whether cruising is right for you, from the lifestyle to the cost and ways to afford it.
Go Places You Couldn't Otherwise
One of the biggest reasons to go cruising is to go places you simply can't easily visit otherwise.
In the Sea of Cortez, there are some charters that do day trips to a few of the islands and perhaps offer fishing or snorkeling. But there are hundreds more delightful islands with great hiking and pristine snorkeling. Having our own boat let us explore them at our own pace, lingering as long as we wanted and spending nights under exceptionally clear skies filled with more stars than I knew existed.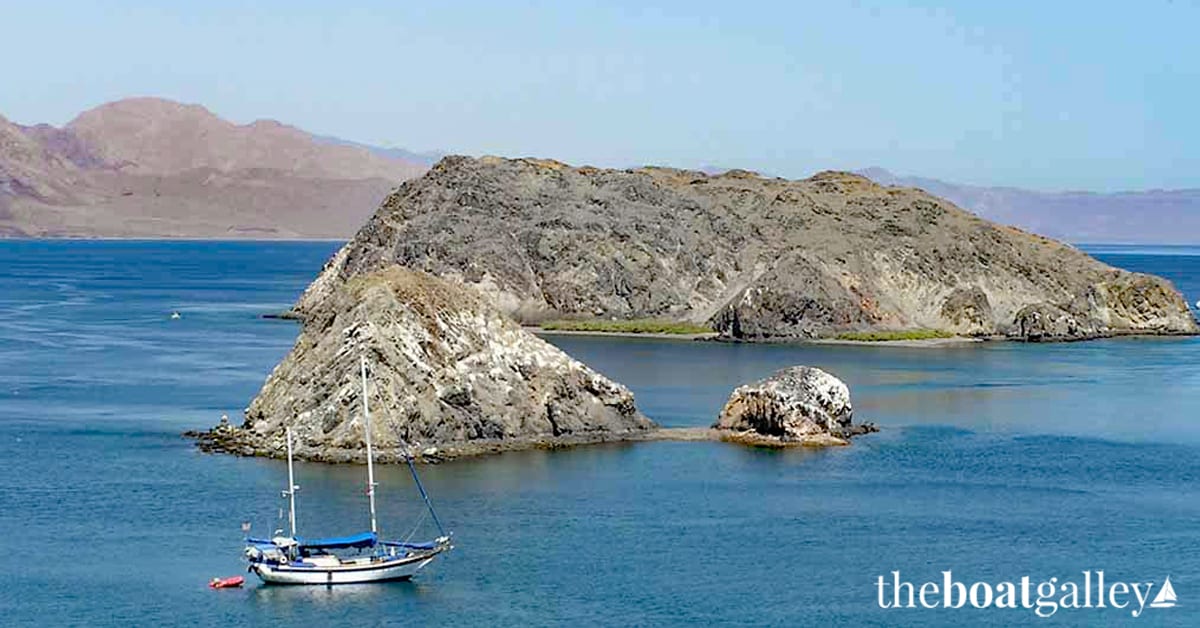 In the Caribbean, you can visit less touristed islands and bays that you might never discover otherwise.
Even in the US, cruising the Great Loop will show you areas that are hard to get to by car (and you certainly can't sleep beside the Statue of Liberty when traveling by land, but you can anchor there for the night).
All around the world, there are places that are just more accessible by boat. The flip side, of course, is what about all the places you may want to visit inland. Sometimes we did day trips, leaving the boat at anchor. Other times, we put the boat in a marina or on the hard while we traveled for longer periods.
Self-Sufficiency and DIY
We liked the idea of being responsible for ourselves and doing a lot of our own work on the boat. As we've cruised, it's become both a source of pride and a frustration.
Having to do your own maintenance, repair, routing, weather decisions and being responsible for everyone aboard's safety is something to think about very seriously as I think these are issues that cause more people to give up cruising than any others.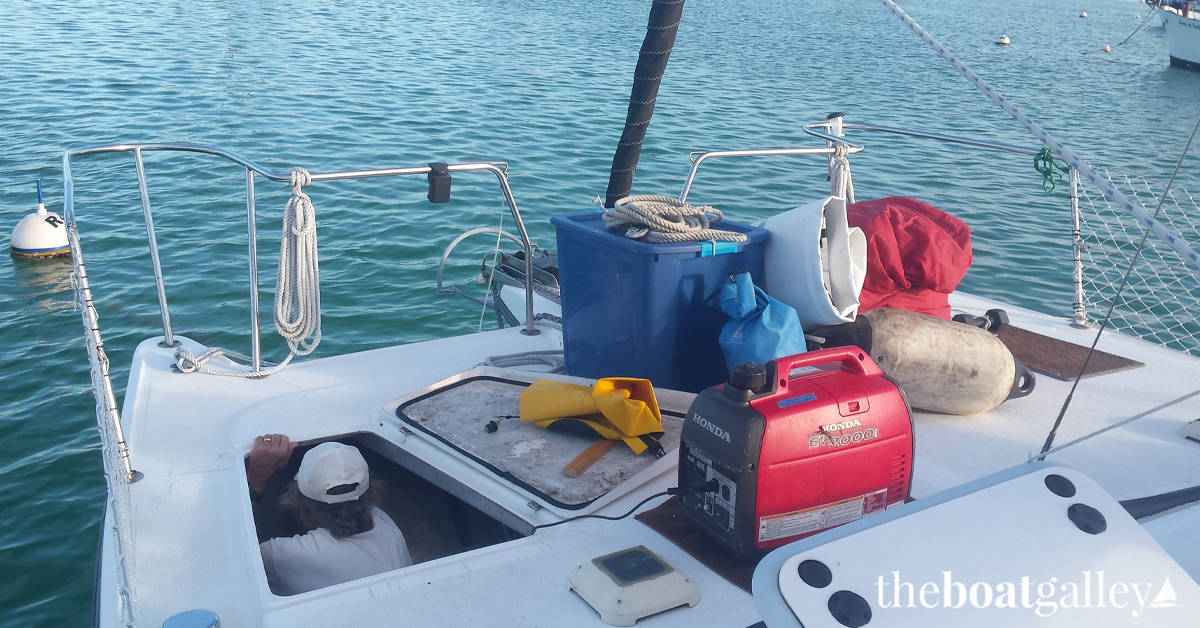 Being responsible for yourself sounds wonderful. But most people don't find the reality of a squall during a 3AM offshore watch nearly as romantic as being self-sufficient sounds. Or having your engine die where there is no one but you to fix it. Navigating your way though a narrow rocky channel. The day-to-day weather decisions: is it a good day to travel or should we stay put?
Now, there's a tremendous feeling of accomplishment when you meet the challenge and successfully deal with the situation. But as you are dealing with it, there will be times when you doubt yourself to the core of your being and wonder why you ever embarked on this life.
Some people thrive on those kinds of challenges and others come to hate them so much that they decide to go back to land life.
This is really more of a mindset issue than already having a certain set of skills. I've seen plenty of people who started out timid grow into competent and self-assured cruisers. I've also seen cruisers who seemed to have all the skills be overwhelmed by the responsibility for all their own decisions when there are no backups or bailouts.
Either you like this part of cruising or it becomes such a burden as to make the life untenable.
Adventure
To me, adventure means more than an average amount of uncertainty. Not having a pretty good idea how something will turn out.
Cruising, with constantly putting yourself in new situations and facing new challenges, is adventurous in that regard. Now the amount of adventure can be regulated to some extent. Some things are a little unknown and others potentially more dangerous:
the ICW is more of a known quantity than the whole Great Loop;
the Abacos and Exumas in the Bahamas aren't as remote as the Ragged Islands and Jumentos; and
cruising the Caribbean is generally tamer than the Northwest Passage or the Chilean Fjords and Cape Horn.
Can you embrace uncertainty? How about hurricane season? How much physical discomfort can you put up with in order to have some amazing experiences?
Interaction with Local Communities
Cruising puts you in contact with the local community in a way that traveling by land rarely does. You are living in your own home wherever you are: shopping for groceries, clothing and boat parts; hiring mechanics and workers; eating at the local (budget) restaurants and not the tourist ones; finding local stores for everything you need; getting local health care and so much more.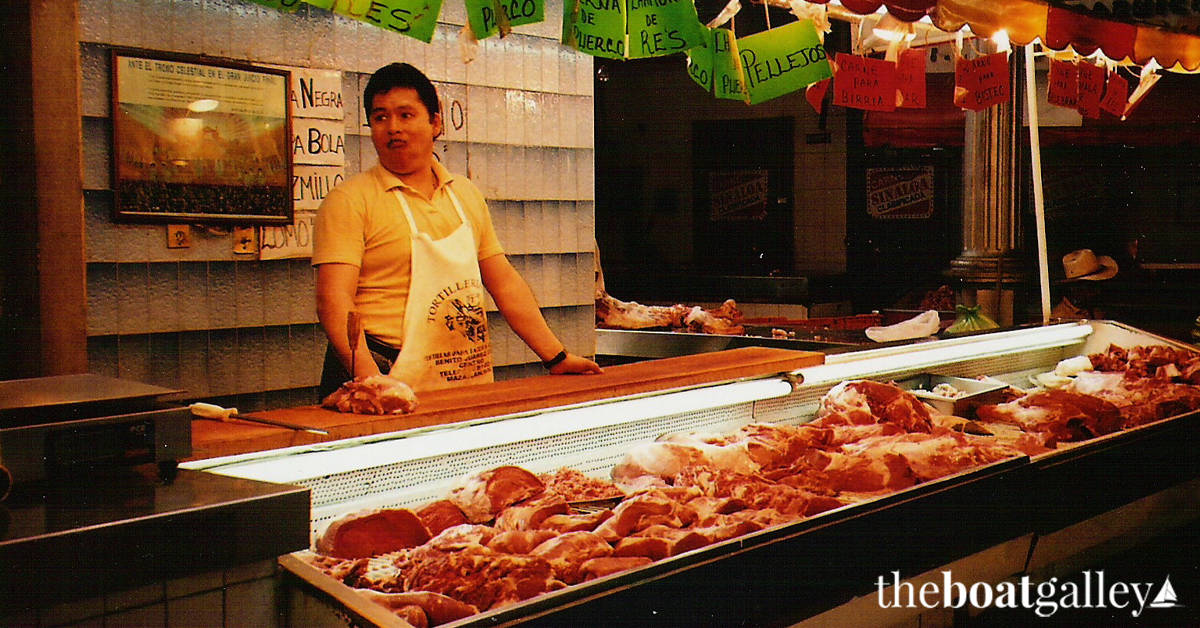 Spending three months in El Salvador gave me a great deal of insight into the country and its problems following years of civil war although I can't begin to claim a comprehensive understanding.
Six years in the Sea of Cortez let me get to know fishermen who realize that the Sea has been overfished, yet are just trying to eek out another day's food for their family even if that involves catching fish that are already in short supply.
My immersion into local communities has let me see multiple sides to many issues, and that's true even here in my home country, the US. You just don't get the same experience when traveling by land and staying in hotels and resorts.
The counter is that you are always having to figure out the local scene. How do the government offices work? Where can I buy shoes that fit American-sized feet? Where do I get shots for the next country I plan to visit?
Parents, Kids and Grandkids
Family obligations can play a big part in cruising plans. Everyone's situation is different, but most often something can be worked out. 
Solutions can range from part-year cruising and being "home" part of the year to be near loved ones and/or help with their care to planned trips "home" on a set schedule. Or, instead of going home to see the grandkids, how about inviting them for a visit and show them what boat life is all about?
Aging parents or adult-aged children who cannot live independently are tougher. Often you can work with other family members to come up with an arrangement that works for all of you. Satellite communications, such as the Garmin inReach or IridiumGO, can help a lot in these situations. There also needs to be a substantial line item in the budget for emergency trips home.
In most cases, family obligations don't have to totally preclude cruising, but they may dictate some of the where and when.
Health
While it's possible to cruise with a number of health issues, it certainly is easier if you're in good health. You never know what the future may bring. Putting off cruising may mean that you're cruising with a health challenge that limits you — but that's still better than not cruising at all.
Still, you have to be realistic about any health problems that you do have and the limits that they will put on your cruising.
Budget
You don't have to be independently wealthy to take off cruising, as long as you're willing to work as you cruise or live on whatever budget you can afford. The problem comes when the lifestyle afforded by the budget isn't the cruising life that was dreamed about.
Cruising boats can be purchased at all sorts of price points and I know people who cruise on a barebones budget of just $500 a month. But before opting for such a minimalist life, take a good look at the trade offs entailed and make sure that you and everyone else aboard are willing to live that way in order to go cruising.
Bottom Line
Back in 2002, Dave and I traveled to Turkey for 6 weeks — 3 on land and 3 on a captained charter. Towards the end of the trip, walking around the marina next to where our boat was docked, Dave looked at me and said "You know, I'm 64. I'm not getting any younger. If we're going to do this, we need to just do it. Or stop talking about it. We think we'll like it but the only way to be sure is to do it."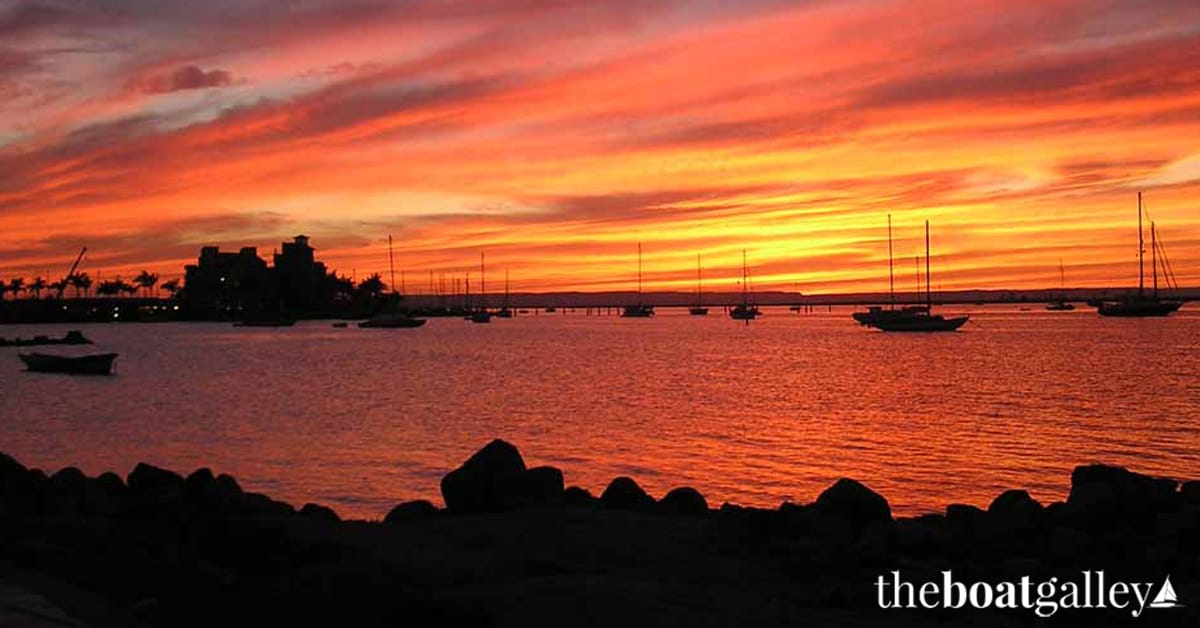 Less than a month later, we closed on a boat in Mexico; six months after that, we'd closed up our apartment, moved aboard and cast off the dock lines.
We didn't totally sell everything though. We decided that we could keep renting our apartment for a year while we "tried it out." If we decided cruising wasn't for us, we'd have to sell the boat but at least we'd still have our land life reasonably intact.
We ended up loving cruising and gave up the apartment and sold everything about eight months later. But knowing that we had that safety net made it a lot less scary to say YES! to buying a boat and taking off.
So, should YOU go cruising? I don't know. If you see cruising as palm trees, pina coladas and perfect sailing days, you're going to be disappointed. If you see it as challenging you to do more than you think you can, to step out of your comfort zone and to have some amazing adventures — even at the cost of some discomfort — you might just have the time of your life. And you might even have a few of those elusive perfect days.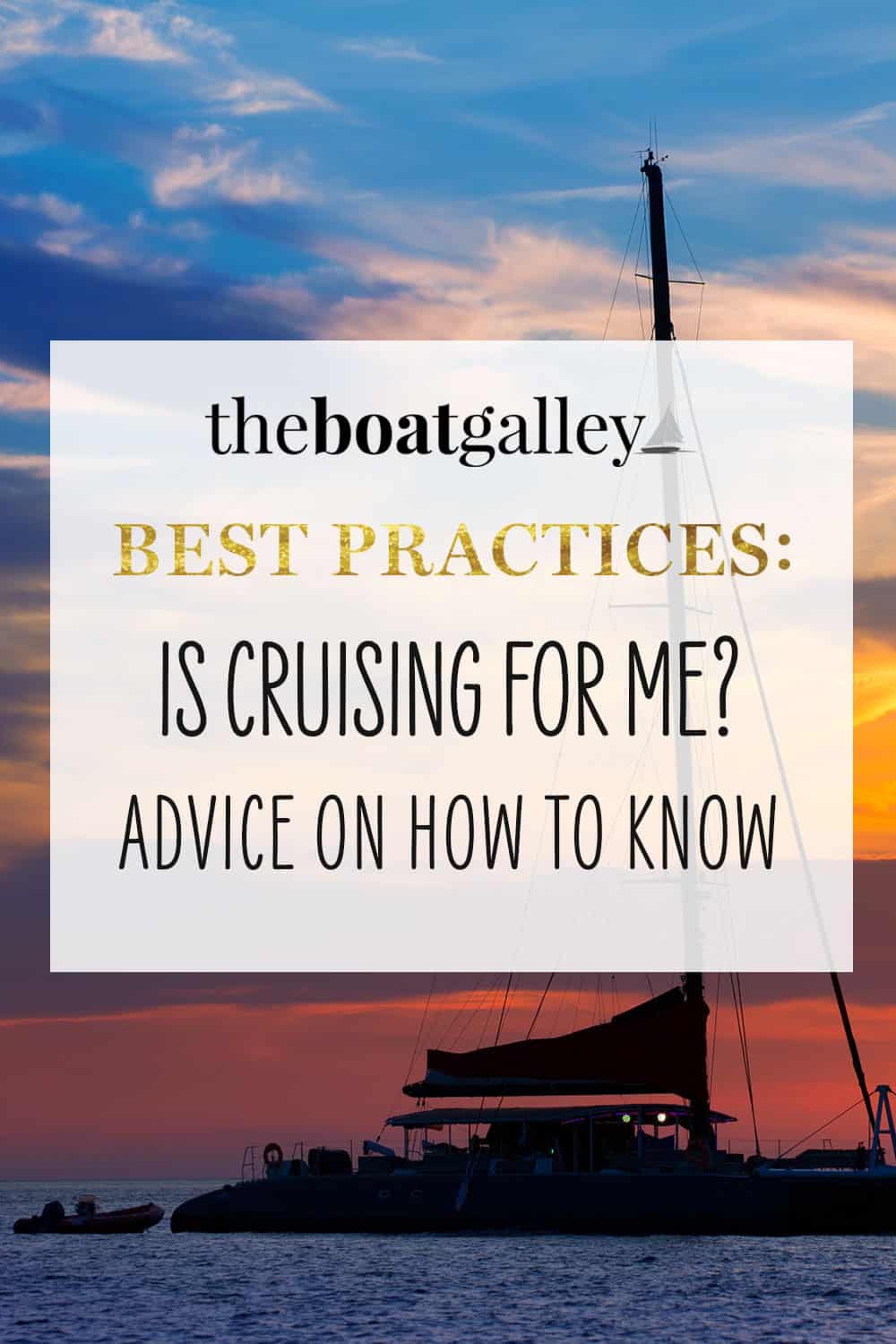 Some links above (including all Amazon links) are affiliate links, meaning that I earn from qualifying purchases. Learn more.