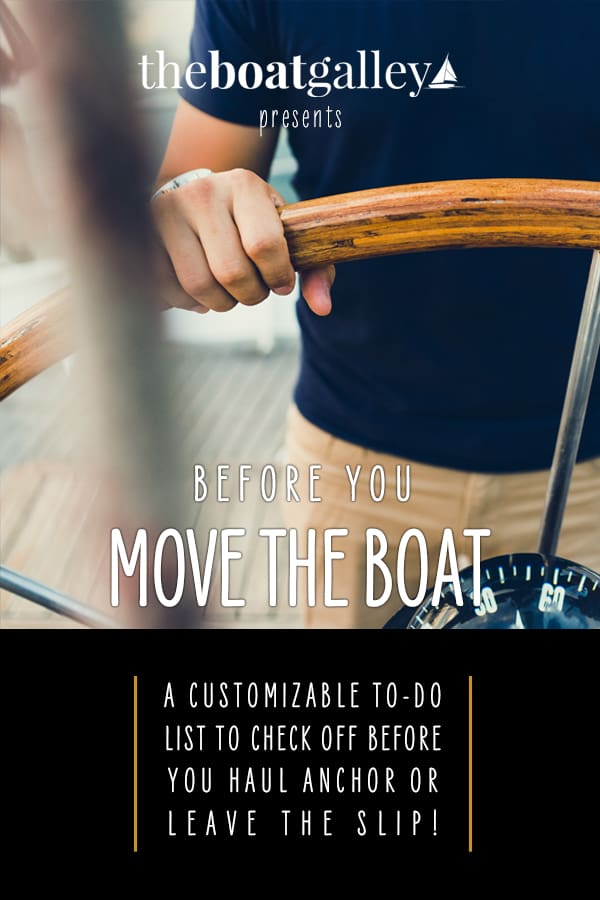 Everybody needs a boating checklist — things that you need to remember to do before you get underway.
Why You Need a Checklist
As you get ready to leave the marina slip or weigh anchor, do you find yourself wondering what you've forgotten to do? Whether it's double-checking that all lockers are latched (so no cans will become missiles), or closing all the hatches and portholes, it seemed that Dave and I usually managed to miss something.
Tired of drying dishes sliding off the counter, cans falling out of lockers, dragging a bag of clams and more, Dave and I developed a "Before Moving the Boat" checklist. Now, this is just the stuff to prep the boat in general — not the things like checking the engine coolant and oil, which are also important. There's a list of general engine checks at the end of Not-So-Easy Maintenance Chores.
Create Your Boating Checklist
If you want such a checklist for yourself, I've made mine into a downloadable editable Word doc (get it for free as part of Documents for Boat Owners & Buyers). But you'll have to customize it for your own boat — you may not have to move a rug or get the dog's leash out, for example. And over time, we changed some items and added others — initially, it seemed that we added items almost every time we went anywhere!
There are lots of columns so that I don't need to print one off each time we leave an anchorage/marina. My way of using it is to check everything off as I do it — or if it doesn't apply. Then, literally immediately before hoisting the anchor or casting off the dock lines, I double-check the list to make sure there is a check mark in every box in today's column.
We taped it inside the cover of our log . . . and yes, you'll see that I wasn't always perfect about checking off the items that didn't apply!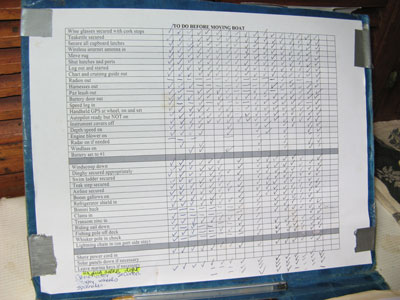 Get the .doc template to create your own "Before Moving Boat" checklist in Documents for Boat Buyers and Owners. It's a FREE collection of six editable documents and checklists.
This was originally written in July 2013 and substantially updated in March 2020.
Read Next
Some links in this article (including all Amazon links) are affiliate links, meaning that we earn from qualifying purchases.