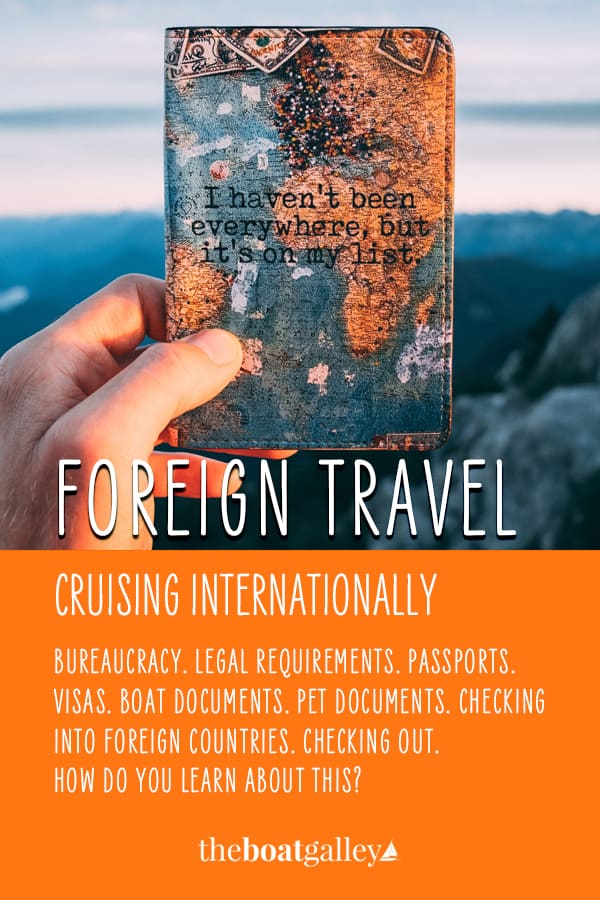 International cruising. Bureaucracy. Legal requirements. Passports. Visas. Boat documents. Pet documents. Checking into foreign countries. Checking out.
Ugh! How do you learn about international cruising? Do the rules change from country to country?
It's best to start learning several months before you plan to leave one country for another, as some requirements – such as visas or pet requirements – can take a while to complete.
We use a combination of several resources. I cannot stress enough not to rely on any one source by itself, check the dates when the information was updated, and be aware that things can change at any time, literally right up to the minute you check in.
NOONSITE
Noonsite provides up-to-date information about almost every country in the world and its marine facilities. The "Formalities" section for every country is checked with the relevant authorities and should be up-to-date. Much of the other information is provided by other cruisers and it's usually recent, but always check dates.
Noonsite also has detailed information about cruising routes, lists of cruisers' nets (ham, SSB, VHF), piracy reports and avoidance techniques and more – poke around in their menus and you'll be amazed at what all is there.
OFFICIAL WEBSITES
Most countries have websites with their legal requirements spelled out, although many times they're written more for tourists arriving by air or land or even cruise ships, but not for those arriving by private boat. While it's not bad to check these sites, Noonsite and cruiser-to-cruiser information may be more applicable.
CRUISING GUIDES
Cruising guides for virtually any area will tell you the legal requirements for entry and how long you can stay, etc. But watch out – printed information is outdated almost as soon as it comes off the printing press! Be especially careful when using older cruising guides (not just for legal requirements but also on details of where to check in – we once walked three miles in the wrong direction as the port captain's office had moved). We try to have at least two – if not more – cruising guides for any area we're going as different authors tend to cover things differently and with a different emphasis.
There are also many PDF cruising guides available, created by other cruisers. Many are exceptionally good but check when they were researched and written as well as what other cruisers think of them and their accuracy.
How do you know what cruising guides to buy? I usually ask for recommendations from the other sources listed below, and also Google "name of place" + cruising guide. I find that out of date and out of print ones often still have a great deal of good background information about a place, but shouldn't be relied upon for navigation or legal details.
ACTIVE CAPTAIN and other crowd-sourced information
Active Captain and other crowd-sourced data can be some of the best international cruising information you'll find, but again try to verify what you're told. Instead of looking just at the average number of stars that a particular place gets, read the actual reviews. Check who is providing that "local knowledge" and so on. And if something strikes you as being off, double and triple-check with other sources. AC is pretty well vetted for accuracy, but not all crowd-sourced information is.
CRUISER-TO-CRUISER INFORMATION
Cruisers have always shared information. Three and four hundred years ago, ships sighting each other in the middle of the ocean would drop sail and row to each other to trade what they knew of the route ahead. Today, with the internet, there are so many sources of cruiser information that it can be like trying to drink from a fire hose. The problem isn't in finding information, it's knowing what information is reliable. This is one reason that we start researching early and compare one source to another. In the various groups, it'll become apparent who gives solid information and who may tend to exaggerate or repeat what a friend of a friend may have said, and not what they have experienced first hand.
Facebook Groups
Facebook groups have sprung up for almost every cruising area in the world, and I won't try to list them all here. Some are very active with lots of detailed and highly accurate information; others are primarily armchair cruisers who talk about things they've only heard about and not experienced, or have disintegrated into political rants, photos of hot bods or other less-than-helpful genres. Since most require you to join to see posts, you won't necessarily be able to tell which are the useful ones before you join; I simply quietly leave the ones that I don't find helpful. One that I find exceptionally good is Women Who Sail (yes, you do have to be female, but "sail" is broadly interpreted to include motorboats) – virtually every aspect of boating and cruising is covered, including the legal requirements and social expectations of visiting foreign countries.
To find groups, do a Facebook search on terms such as "sailing" (yes, even if you're a powerboat), "boating" or "cruising" and the name(s) of places you're interested in. Usually, once you're in one, you'll find out about others.
Forums
There are lots of cruiser forums out there. Unfortunately, many have gotten a reputation for being inhospitable to newbies, either making fun of questions that are asked or derailing any serious discussion. The concept of a forum is great and they are much more easily searched than either the Yahoo or Facebook Groups, it's just much harder to find good info on them. That said, I've often found good info on Cruiser's Forum and the SSCA Forums.
Read Next:
Some links in this article (including all Amazon links) are affiliate links, meaning that we earn from qualifying purchases.