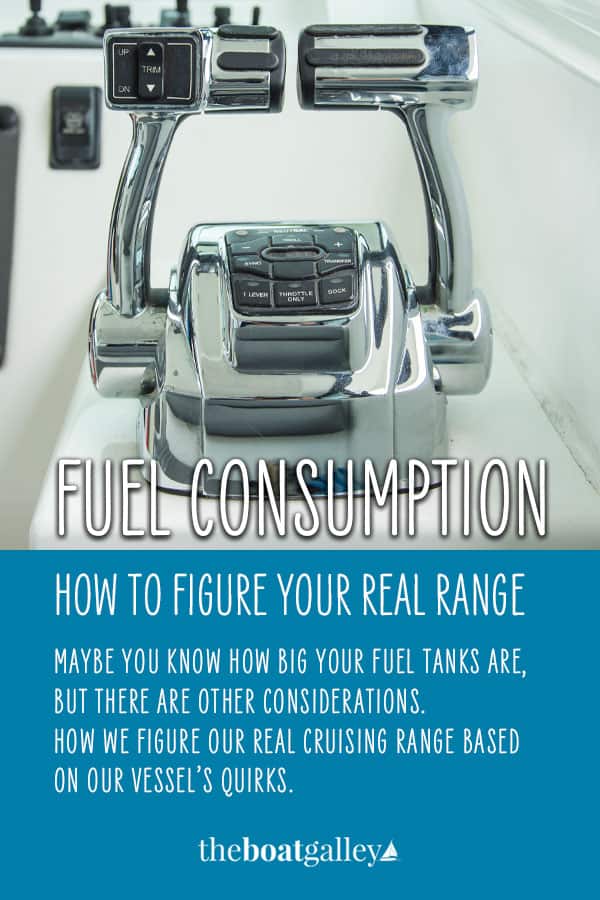 What's your boat's REAL fuel capacity? And from that, how do you calculate your boat fuel range?
Most of us know what the fuel tanks on our boats are spec'd out at, and somewhere along the way we've probably figured out how much fuel we burn per hour at various speeds. And from there, you can come up with a good guess at how many hours of fuel you have and how many miles that might get you.
CALCULATING YOUR BOAT FUEL RANGE
For example, if you have two 18-gallon tanks (as we do) and we burn about 3/4 of a gallon of fuel per hour at 5 knots, that means:
(36 / .75) * 5 = 240 miles
Gallons divided by gallons per hour to get number of hours; then multiply that by average speed to get range
But do we really have that many miles?
YOUR REAL FUEL RANGE
When we were cruising the Bahamas, it hit us that what we thought was our fuel capacity really wasn't.
Barefoot Gal has two 18-gallon diesel tanks. But we can't put a full 18 gallons in each:
With the motion of the boat, some fuel will come out the tank vent if it's "fully" filled.
Even if we didn't have a problem with the tank vent (which we didn't on our previous boat), it's hard to get the tank just exactly full but not overly full. Spilling diesel is not good in general, and can lead to some pretty nasty fines.
Consequently, we fill each to about the 16-gallon mark, give or take a bit.
But the bigger discrepancy comes on how much of the tank is "usable," for lack of a better term:
The pick-up tube in the tank does not extend to the bottom of the tank in order to avoid picking up crud (and water) that settles to the bottom.
Fuel sloshes with the movement of the boat and will expose the bottom of the pick-up tube if we let the level get too low. Then air will get into the fuel line and the engine will cut out.
We've discovered that letting the fuel level get below one-quarter tank is asking for trouble. That's leaving about 4-1/2 gallons in the tank.
So, we start out with an 18 gallon tank that we fill to only the 16 gallon mark. Then we can't use the last 4-1/2 gallons, so we really have 11-1/2 usable gallons of fuel in each tank.
So our usable range is more like:
(23/ .75) * 5 = 153 miles
Wow. That's over a third less fuel than we think of our boat as carrying and hence over a third less range. And that makes a HUGE difference as far as how often we need to check the actual fuel level (our tank gauges are notoriously inaccurate), when we need to fill from our jerry cans and how often we have to buy more fuel.
Now everyone's tanks are configured differently, so our numbers are likely to be different from yours as far as how far we can fill the tank and how much we can really use. For example, we were told that our Tayana had a 100-gallon tank, but we'd overflow the tank vent at 90 . . . so we learned to stop filling about an inch below that (we measured the level with a stick), which was about 85 gallons. And since that tank was an inverted pyramid shape, we only "lost" about two gallons at the bottom. So 83 usable gallons out of a supposed 100.
It's easy to forget that you can't completely empty a tank and think that you have the full amount of fuel that your gauge (or stick) shows. To remind us that we don't, we put a note right on our measuring stick and also one in both our trip log and fuel log reminding us what level not to go below.
IN A PINCH
If we ever do get desperate, having two tanks will actually help us. We can pump that last quarter tank from one tank into the other, and then we are able to use it since it's made that tank half full (assuming it was down to one-quarter to start).
Now, remember how one of my first points about the reason that the fuel pickup tube doesn't extend all the way to the bottom of the tank? How that's where any sediment, crud and water in the tank will collect? So be SURE to filter the fuel as you put it into the other tank! We have an old Baja filter, which works wonderfully. Unfortunately, they're not made any longer. The best replacement I've been able to find:
So how to get the fuel out of one tank? I've written about it before in the context of DIY Fuel Polishing, but one of the handiest things we've bought for the boat is a drill-powered diesel transfer pump (IMPORTANT: if your boat uses gas, you need a pump designed for gasoline to avoid an explosion — don't use the ones I list here for diesel):
Jabsco Drill Pump on Amazon (same one as we have although we bought ours in an "emergency" situation at West Marine for quite a bit more) — we use ours with a Ryobi Cordless Drill and the lithium battery packs (we can pump one 18-gallon tank out completely with one fully-charged battery and there's still juice left in the battery).

Another option is a 12 volt Diesel Transfer Pump with Alligator Clips on Amazon — we do not have this but friends do and are happy with it. The big thing is having power available (you can replace the alligator clips with a cigarette lighter style plug if you have a handy outlet, too).
In a pinch, you can use a squeeze ball "pump" (such as is on an outboard fuel line) with open ends to transfer fuel from one tank to another. It's a tiring job, but it works.
Whatever pump you use, a weight on the end of the pickup hose will make it so that you can get all the contents of the fuel tank. Dave had some weird fitting — basically a bolt with a hole through it — but a couple of stainless nuts work too (use something that won't rust). Make a hole through the tubing and use a piece of seizing wire to keep the weight from slipping off.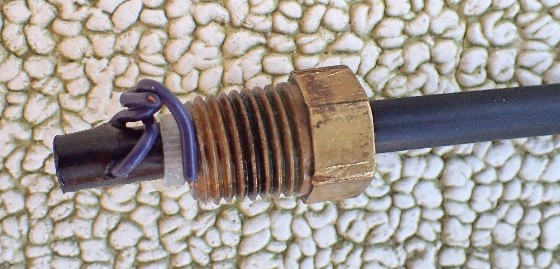 All in all, it's better to know just how far your fuel really will get you and to fill up before you're running on fumes!
Read Next
---
Our FREE Provisioning Spreadsheet
Wondering how much of what foods to take on your next trip? Know just how much to buy of what — all arranged by grocery store aisle — with our handy Provisioning Spreadsheet. Includes detailed instructions to edit it for your favorite foods, how much your family eats, and how long you'll be gone. No spreadsheet skills needed!
It's FREE — get it here.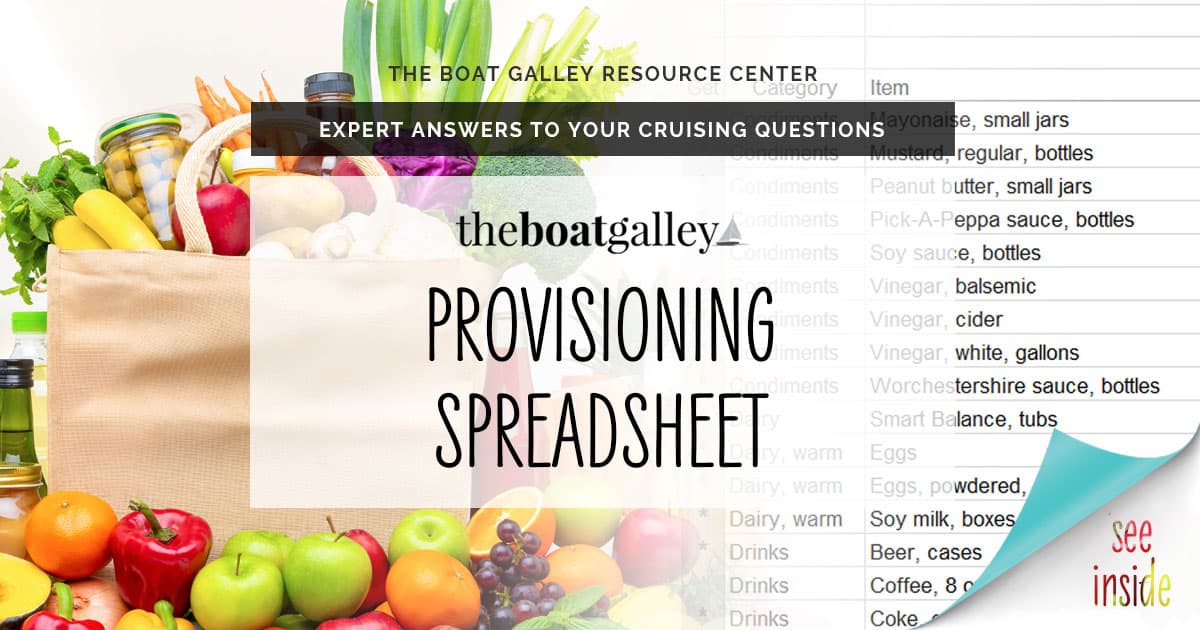 Some links above (including all Amazon links) are affiliate links, meaning that I earn from qualifying purchases. Learn more.