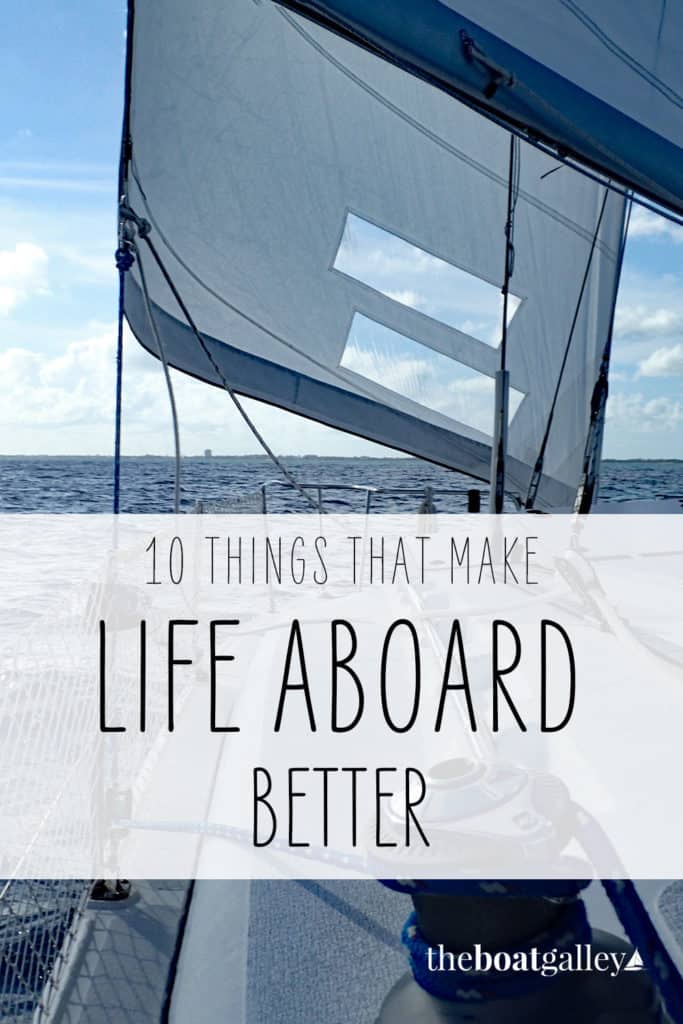 Okay, life on a boat is pretty good. But these ten things make it even better.
Power. Constantly having to limit your electrical usage is not a nice lifestyle. We had 453 watts of solar power on our previous boat in the Sea of Cortez (very sunny) and then added a Honda generator. While we were still careful not to waste electricity, there was enough power for me to write and edit photos on the computer, to have plenty of light to read by in the evenings, for a really bright work light when dealing with problems, running the refrigerator 57 minutes of every hour in the worst of the summer heat, running enough fans to be comfortable . . . and for Dave to make microwave popcorn when he wanted to. Read about our solar power on our current boat.
Great mattress. If I don't sleep well, nothing's going to go well. Previous owners had put a custom Handcraft Mattress on our previous boat and it was wonderful. They aren't cheap, but it's a very worthwhile "luxury." Actually, to me, a good night's sleep is not a luxury but a necessity — sleep deprivation is the seed of many poor decisions and cranky people. We did things a little differently on our current boat — read how we sleep well.
Dinghy 2.0. Dinghy 1.0 was a roll-up with relatively small tubes and a 6 HP motor. No way would it plane and it was downright scary when we had to return to the boat through white caps. Dinghy 1.5 saw a new-to-us 8 HP motor. Better, but still no planing and then the motor started becoming unreliable. It limited where we hiked and snorkeled. When we finally bit the bullet and got Dinghy 2.0 — a new 10′ RIB with big tubes, new 15 HP outboard and a crane for the motor, the difference was amazing. We could go anywhere we wanted, we stayed a lot drier, it planed, we could carry a lot of gear, parts and provisions — basically, a huge improvement in our lives! (We did something similar on our current boat.) Oh yeah, another big upgrade on the dinghy was getting Adventure Marine Quick-Release Wheels (unfortunately, these are no longer made) — they are large enough to actually work on beaches (small wheels don't work on sand) and they are simple to flip up or down . . . both features had been sadly lacking in the wheels that Dinghy 1.0 came with. Another item that is not cheap, but if you're going to get wheels — they're almost a necessity in the Sea of Cortez — get ones that are up to the task.
Spade anchor and powerful electric windlass. More in the "we sleep well" category. The anchor was oversized but we didn't move. Ever. Twice we were in situations where boats anchored next to us dragged and went on the rocks when the weather turned nasty. Yes, we'd picked the wrong anchorage and hadn't bailed out when we should have — but the Spade kept us safe. Equally important was a powerful electric windlass installed by previous owners — with it, we anchored further from shore, re-anchored if we didn't like where we were sitting, and we able to bail out a few times when winds switched and we were suddenly on a lee shore. 2016 NOTE: On our new boat, we have a Mantus anchor — nothing against the Spade, but read why here.
Watermaker. In the Sea of Cortez, water can be hard to come by — and we hate to have to go to town any more often than necessary. Having a watermaker meant that we were very self-sufficient and never had to plan our itinerary by where we could get water. And while we watched our water consumption, not having to ration it made for a much nicer lifestyle. Our waterwater was an old HRO — newer ones are much more efficient, so I'm not really recommending a particular model . . . and I realize that a watermaker is not right for all boaters. But if you're cruising full time in remote locations, it makes a huge difference. We have a Rainman high capacity unit (30 GPH) on our current boat and love it even more!
Underwater camera. Initially, I got a waterproof camera just to be able to keep it in the cockpit, take it in the dinghy, use it in the rain and so on without worrying about it — to me, this was huge to be able to really get cruising photos and the reason I'd recommend everyone getting a waterproof camera (you can't get photos if the camera is locked away in a Pelican case). Then I started taking photos while snorkeling and diving and discovered a whole new hobby. My current one is an Olympus Tough TG-4 and I highly recommend it.
Keen Newport H2 Sandals (link to Amazon). I've worn these since 2006 and they are simply the best shoes I've found for warm-weather cruising. They're designed to go and in of the water — they don't stretch, they don't rub raw spots, and the toe protector does exactly that. Baja is filled with thorns and these were the only sandals I ever found that they couldn't pierce (woo-hoo!). In 2008 I finally convinced Dave to get a pair instead of the Tevas he'd been wearing and now he's a convert. 2017: we're still wearing these.
Long swim ladder. Our first boat came with a lovely teak swim ladder . . . with the top step about a foot above the water. Luckily the first time that we put it over and then jumped in, there was another boat nearby with a dinghy in the water to pick us up and help us get back on the boat — no way could we make it up that ladder. We quickly bought a new long one — it needs to have at least two steps underwater — and it got a lot of use. Being able to jump over the side — several times a day in hot weather — is one of the true joys of cruising!
Track-mounted whisker pole. A whisker pole allowed us to sail a lot more and having it mounted on a track on the mast made it easy to use. So many boats with a whisker pole have them on the deck (yeah, it's cheaper not to do the track) and then never use them because it's such a pain to handle pole. We could still use ours when it was blowing over 30 knots with no danger to either of us. It was also great for hoisting the dinghy. (The link is to my 2006 Cruising World article about installing and using the pole.)
AirLine Hookah (link to AirLine site). We originally thought we'd use it for diving, but we quickly found that in the Sea of Cortez we preferred to snorkel. But the hookah was essential for being able to clean the bottom of the boat when we were away from towns and divers. We'd bought the AirLine unit because it was gas powered and we thought we'd use it away from Que Tal. There are also battery-powered units that would be just fine if you only intended to use it for bottom cleaning — and for our current boat, we bought an electric AirLine hookah that we can run off the Honda generator. Read my article about DIY bottom cleaning if you've never done it yourself — save yourself the mistakes I made!
Bonus items . . . a couple more things that were really good:
Getting ready to cruise? Prepare to Cruise (a FREE mini-course) gives you lots of free resources along with affordable recommended courses and coaching for more in-depth needs.
Polarized Transitions Lenses in my glasses — they're not cheap but having polarized glasses AND not having to change between clear glasses and sunglasses is priceless. And yes, they're lineless bifocals, too. Read more about these here.
Outgo Microfiber Bath Towel (formerly Rick Steves then Micronet branding) — I've used a lot of "travel towels" over the years and haven't liked most of them; these are great.  No, they don't feel quite like terry cloth, but it's not at all unpleasant.  And the extra-large size is a true bath towel size (don't waste your money with the smaller sizes).  But the best thing is that they dry in just no time at all — generally about 10 minutes, although it depends on the weather and humidity. I wrote a whole post on how much I love these towels.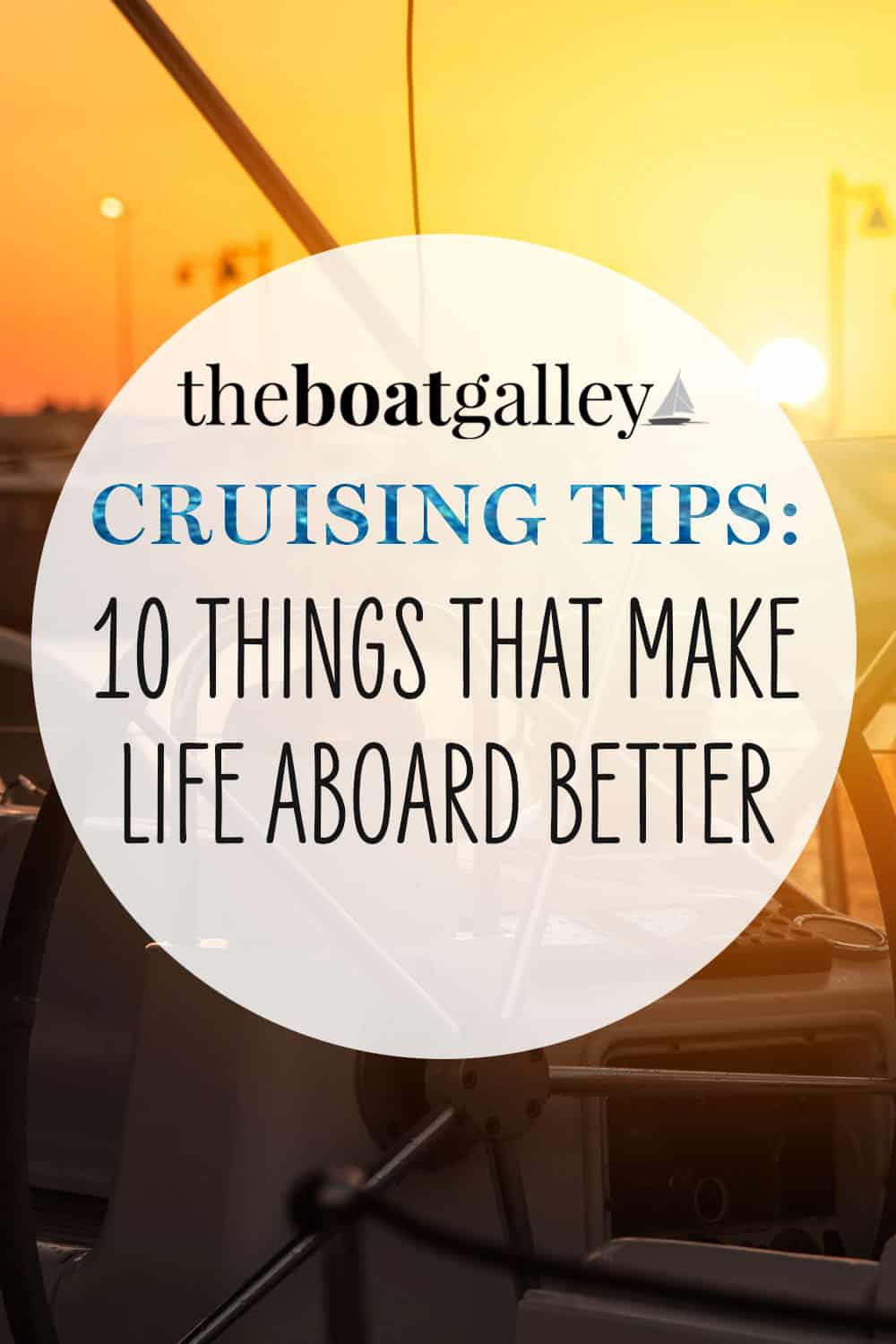 ---
Our FREE Provisioning Spreadsheet
Wondering how much of what foods to take on your next trip? Know just how much to buy of what — all arranged by grocery store aisle — with our handy Provisioning Spreadsheet. Includes detailed instructions to edit it for your favorite foods, how much your family eats, and how long you'll be gone. No spreadsheet skills needed!
It's FREE — get it here.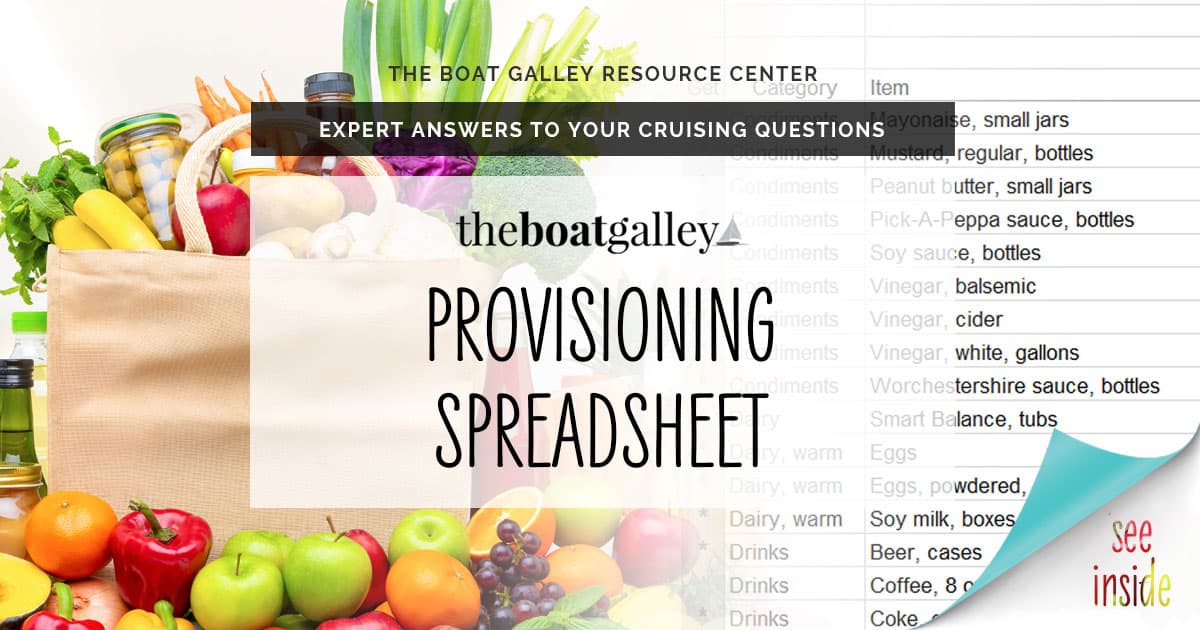 Some links above (including all Amazon links) are affiliate links, meaning that I earn from qualifying purchases. Learn more.