Dinghies are referred to as your car when you're living aboard, and the options for choosing one are about as varied as choosing your land vehicle. We got a new-to-us dinghy about a month ago and, rather than rehash all the different types of dinghies and propulsion methods, I thought I'd hit more on what was important to us and why we chose what we did.
WHAT WE GOT
We bought a 2010 9'6" AB aluminum floor hypalon tube RIB with a 2001 15 HP 2-stroke Mercury.
IMPORTANT FEATURES TO US
Ability to board from the water – we love to snorkel and being able to get into the dinghy from the water is critical. Most hard dinghies and Portabotes are very tippy to get in from the water. Inflatables are much easier – even so, we leave our fins on so that we can get an extra-hard kick to propel us into the dinghy.
Reliable – we want to know we'll get where we're going . . . and back.
Ability to get fuel – gasoline is generally much easier to get than propane.
Cover distance – we like to explore by dinghy, which means we make trips that are several miles long. We've had dinghies that would not plane and it was frustrating to us. Once we finally got a RIB and 15 HP motor (when we were on our previous boat), we realized that we'd missed even more than we thought. More power is also good in areas with strong currents.
Load carrying – when we're making major provisioning runs by dinghy or getting jerry cans of diesel fuel, we need to be able to carry substantial amounts. Larger tubes on a RIB help with load carrying and RIBs are less tender than hard dinghies when loaded. If we have guests, we also want to be able to take them along without having an overloaded dinghy. With our davits, 9'6" was the largest dinghy that would realistically fit.
Dry – larger tubes and a high bow on an inflatable will keep the occupants much drier in chop. The two smaller dinghies that we've had (smaller tubes with less upturn) have both had waves break into the dinghy in severe chop; one of us had to bail while the other drove. A dry dinghy isn't just more comfortable, it's also safer. The tradeoff is that larger tubes make it harder to get it from the water.
Weight – we have dinghy davits and put the motor on the stern rail when underway (the motor is left on the dinghy and lifted with it into the davits when we're in an anchorage). There are  considerations of what we can lift, what the davits will hold and what the outboard crane and stern rail will support. This led us to the aluminum floor RIB and 2-stroke outboard (in the islands and Mexico, it's far easier to get parts and find mechanics for 2-stroke motors, too). A 4-stroke 15HP motor is too large and too heavy to put on our stern rail but a 2-stroke is do-able. The aluminum floor RIB weighs about half what a double bottom fiberglass RIB does.
Tough – we use our dinghy a lot. Hypalon is much more UV-resistant than PVC for the tubes on an inflatable dinghy. It's also considerably more expensive. Cruising in the tropics, it's well worth the extra money to us. Similarly, the aluminum hull is good for beach landings and not as likely to crack as fiberglass if we should hit a rock.
A lesser consideration for us is that a 15 HP motor can provide good emergency propulsion for the big boat (our six horse was once pressed into service and did the job in very flat seas), either on a stern bracket or with the dinghy side-tied to Barefoot Gal.
DOWNSIDES
The biggest downsides to our dinghy choice are the fact that the motor is heavy enough that we need an outboard crane to lift it (which was also true of the 6 HP 4-stroke we had previously), inflatables don't row well if the engine doesn't run, and a 2 stoke motor isn't as environmentally friendly as almost every other choice (4-stroke, propane, rowing or sailing dinghies).
CONCLUSION
Not everyone cares about the same things we do. By no means do I think that our choice is right for everyone.
It's hard to know what you really want until you're "out there" – whatever "out there" may be for you. When we first started cruising – 14 years ago – we didn't realize how our dinghy choice would affect our overall cruising enjoyment. But it does. And we're thrilled with our new-to-us dinghy!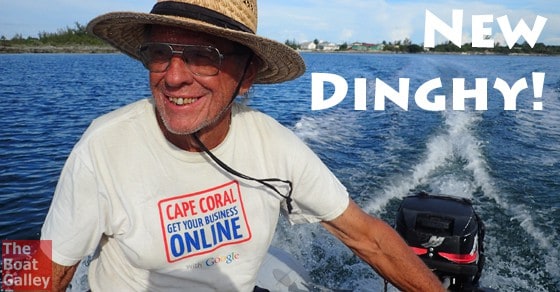 Feel like you don't have a clue where to start when the outboard won't run? This guide is for you! A great resource to keep in the dinghy — Outboard Troubleshooting for Non-Mechanics. Know exactly what to try when your outboard won't start! Waterproof and fuel-proof, easy to use. Now sold on Amazon; can be shipped worldwide.


Some links above (including all Amazon links) are affiliate links, meaning that I earn from qualifying purchases. Learn more.