Are you just starting to look at cruising boats? One of many questions you're probably asking is what galley features are important.
In some ways, it's an impossible question to answer. Features that might be "necessary" on a 45-foot boat that's going to be used for extensive cruising would be totally impractical on a 25-footer used for overnight and weekend trips.
Getting ready to cruise? Prepare to Cruise (a FREE mini-course) gives you lots of free resources along with affordable recommended courses and coaching for more in-depth needs.
Still, there are some universal galley features that separate the good from the bad. Primary consideration should be on three aspects of the basic layout and configuration. These three are all things that would be either expensive or impractical to change and will make a huge impact on your satisfaction or frustration with the boat.
And they are three that if you haven't had a boat before, you might not think about. I know that I didn't . . . until I encountered boats that had serious flaws in each of these!
Regardless of the size boat and your cruising grounds, these three features are the things that I look at first. Sure, there are other important considerations. But if a boat doesn't do well on these three, I'm not going to look any further at it unless I were planning to gut the interior.
Item 1: Can the cook be thrown across the boat?

While there are many features of a galley that contribute to the safety of the cook, most are relatively easy and inexpensive to remedy. However, if the basic layout allows the cook to be thrown 6 feet across the galley in rough weather , it's a real problem.
I learned this the hard way. The first offshore passage I did was on a Saga 43 with a galley similar to that in the picture. We ended up in a gale off New Jersey and I was tossed reaching for a box of crackers. When the boat rolled, there was nothing to brace myself against.
While you do need an opening to get in and out of the galley, keeping it small and with something at least hip-high no more than about 4 feet away (3 is even better) will limit the chances for serious injury. Depending on the size of the boat, this doesn't have to result in a tiny galley. You just don't want one with a lot of empty floor space from side to side.
Item 2: Plenty of ventilation
The good thing about buying an older boat is that they usually have good ventilation. Newer boats often are built with air conditioning with little thought to "passive ventilation." Large opening hatches and portholes are essential to being comfortable at anchor.
The galley creates heat, steam and food smells. While the heat can be welcome in cool climates, the steam will quickly raise the humidity and the potential for mold and mildew. And most of us don't want to wake up to the smell of last night's fish dinner!
While you can add fans and wind scoops to make the most of the ventilation you have, adding or enlarging hatches and ports is much more expensive and tricky to do.
Item 3: Are the "hot" and "cold" areas logical?
One of our biggest frustrations with Que Tal was the placement of the refrigerator. It was right next to the engine compartment and also right at the foot of the companionway where the sun beat down on it. I have no idea what it cost us in extra amps used, but I'm sure it was considerable.
For some reason, older cruising boats tended to have the ice box (later converted to a refrigerator) right next to the engine, with not a lot of insulation in between. In later years, Tayana did reverse the layout of the galley so that the sink was next to the engine compartment and the refrigerator (or icebox) was on the other arm of the "U," surrounded by air and out of direct sunlight.
Even if you don't have refrigeration and just use a portable cooler, this can be an issue. Is there a cool (and secure) place to put the cooler?
If you haven't done much cruising, it's easy to underestimate the importance of not wasting electricity (for a refrigerator) or ice (in a cooler). For us, using just 10% less power for the refrigerator would have meant that we could run the watermaker twice as long each day. For others, it could mean less time running a generator. For those using ice, it could mean an extra day or two before having to find a place to buy more.
More Thoughts on Galley Features
Items 1 and 2 to me are non-negotiable. The third may not be 100% non-negotiable, but it's a very serious consideration. We didn't realize the serious flaw in the design of Que Tal's galley until after we were cruising. Any boat is going to have trade-offs and the biggest plus for Que Tal was that the previous owners had already spent a bundle of time and money upgrading her so that she was ready to cruise. Even knowing about the consequences of the refrigerator being next to the engine, we might still have chosen her. But I'm sure we would have looked harder at some other boats and not bought her quite so quickly.
Researching galleys before we bought her, two items kept popping up: the need for a "U" shaped galley and a double sink. Frankly, I disagree with both.
The rationale for a "U" shaped galley is that it provides a way for the cook to wedge him/herself in. I've seen plenty of "U" shaped galleys with the open side towards the center of the boat and no way for the cook to brace against the roll of the boat. The more important concern is that the cook can't be thrown too far — galley work will never be 100% safe, but larger distances simply cause larger injuries.
I have absolutely no idea why anyone would think that a double sink is necessary. I hated the one that came with Que Tal and replaced it (read about it). But items such as this are relatively inexpensive to change if you decide you want something different than what the boat comes with.
Even once you get past these items, there are plenty more to think about. But others tend to be more obvious, such as the amount of storage, type of stove, whether there is a refrigerator and so on.
More About Buying a Boat
---
Our FREE Provisioning Spreadsheet
Wondering how much of what foods to take on your next trip? Know just how much to buy of what — all arranged by grocery store aisle — with our handy Provisioning Spreadsheet. Includes detailed instructions to edit it for your favorite foods, how much your family eats, and how long you'll be gone. No spreadsheet skills needed!
It's FREE — get it here.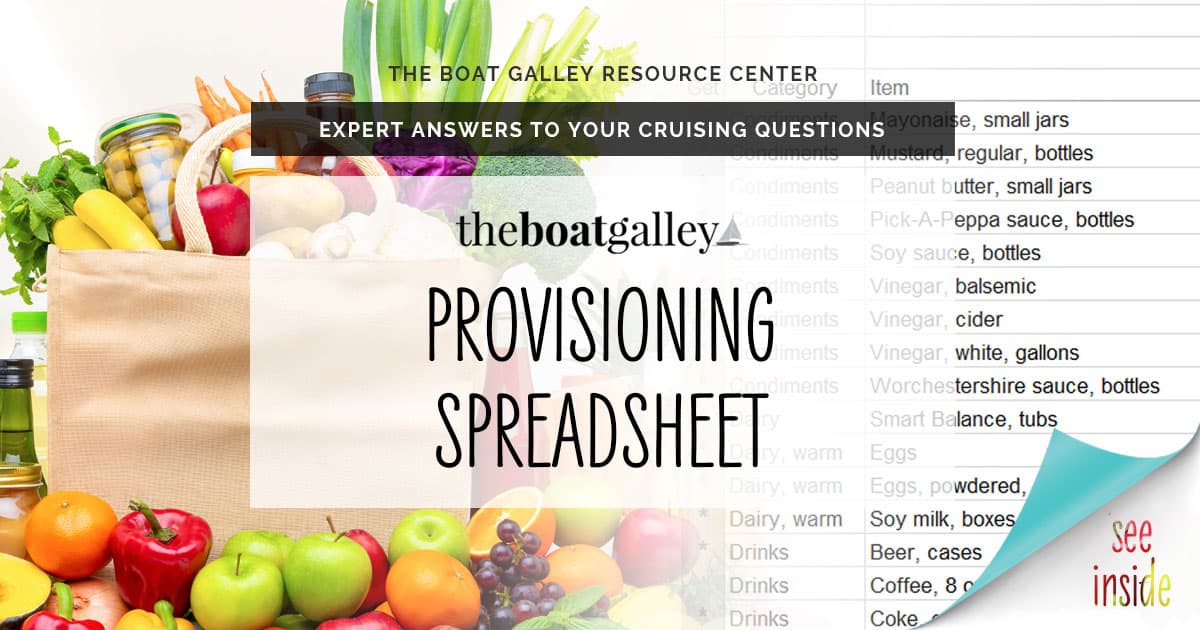 Some links above (including all Amazon links) are affiliate links, meaning that I earn from qualifying purchases. Learn more.