Estelle Cockcroft, one-half of CatamaranGuru.com, wrote this guest post for The Boat Galley. If you're thinking of buying a cat, be sure to read their Top 10 Tips for Buying a Catamaran.
Tips for the Best Boat Galley Designs for a Midsize Catamaran
Having lived aboard boats longer than I have lived in a house, I have prepped and cooked in my own galleys in 4 different boats. Serving as chef on various charter boats offered the opportunity to try quite a few galley configurations. So it is not surprising I have strong opinions of what styles and shapes of galleys work and which ones fall short. I tested my preferences when I was lucky enough to design my own galley for our current Prout 45 catamaran when it was built in Thailand. Being able to incorporate most of my requirements and wish list items, I have found it to be a simple, practical and easy-to-use area. You can see it in the photo at the top of this article.
Galley Up or Galley Down?
A major design question with regard to catamaran galleys is "up or down?" First, a look at a typical "galley up" configuration: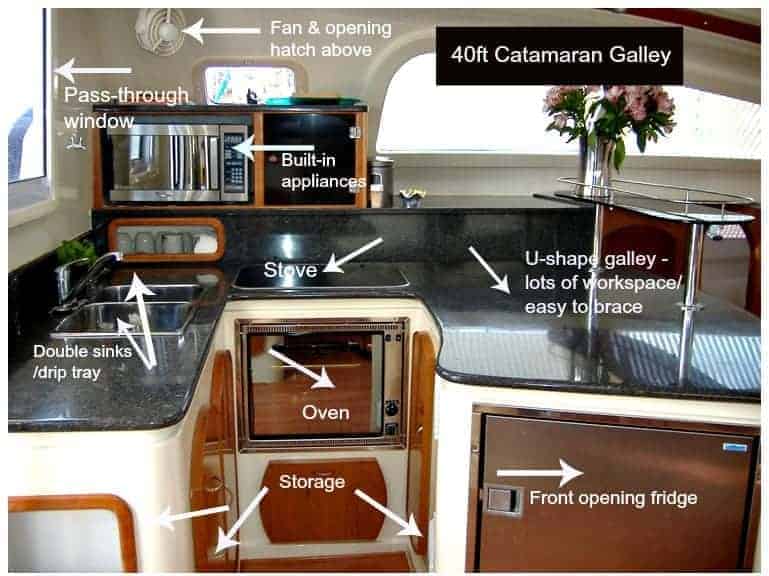 Why Galley Up?
In modern catamaran galley designs the most popular option is galley up (which I prefer for live-aboard). Having the galley located on the bridgedeck makes it a focal point of the main living and entertainment areas. The cook can socialize while keeping an eye on a meal's progress. Also, having the galley on the same level as the serving area and cockpit is less tiring and safer than hauling hot food up stairs, especially when at sea. Another advantage to topside location of a galley is that it is usually better ventilated and easy to step out for air in the cockpit.
Why Not Galley Up?
When on charter, the galley up offers the chef no privacy and can become hectic when preparing meals. In some smaller catamaran designs, having the galley up can significantly impact the size of the saloon seating area. Also, in some configurations, sharing space with the chart table and having less storage can make galley up less appealing.
And now a look at a typical galley down configuration: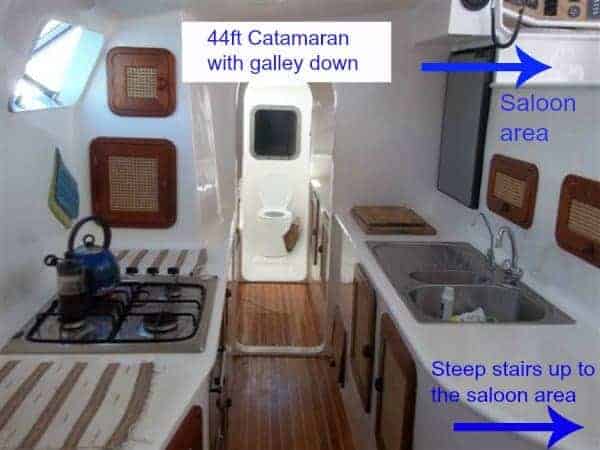 Why Galley Down?
Some catamaran galley designs like the Antares and St. Francis still offer the galley-down as standard configuration, but even they offer the "up" version now. Galley down provides a private, self-contained galley with dedicated prep areas, which is ideal for chefs on charter boats. Some chefs contend that at the heat of the moment, they want to cook, not socialize! Private owners also like this in-hull galley design because it frees up the bridgedeck for an open, clean, and more spacious saloon area. Many designs in galley down offer more stowage and having the galley in the hull utilizes space that might otherwise be less efficiently used.
Why Not the Galley Down?
When at sea, every meal comes from the galley. So live-aboards spend a lot of time in the galley and many cruising couples and families find that the separation is not ideal. As previously mentioned, lugging hot food and beverages up and down stairs with unpredictable swells can prove dangerous. When provisioning, it takes a lot of trips in and out of the hull. Plus, the below-deck area can become very hot and stuffy with lingering cooking smells.
Tips for the Best Boat Galley Layout, Design and Appointments
For me, the most important feature for any galley on any boat is its functionality when at sea. Cooking when stationary is easy on any boat! A well-designed galley should be safe, well-ventilated and functional. I agree with this chef-captain that functionality is all about organization and efficiency:
"Organization goes hand-in-hand with efficiency."
— Annie Mahle, chef-captain, schooner J. & E. Riggin
Galley Location
Galley location preferences are amidships or aft to reduce motion in galley down designs. If located in the saloon area, it should be close to the door for less motion, better ventilation and more headroom.
Galley Shape
The wrap-around or U-shape galley is ideal in my opinion. It allows for loads of counter space and offers the ability to brace oneself on the high seas. You need that even in a catamaran from time to time!
Appliances
The fridge, sink, stove and prep areas should be close at hand with appliances well secured, if not built-in. Design of appliance interiors should prevent and contain spills. Top-loading fridges can be cumbersome, especially if it is part of your counter space, so I like front-opening fridges. In my experience, a top-loading freezer, when well organized, is easy to use. It can be tucked away under a seat or an out of the way place.
Stoves and ovens on catamarans are not gimbaled, so placing the stove on the inside of the U-shape, is ideal for safety. This reduces the risk of flying pots. Even on my catamaran, I prefer to use potholders to clamp pots down when at sea. Better safe than sorry! Our BBQ grill is a natural extension of the galley (another vote for galley up!). We invested in the best, biggest grill that we could semi-permanently fit on the rail. We use it all the time for grilling and baking, even desserts.
Most people prefer double sinks, but in tight galleys, I find one sink at least 10 inches deep is preferable. It takes up less space and easily accommodates bigger pasta pots, unlike the typical small double sinks on most boats. Locate the sink against the bulkhead that acts like a splashguard and use a collapsible basin to rinse in.
A Bonus Recommendation
A manual saltwater pump in the galley is useful in emergencies and a good way to preserve fresh water. Unfortunately few catamarans offer this option since watermakers make fresh water less of an issue.
Things to Consider
While catamarans generally offer more design options and do not have the same space constraints or heeling issues that monohulls have, they do have the weight issue. It is a constant process to guard against overloading a catamaran with too many gadgets, heavy stone counter tops (honeycomb cored materials are best), and nice-to-haves. Just because you have the space, does not mean you have to fill it up!
If you have not done so lately, re-visit Carolyn's blog posts on galley storage. They are chock full of great advice and helpful hints to easier living aboard and galley cooking.
For more information on choices in galley design, read my post on "choosing your boat galley design."
---

About Estelle
Estelle enjoys sharing her experiences and knowledge gained from 20+ years as a live-aboard sailor. Having met the challenges of 50,000 ocean-going miles she has tales of nooks and crannies of the world unseen by many and can talk boats from stem to stern. As a qualified ASA captain and instructor, she helps tentative sailors take the plunge into the exciting world of sailing adventures.
Estelle shares her broad knowledge from boat building, to boat brokerage, to running a yacht charter business with anyone who wants help selecting a cruising yacht that meets their needs and achieves their dreams. She delights in connecting with the growing community of sailing women so connect with Catamaran Guru!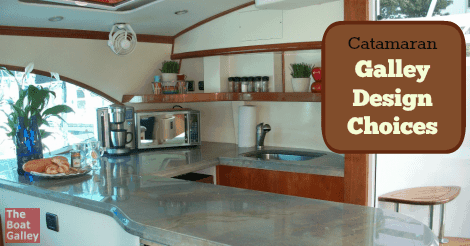 Some links above (including all Amazon links) are affiliate links, meaning that I earn from qualifying purchases. Learn more.