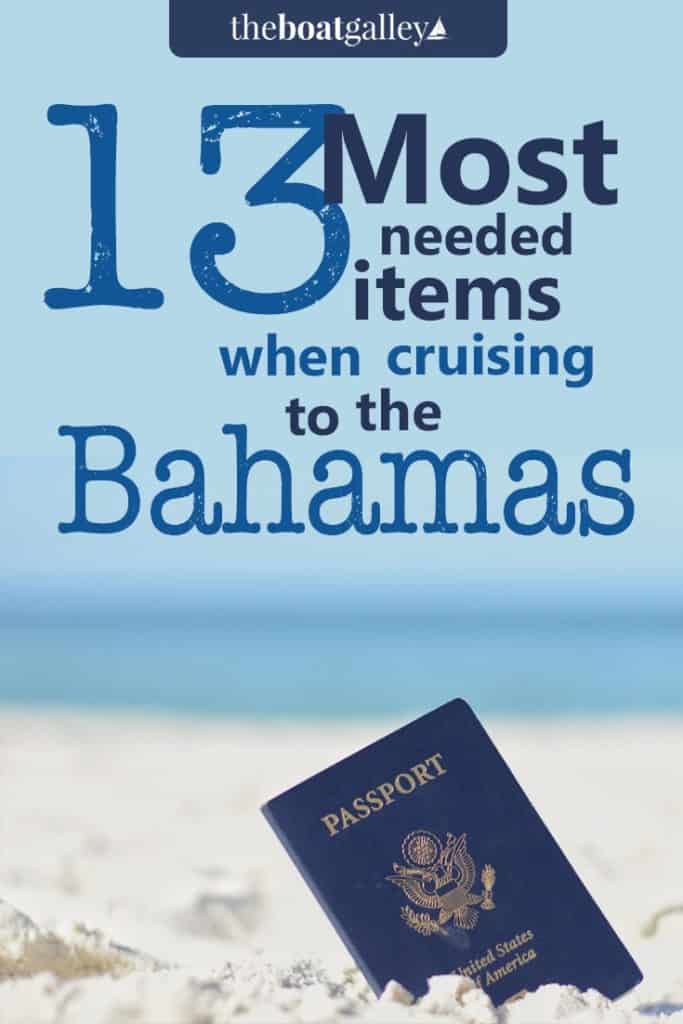 Heading off to the Bahamas aboard your own boat and want to know all the documents and other things you need to have?
Here's my checklist . . .
NOTE: This list assumes a US boat, US citizens, coming from the US and going directly to the Bahamas. There may be requirements that I don't know about for other combinations.
Passport for each person on board, valid at least 3 months beyond your expected stay in the Bahamas. Read complete requirements, including those for non-US citizens.
Boat documents for the big boat and dinghy. Original of US Coast Guard documentation and/or state registration, valid throughout the entire period you expect to be in the Bahamas. It's a good idea to have a couple of copies of each.
Boat insurance documents. Some marinas may require proof of at least liability insurance. I can't find that proof of insurance is required for entry into the Bahamas but it's always a good idea to have it.
Pet import permit. If you have a pet onboard, you need a permit. Read how to get it in this post and be sure to note the new address that is different from what is printed on the form. (You are still technically required to have a permit for pets – such as cats – that won't leave the boat and one will definitely be required if you should have to fly out for any reason, such as an emergency at home or medical issue that can't be treated in the Bahamas.)
US Customs decal. Boats 30 feet or longer in length must pay an annual fee of $27.50 for a border crossing decal (also called a "user fee decal" by the government; cruisers just call it the "customs decal.") You need the number from this on your return to the US (or US territory, such as Puerto Rico or the USVI). Get it online here. It must be renewed every year (no need to renew if you're not out of the US). The sticker will be mailed to you, which can take some time. All you really need is the number, which will be emailed to you within a day or two of your online purchase. NEW: you can now get it as part of signing up for the ROAM app — read more about that here.
VHF/SSB license & MMSI number. You need a US license to operate (transmit) your VHF and SSB in the Bahamas. The MMSI number for your VHF – important for emergency transmissions – also needs to be an "international" number issued by the FCC. The MMSI numbers issued by BoatUS do not qualify; however, if you already have one from Boat US, it's a real pain to switch – you generally have to send the radio back to the manufacturer. Get your US Ship's Radio License and MMSI number here – information is on this page, with the links to forms about one-third of the way down the page. (It takes a while to get the paper licenses, but you can get the license number and other info online in just a couple of days; a printout of this is sufficient.)
Ham radio. If you have a ham radio, you must receive a Bahamas reciprocal license to use your ham radio in the Bahamas (even for email). Allow at least 2 months for processing. Send a copy of your US license, copy of your birth certificate or passport photo page, $25 international money order and a letter requesting a reciprocal license to:
Public Utilities Commission
P.O. Box N.4860
Nassau, Bahamas
It's always best to send by FedEx, UPS or DHL. US Mail is extremely slow to reach the Bahamas. If your shipping company questions you, no, there are no ZIP codes or postal codes in the Bahamas.
EPIRB. Make sure it's registered and that the batteries test good. It won't do you any good if it's not registered. (This is a safety item, not a legal requirement.)
Q Flag and Bahamas courtesy flag. You need a Q flag prior to checking in (read more about it here) and a Bahamian courtesy flag after. A Bahamian courtesy flag typically lasts 6 weeks to 2 months before it just fades out or becomes too tattered. It's disrespectful to the Bahamians to fly one in poor condition. Take a sufficient number with you – they're more expensive in the Bahamas and can be hard to find.
ROAM app. The old SVRS and Local Boater Option programs have been discontinued, replaced by the ROAM app for checking back into the US. The CBP ROAM app can be used by citizens of any nation aboard small boats flagged in any nation — it is not only for US citizens or US boats. No need to check in anywhere in person! Read all about it here — it's quick to set up and can be done anywhere that you have an internet connection.
Bahamas check-in forms (optional). Downloading and printing your forms is a time-saver once you're in the Bahamas, as sometimes you have to go to a different office to get them and sometimes you get charged for them (we anchored out off south Bimini for check-in and had to purchase the forms from a marina as the airport customs and immigration officer didn't have them).
Each person aboard must complete an Immigration Arrival Card. It is not available online, but both it and the customs form can be obtained from The Bahamas Tourist Office in Plantation, Florida. Phone: 954-236-9292. They will mail the forms to you.
Fishing. Your Bahamas cruising permit will include a fishing permit. Learn about bag limits, seasons and more here. Read about ciguatera, a nasty fish-borne illness, here or listen to a podcast about it here.
NOTE: Legal requirements can always change and I make no guarantees about this list having absolutely everything.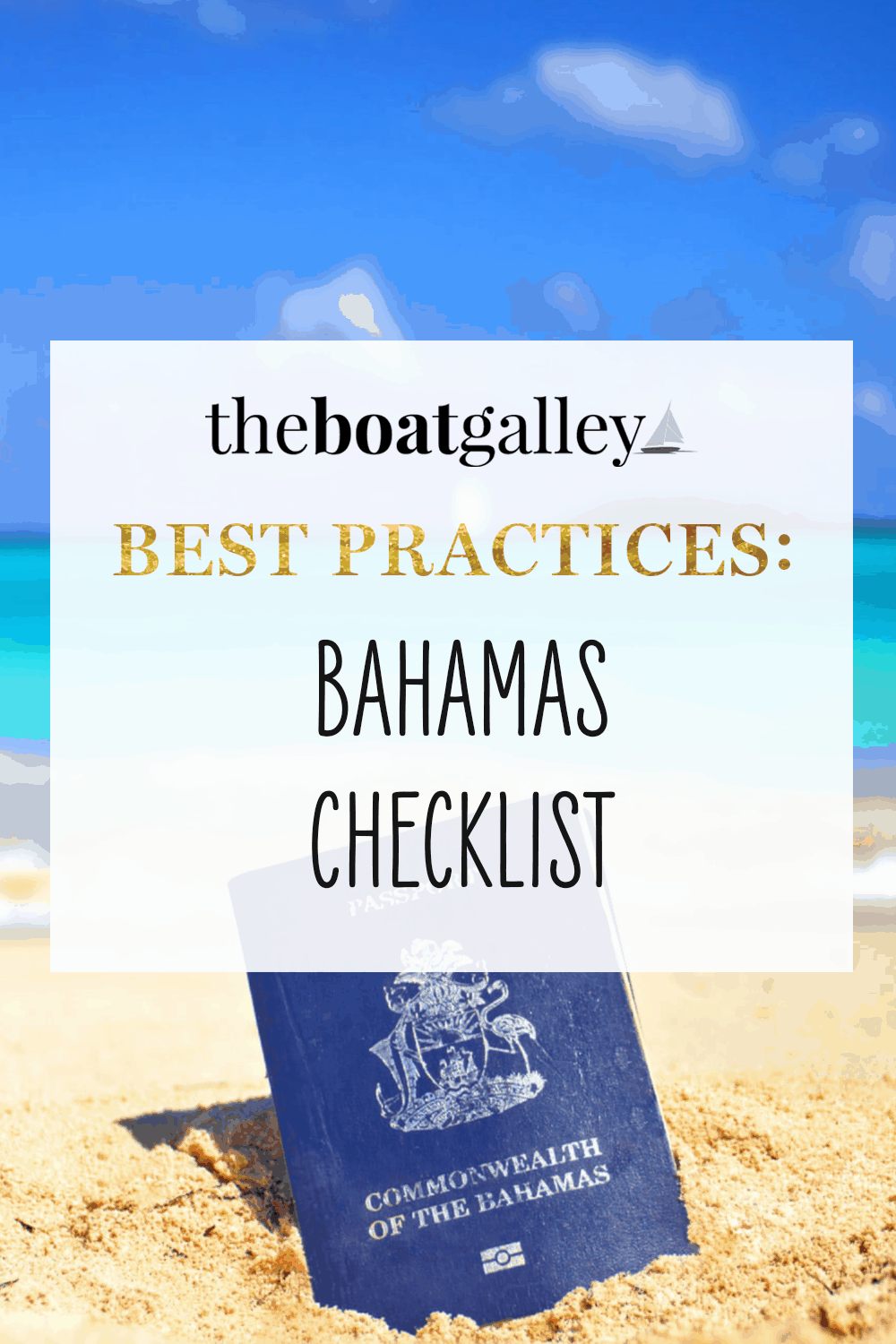 Making Boat Life Better
Some links in this article (including all Amazon links) are affiliate links, meaning that we earn from qualifying purchases.