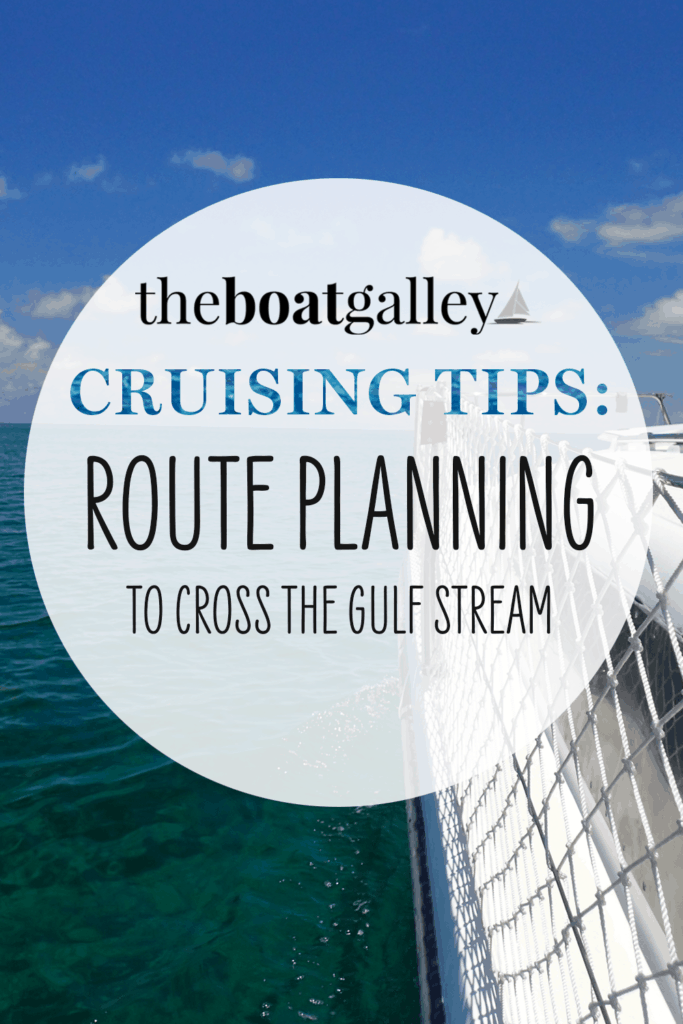 Crossing the Gulf Stream by boat from Florida to the Bahamas takes more planning than most routes. Figuring where you should leave from, how long the trip will take, what course to steer and other details can seem overwhelming.
I remember that well from planning our crossing in 2016 — I was so confused by what all I read. Luckily, a friend who has made many, many crossings took pity on me and explained it in a way that I did understand.
Understanding the Gulf Stream
The Gulf Stream is literally a river of water in the Atlantic Ocean that runs north between Florida and the Bahamas (or east between Florida and Cuba). It typically averages between 2 and 2.5 knots. You can learn how to get the exact location and speed of the Gulf Stream here.
If you leave Florida and head due east (90 degrees), every hour that you travel you'll go eastward whatever your speed is AND north 2 to 2.5 miles. Now, that north amount is an average. Some hours you'll go more north and some less, depending on whether you're at the edge of the Gulf Stream or right in the center. The average is the important thing for route planning.
The Gulf Stream has considerably warmer water than the ocean around it, and that means that thunderstorms are more likely as you cross it. It is also very busy with lots of large cargo ships heading up and down the east coast and many small to medium-sized boats going between Florida and the Bahamas. Crossing the Gulf Stream as quickly as possible will decrease the danger from both of these.
Three Things to Know for Route Planning
There are two important concepts to know in planning this route. First, your heading is where you are pointing the boat. It's what your ship's compass will show or your autopilot heading. Second, your course (or course over ground) is the direction that the boat as a whole is actually moving and what is reflected on your chart plotter course. With the Gulf Stream, your heading and course will never be the same. Your course over ground will always be north of your heading.
I'm going to discuss crossing the Gulf Stream from Florida to the Bahamas (and return) in this article. The same principles apply for Florida to Cuba and return. But while the stream exerts influence on almost the entire trip to/from the Bahamas, it does not cover the entire Florida Straits between the Keys and Cuba and thus you can get some westing on either side of the stream.
For crossing the Gulf Stream as fast as possible, your heading should never be any amount south of due east on the way to the Bahamas or south of due west on the return. It was very eye-opening to us to turn literally two degrees south of due east and see our speed over ground drop over half a knot — a few degrees more and it dropped nearly a knot!
Planning the Best Route for Your Boat
For quickly crossing the Gulf Stream, then, you must leave from a point south of your intended destination. But what's the minimum amount south?
To figure this with a real-life example of leaving from Angelfish Creek:
Measure the east-west distance between where you think you might leave from and your destination. Don't measure the actual distance between the two points, but just the east-west component. In this example, we're thinking of leaving from Angelfish Creek and going to Gun Cay — 53.2 miles. (Note that Angelfish Creek is suitable for shallow draft vessels only — we draw just 3 feet.)

Divide the east-west distance by your average speed to figure out how long it will take you to make the east-west distance. Our average speed, without current, is about 6 knots, so we know it will take about 9 hours (6 x 9 = 54 which is close enough for estimating).
Multiply the hours by the estimated speed of the Gulf Stream to get the amount you can expect to be set north — I use 2.5 for this, which generally works well as an average — but look at the current Gulf Stream maps (read how to get to the map you need from the overview) to get a feel for the conditions when you are planning to travel. So for our example, 9 hours x 2.5 knots = 22.5 miles.
So, our starting point needs to be about 22 miles south of Gun Cay.
Hmm, I discovered that Angelfish Creek is more like 15 miles south of Gun Cay. Even if the Gulf Stream is averaging 2 knots, that's 18 miles of northing. That might not work . . . time to look at alternatives.
There really aren't nearby alternate "starting points" on the Florida side, so I look on the Bahamas side . . . yes, there are several other anchorages up to as much as 28 miles north. So I investigate them all and mark the ones we like the most as possible stops, depending on how much northing we really do get (also, if we travel faster than our estimated 6 knots, it'll be fewer hours and thus we won't be swept as far north).
I always plan for alternate "destinations" on the crossing so that if we get swept more or less than expected we have options already plotted and examined. I think this is really important, especially if the weather turns snotty or the trip takes longer than expected and sunset is close . . . or past.
The result? We had a fast trip and made better than expected time, so we came in right at Gun Cay (a bit of counter-current on the Bahamas side helped, too).
Tips for Crossing the Gulf Stream
Somewhere as you're crossing the Gulf Stream, it's likely that you'll have to cross, duck or wait for a ship to pass. Be very, very cautious of trying to cross in front of another vessel — speeds are deceiving in the stream. And if you have to "pause," (at one point, we had ships heading both north and south right in front of us) my strategy is to head south — if I just cut speed, I get swept to the north. Those ships are typically traveling 20 to 25 knots and pass me by pretty quickly.
The faster you get across the Gulf Stream, the less you'll get swept north. One key to faster speed is making sure the bottom of your boat is clean. Another is to motor or motor-sail at your max cruising speed. Many of us dream of "pure sailing" across the Gulf Stream but it's rare to get conditions that allow for a fast crossing under sail alone.
Should you have engine problems on the crossing and have to sail at slower speeds, be aware that you're almost certainly going to end up further north than you had expected. Have some alternate destinations in mind.
Crossing the Gulf Stream from Miami-Ft. Lauderdale to Bimini
I know that a lot of cruisers start at the Miami-Ft. Lauderdale area and head for Bimini, but Bimini is actually south of Miami. This means that you're going to have to do one of two things: (1) fight current all day, which will cut your speed considerably or (2) allow the Gulf Stream to sweep you north by heading due east, then turning and heading south once you get on the far side of stream (with luck, you'll find a counter-current to help you).
The Options
Either option is going to add hours to your trip. You're better off with what might be called the third option. Take a day as you're waiting for your weather window and head south to a different anchorage — which one you choose will be determined by your draft.
If heading south first isn't practical, my personal preference is the second option, making any necessary southing on the Bahamas side of the Gulf Stream. The stream usually doesn't run right up to the islands. There is often even a counter-current on the east side. In this case, head due east across the stream and then turn for your destination once across. You will not follow the rhumb line and your chart plotter will keep showing you being further off course until you make that turn on the far side of the stream.
If you decide to do the "fight the current" route, you can simply set your waypoints as usual and steer to follow the rhumb line across (your heading will change as the stream is stronger in some places than others). Be aware, however, that your speed over ground is likely to be at least a knot less than you typically average and plan accordingly.
Heading to the Bahamas from the Keys
If you are planning to start further south, say at Rodriguez Key (Key Largo) and head for Bimini or Gun Cay, you'd start the planning in the same way.
First, figure the east-west mileage and then divide it by your average speed to know how far north you are likely to be swept. Either on a paper or electronic chart, mark a point this number of miles due south of your intended destination.
Then figure the steering course for this route. It should be less than 90 This is your heading to steer and should — on average — keep you near the rhumb line course to your actual destination (you will probably be north of the rhumb line in the middle of the trip, where the stream is the strongest, then come back towards the rhumb line in the second half).
Because the trip is longer and you're in the stream longer, the estimated steering heading is less likely to be "perfect" and may need a little tweaking as you see how conditions are actually developing.
Westbound Route Planning
For the return trip from Bimini to Florida, the planning was similar to our eastbound crossing. We knew we couldn't really start as far south as would be ideal — the Bimini chain doesn't extend that far south.
Our options were to either fight the current or get across and then make our southing inside Hawk Channel. Because weather in the Gulf Stream is potentially squally, we opted to get across the stream as quickly as possible.
Our Plan
The basic plan, therefore, was that we'd head straight across — due west — and then deal with however far north we'd been swept. But we were able to add a bit of a twist on this by using a day with northeast winds (not good for making the crossing) to head south along the Bimini chain to Riding Rock — taking advantage of a counter current as well. That got us about 15 miles further south than just leaving from Gun Cay — but only about 4 miles south of Angelfish Creek, our target on the Florida side (we were heading back to Marathon, in the Keys).
Creating Routes for Crossing the Gulf Stream Westbound
I created a series of potential routes for the various places where we could cross the reef on the Florida side and enter Hawk Channel, including ones that I thought were unrealistically south and north "just in case." We steered due west as we crossed. Our chart plotter will only show one route at a time, so I began the day with the southernmost route. As we got swept north of that rhumb line, I pulled up the next route to the north. And so on, until we got to the reef and made our way into Hawk Channel, where we had a glorious sail south — out of the Gulf Stream — down to Angelfish Creek. Admittedly, we would have traveled fewer miles had we just fought the stream. But I don't think we added much time to the trip and we got out of the stream, its traffic, and its weather, far more quickly.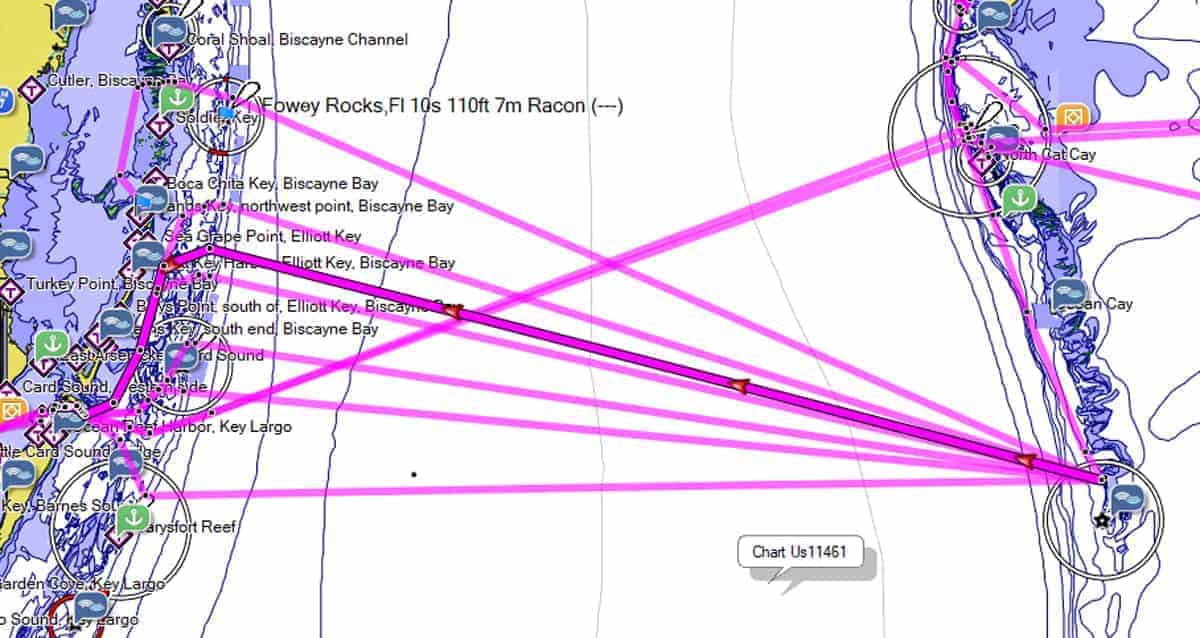 This article was originally written on January 18, 2018. It was substantially updated and republished on January 4, 2019.
Making Boat Life Better
Some links in this article (including all Amazon links) are affiliate links, meaning that we earn from qualifying purchases.