Getting a Bahamas Pet Permit is reasonably straightforward. There are two ways to do it, both detailed below. You can do it all yourself or you can do it mostly online and have an agent handle the form in Nassau. Surprisingly, the agent costs less than the overnight shipping if you do it yourself! I highly recommend doing it that way, but have also included directions for doing it yourself, which we've done twice.
General Information
The process is the same for dogs and cats and works basically like this:
Planning to cruise the Bahamas? Don't drive yourself crazy trying to figure everything out. Get my self-paced online course, Get Ready to Cruise the Bahamas, for step-by-step details on 30 critical tasks. Just $39.
You send the application and a money order to the Bahamas.
You get a permit in return, either via fax or mail. (New in 2020: you do not get a certificate of health for the vet to sign; vets now provide their own form)
Make sure you have the pet's rabies certificate.
Just before you leave for the Bahamas (while you're waiting for the final weather window), take the pet to the vet and get a certificate of health. If necessary, get the other vaccinations.
Prohibited Breeds
As of June 2018, the Bahamas restricts several breeds of dogs and cats from entry.
The following pure breed dogs or their mixes are not allowed to enter the Bahamas:
Pitbull
Presa Canario
Cane Corso
American Bully
Staffordshire Terrier
Dogo Argentino
The following pure breed cats or their mixes are not allowed to enter the Bahamas:
Savannah Cat
Bengal Cat
Chausie
NOTE: These are the prohibited breeds as of when I'm writing this (updated through March 2020). Requirements can change. Check here for current requirements.
Your Pet Must Be Microchipped
As of June 2018, the Bahamas does require that pets be microchipped (Trovan, Avid or HomeAgain specified).
Rabies Certificate
Your pet has probably already had its rabies shot, but it has to be administered within certain dates of your stay in the Bahamas. Check here for current requirements, but as I write this, the requirements are:
One year vaccine: more than one month before date of arrival and no more than 10 months before date of arrival.
Three year vaccine: more than one month before date of arrival and no more than 34 months before date of arrival.
Make sure you have the original certificate.
Other Vaccinations
The health certificate, signed by your vet, must state that the pet has "adequate levels of immunity" for the diseases listed below as well as external and internal parasites. You can check the current requirements here.
Dogs:
Distemper
Hepatitis
Parvovirus
Leptospirosis
Adenovirus
Coronavirus
Cats:
Feline Leukemia
Feline Rhinotracheitis
Feline Calicivirus
Feline Panleukopenia
Feline Pneumonitis
Veternarian Visit
The pet import rules say that the certificate of health must be completed by your vet no more than 48 hours before arrival in the Bahamas. This is obviously impractical for travel by boat and the Bahamas officials realize it (the regulations were written for the vast majority of people who arrive by plane). Visit the vet as you are waiting for your weather window.
Ask around wherever you're prepping for your trip and you'll find out what vets most cruisers use for the health certificate. Here in Marathon, the prevailing fee is $100 (no shots or anything, just to examine the animal and fill out the form).
The vet will have their own form for the certificate of health (one used to come with the permit but no longer is). When you make the appointment, be sure to say that you need a health certificate for the Bahamas to make sure that you get an appointment with a vet who can sign it.
The official rules also say that the animal must be presented to a Bahamian vet within 48 hours of arrival. I have never heard of this being actually required; in fact, there are no vets in the majority of the ports of entry so it would be impossible. Don't worry about it.
Cost
Assuming your dog or cat is up to date on its shots, here's an approximation of the cost.
Using Wellington Saunders' Bahamas Pet Permit Service:
$57 per pet, inclusive of government fees
$100 vet fee (Prevailing fee here in Marathon)
Doing it yourself:
$16.20 paid to the Bahamas government + international money order fee of $4.75 — must be obtained from the post office
$70+ for UPS or FedEx*
$100 vet fee (Prevailing fee here in Marathon)
Simply put, it's cheaper to use Wellington's service, not to mention easier.
*I was told that it's best by far to use FedEx/UPS/DHL to send the application and pay the extra $5 to get it faxed back. This cuts down on the time and uncertainty considerably. (NOTE: I do know people who have sent theirs by regular mail; some got them back in about 3 months, others had their applications lost and had to re-send.)
Bahamas Pet Import Permit Online
A Bahamian, Wellington Saunders, started a service in the fall of 2018 so that you can get your permit online. I used his service in the summer of 2019 and it worked perfectly. I also know many other cruisers who have used him and had very quick service.
If you have a single pet, his fee is actually cheaper than sending it yourself. See his Bahamas Pet Import Permit website — he has a lot of information and current forms there, too.
The basic process is:
You fill out the application online and submit it and a copy of the rabies certificate.
Wellington will send you a PayPal invoice for the fee, which includes his services and the government fees. You pay online with a credit card or through your PayPal account.
Wellington submits the forms to the Bahamas Department of Agriculture.
When the permit is approved, Wellington picks it up, scans it and emails it to you.
You still have to do the vet visit in the US on your own.
Wellington recommends submitting the application to him at least two weeks before you plan to leave the US. However, he often gets applications processed in 5 days or less. Apply early just to be on the safe side!
Getting Your Own Bahamas Pet Permit
Get a Fax Number
You're going to need to have a fax number where the permit can be faxed to you. If you don't opt for having it faxed back, it will take 6 to 8 weeks from when it is processed for it to be mailed to you.
IMPORTANT: Do not use a toll-free fax number. Toll free numbers cannot be dialed from foreign countries, including the Bahamas.
You can use a marina fax number or one from the local UPS store or other "office services" store. My preference, however, is to use a free fax-to-email service so that it comes straight to me. This way, the document is saved to my computer and I can print out additional copies if I need to.
I use eFax free. It gives you 10 free incoming faxes per month with your own fax number. Faxes are then sent directly to your email as a PDF attachment (won't work with Sailmail; may work with Winlink but it's a better bet to specify a "land" email). I discovered that the sign up website did not work for me with Chrome & Windows 10, but was fine with Windows Edge (the successor to Internet Explorer). If you have problems, I'd suggest trying again with a different browser.
You'll get a confirmation email with your fax number.
Get and Complete the Application
Download the application (PDF) here and print it out.
Complete the form.

For date of arrival, make a reasonable guess. The Bahamas realize that boaters' plans change and it's not a big deal.
For destination island, other cruisers said they used the furthest island they thought they might visit.
For purpose of importing animal, say something like "pleasure cruising aboard private boat."
Money Order
Go to the post office and get an INTERNATIONAL money order. Make sure it's international, not domestic. Several cruisers told me it was their experience that the Bahamas preferred money orders from the post office to other types.
$16.20 per pet to have form faxed back ($10 fee + $5 fax-back + $1.20 VAT). All pets can be combined in one money order.
Make the money order out to "Bahamas Department of Agriculture"
Fill in the address, etc. on the money order.
Sending the Application
Use UPS or FedEx. Other companies or USPS do not deliver as reliably and some will insist there has to be a postal code, when there are none in the Bahamas. If you are asked about a ZIP code or postal code, there is none.
Get the tracking number and make sure it gets delivered.
IMPORTANT: If you send the form by US mail, allow 6 to 8 weeks for it to arrive in the Bahamas. Then it still has to be processed and sent back to you (another 6 to 8 weeks if you don't use the fax-back option).
Receiving the Permit
With luck, about a week after you send the application you'll receive the pet import permit via fax. Check to make sure it's complete with the signatures at the bottom and official stamp (a friend of ours had the signatures and stamp cut off his fax). I overnighted our documents on Monday and got the permit via fax-to-email on Wednesday afternoon. It would probably be an extra day or two if I had sent it by Fed Ex.
If you do not receive the permit or there is any problem with it, contact the Department of Agriculture.
Tel. (242) 397-7450/325-7438
E-mail: [email protected]
Phone is best, and you can use Skype to avoid the cost of an international call.

---
Our FREE Provisioning Spreadsheet
Wondering how much of what foods to take on your next trip? Know just how much to buy of what — all arranged by grocery store aisle — with our handy Provisioning Spreadsheet. Includes detailed instructions to edit it for your favorite foods, how much your family eats, and how long you'll be gone. No spreadsheet skills needed!
It's FREE — get it here.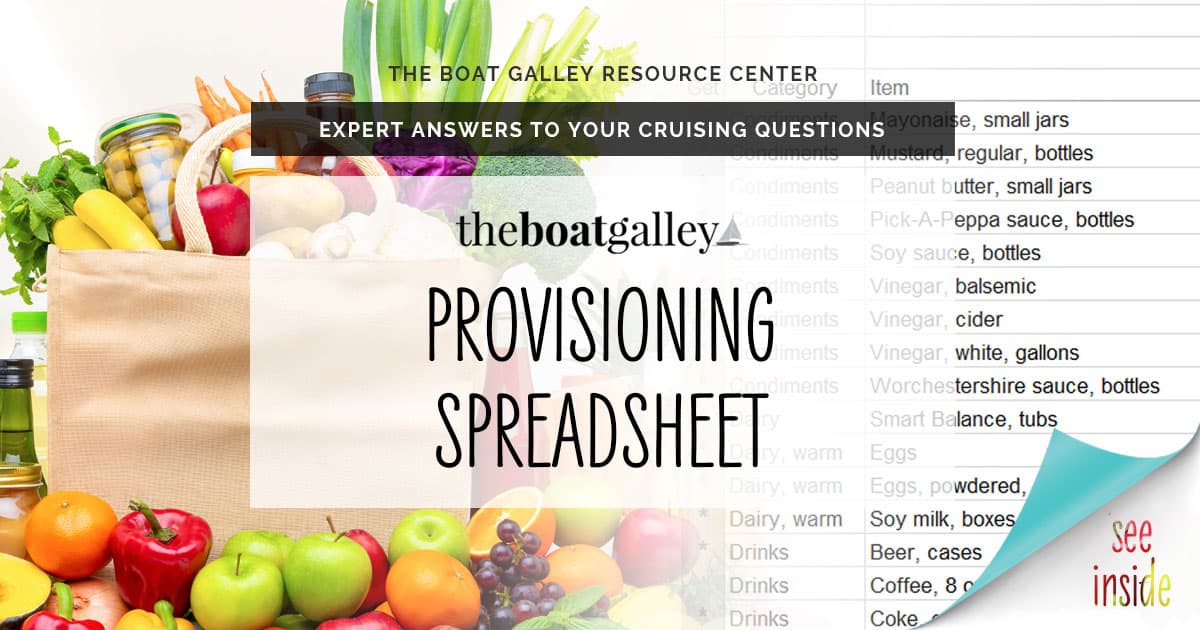 Want more information about going to the Bahamas? Learn everything you need to know with Get Ready to Cruise the Bahamas. Click to see all 30 topics covered!

Some links above (including all Amazon links) are affiliate links, meaning that I earn from qualifying purchases. Learn more.