I've known for a long time that my Stanley bottle didn't hold heat nearly as well as my Thermos Nissan.  But just how bad it was became apparent to me as I made yogurt the other day.

Dave had an early appointment and I'd sent him off with the good Thermos Nissan bottle (center) full of coffee.  Then I realized that I needed to make yogurt.  No problem, I'd use the Stanley (on the left).  Well, the yogurt that normally takes 5 hours to culture in the Thermos Nissan still wasn't 100% done after 11 hours in the Stanley — but it was no longer warm.
So I played "test lab" a bit and added in the glass-lined Thermos that I have.  The three bottles, as pictured from left to right, are:
Thermos Nissan 34-oz. briefcase bottle (Note: The "brief case bottle in the 34-ounce size does not seem to be available any longer. They seem to have switched this size to a carafe model.)

Glass-lined Thermos with Stash Top (this model seems to no longer be sold)
All hold between 3 and 4 cups of liquid.  I set all three in the sink, then boiled a big pan of water to a full rolling boil (Dave wondered what in the world I was doing as the steam billowed . . .).  I filled all three bottles to their fill line, then quickly stoppered them.
I let them sit about 10 minutes as I boiled another big pot of water, so as to pre-heat each of the bottles.  When the new water was boiling, I poured the old water out quickly, then refilled each bottle with fresh boiling water and stoppered the bottles.  I placed them all on the same counter, about a foot from each other so that none were getting warmth from another.
I let them all sit for 5 hours — the length of time you might want to keep coffee hot, or make yogurt, or for Thermos cooking.  I took the lid off each in turn, then used an instant read thermometer to check the water temperature inside.  Maybe not quite as rigorous as Consumer Reports, but better than just a "gut feeling" that one does better than another.
If you've ever wondered if the Thermos Nissan bottles are worth the extra money — or if the Stanley bottles could really be that bad — the answers seem clear:
The Stanley bottle fared by far the worst, with the water at just 94 degrees F. — a drop of 118 degrees. Well, that explained the yogurt not culturing — it started at 120 degrees and needs to stay between 110 and 120 to culture.  If the temperature dropped to 94 when starting at 212, it had to have dropped to room temperature pretty quickly when it started at 120.
Okay, so now I have a nice stainless bottle that has proven to be pretty useless for its intended purpose . . . maybe I can use it as a vase?  Other ideas?
The Thermos Nissan bottle did the best, with the water at 186 degrees F. — a drop of just 26 degrees.  Interestingly, while it holds the most liquid, it has a considerably smaller diameter and is far lighter weight than the others.  The heat retention is fantastic — I just wish they made a wide-mouth bottle that was smaller than 48 ounces (6 cups) — while that's great for Thermos cooking, it's too large for making yogurt and so I have to use the narrow mouth bottle, which is a little harder to pour the finished yogurt out of.  But the extra hassle is well worth it, with the consistently great results I get.
UPDATE:  A reader did the same test on her 34-ounce bottle from REI — which looks very similar to the Thermos Nissan bottle — and got almost identical results to the Thermos Nissan bottle (she was using a dial thermometer, making it hard to know the exact temperature).
The glass-lined Thermos was the one that surprised me.  No, it wasn't quite as good as the Thermos Nissan, with the water registering 175 degrees F. — a drop of 37 degrees.  But it was by far the cheapest originally (I think I paid less than $10 for it) and it has an uninsulated stopper called a "Stash Top" where you can store sugar and cream packets.  That had always struck me as a quick way to lose heat!  See a picture of the Stash Top in my original article on Thermos bottles.
Bottom line:
Best bottle:  Thermos Nissan (I love mine – but now they only sell the carafe model in this size) or REI one-liter
Best economical bottle:  A glass-lined Thermos (but be gentle with it so as not to break the glass — it's easier than you think on a boat)
Don't buy:  Stanley
If you have any experience — good or bad — with particular bottles, please add a note in the comments.  A good "Thermos" bottle is an important piece of equipment in a galley, so let's share info on what works and what doesn't!
---
Our FREE Provisioning Spreadsheet
Wondering how much of what foods to take on your next trip? Know just how much to buy of what — all arranged by grocery store aisle — with our handy Provisioning Spreadsheet. Includes detailed instructions to edit it for your favorite foods, how much your family eats, and how long you'll be gone. No spreadsheet skills needed!
It's FREE — get it here.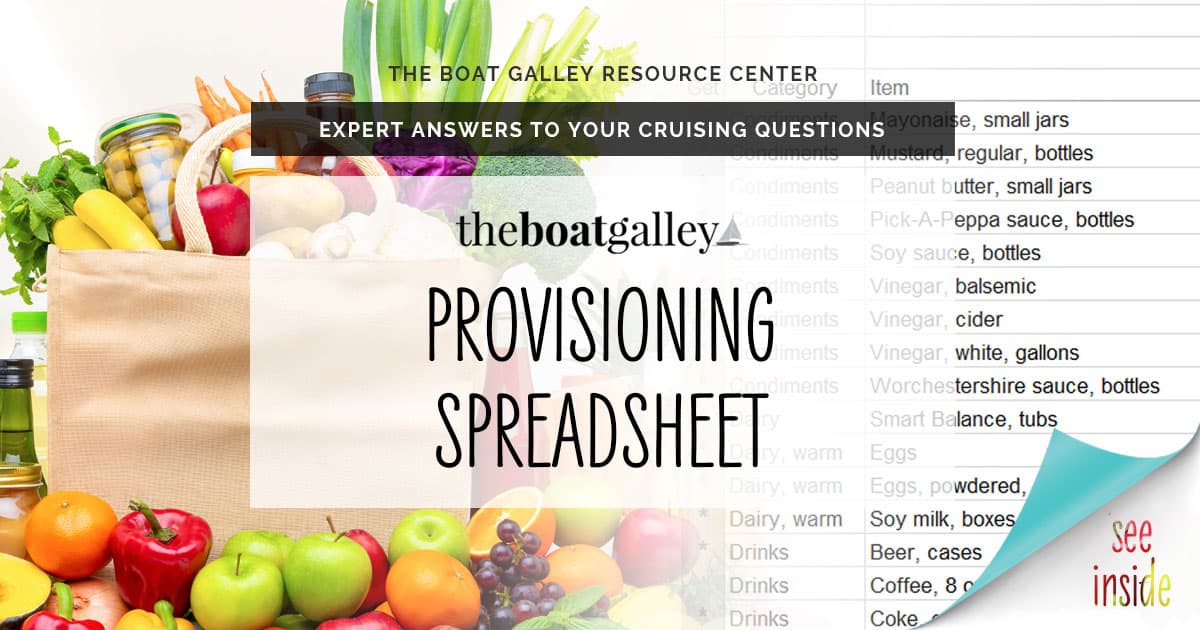 Some links above (including all Amazon links) are affiliate links, meaning that I earn from qualifying purchases. Learn more.