Dirty, nasty, horrible boat projects. For us, it was removing the old bottom paint . . . about half of it was literally falling off. More comes off relatively easily. Other, smaller patches are attached as firmly as if it were made of 5200.
These are the type of projects that the glossy cruising mags don't go into detail about. Things like scraping the paint from the underside of caatamaran hulls. Repowering. Patching holes in fiberglass. Recovering from sinking (yes, this happened to friends). I'm sure there are others.
A few of our tips on surviving projects like this that go on for more than a day or two:
1. Set a Quitting Time. Set a time that you'll quit work and start cleaning up your work and yourself, and be realistic about how long it will take. For us, it's 5 o'clock. That gives us time to take the dog for a short walk around the yard (and us an excuse to walk a bit and stretch back out), put things away and get a shower before the mosquitoes move in a little after 6:30 and require us to be inside the boat. That's also time to have beer and relax for a few minutes before fixing dinner.
2. Find a Clean Spot Outside the Boat to Put Shower Stuff and Clean Clothes. Since our car is here, I put my clean up stuff in the car to avoid a trip into the boat when I'm at my dirtiest. When we haven't had the car, I've just put everything into a bag and found a place to put it.
3. Keep Your Work Clothes in a Bag. Our work clothes are absolutely filthy, with bits of flaking bottom paint all over. I don't want them near anything else. We both put ours in an old plastic grocery bag as soon as we take them off in the shower room. This makes a huge difference in keeping the mess out of the boat. We're now both wearing Tyvek bunny suits and our work clothes still get filthy.
4. Cover the Settees with Old Sheets or Towels. When we come aboard for lunch and a bit of a break, we're pretty dirty but don't want to take the time to take a shower just then. I have a couple of old sheets that I throw over the settees so we don't transfer our mess to them when we sit down. At the end of the day, when we're "clean" again, I take them up and keep them in a plastic bag.
5. Keep Meals Simple. After a day of hard physical labor, you don't feel like cooking. Or at least I don't. Cereal for breakfast, sandwiches for lunch and one-pan skillet meals for dinner (we don't want to grill since we'd have to quit earlier to avoid the mosquitoes). Single serving containers of applesauce and fruit are great as healthy snacks that take no prep. Salsa and chips are our usual quitting time snack with a beer – again, virtually no prep.
6. Take Care of Cuts, Scrapes and Blisters. It's important to keep cuts and such clean and antibiotic ointment on them so you don't get infections. We do this every day after our showers and again in the morning before starting work for the day. Cover cuts with antibiotic ointment and Band-Aids to keep it in place. Read a great tip another cruiser gave me about how to keep Band-Aids on.
7. Wear Old Glasses. If you wear glasses and you're doing a really nasty project with paint, epoxy or chemicals, you don't want to wear your "good" glasses. Stuff is just too likely to get on them or possibly scratch them. Wear your backup pair. If you normally wear contacts, it's a good idea not to wear them when doing projects like this – if anything gets into your eyes, contacts will only make it that much worse. (Of course, also wear good eye protection – even with glasses and goggles, I still get a few few pieces of crud in my eyes every day.)
8. Soft Nail Brush. We've found that a soft nail brush in the shower is invaluable for scrubbing down our whole body, not just nails. We got these from Amazon for other things, discovered they were really too soft to be good as small scrub brushes, but perfect for scrubbing skin. We each ended up taking one for the shower.
9. Trekr Wash Cloths. Sister product to the Scrubr dish cloths that I like so much, these have just enough coarseness to get my face and the rest of my body clean after using the brush, and it rinses totally clean very easily (it's made of a soft plastic that's very comfortable on your skin). Get them on Amazon.
Got other tips for surviving these really nasty projects? Nothing's going to make them fun, but little things go a long ways in making things tolerable. Leave a note with what you do!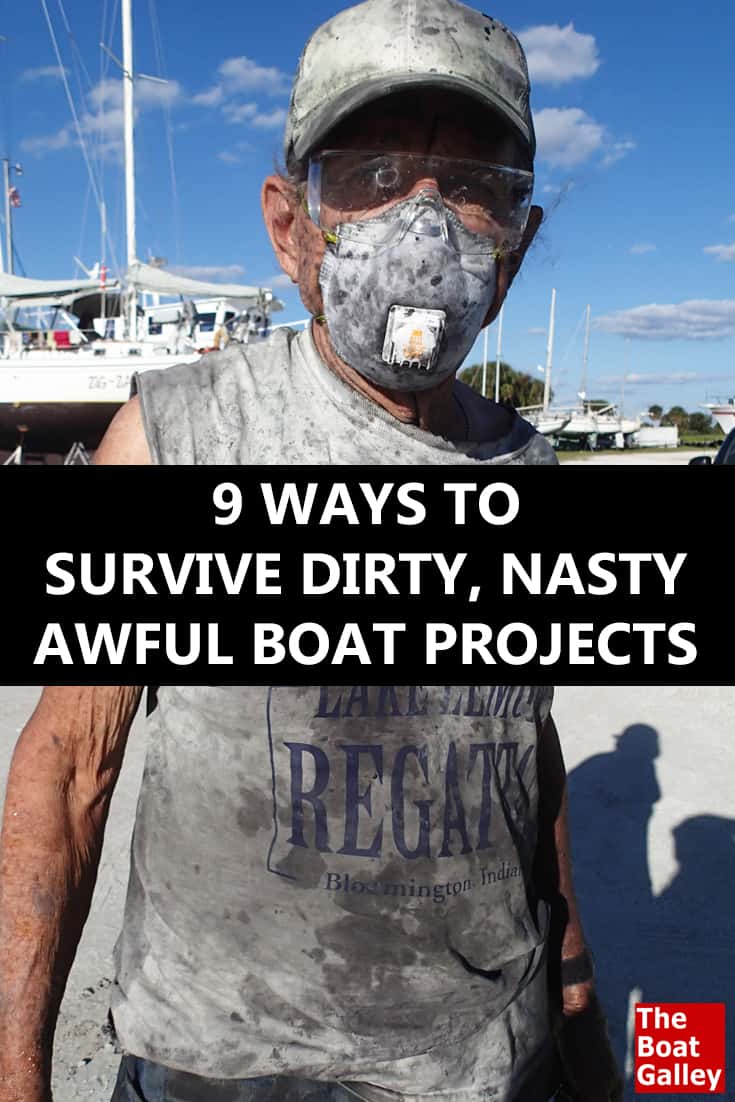 Some links above (including all Amazon links) are affiliate links, meaning that I earn from qualifying purchases. Learn more.