If you're doing a multi-day painting project – like, say, painting the bottom of your boat – the daily clean up can be a pain.
When we remodeled our house six years ago, we worked as our contractor's assistants to help keep the cost down. We picked up lots of great tips, including this one.
Instead of cleaning your rollers and brushes every evening, just wrap them in plastic and put them in the refrigerator.
Obviously, this assumes that you'll be using the same paint. I've been able to keep rollers and brushes three and four days this way, when weather made it impossible to paint again the next day.
I just use grocery-store type bags. I put the first bag over the roller and pull the cover off the handle (you can leave it on if you have enough room in the refrigerator; I don't). Wrap the bag around the roller and then drop it in a second bag, roll that one up tightly, then a third. Then I take some tape (usually the roll of blue tape is handy), put a few wraps around it to keep the bags from unrolling and letting air in, then plop it in the refrigerator.
For brushes, it's pretty much the same. Wrap the first bag around the brush, then a second bag, then a third and tape. Then into the fridge.
The next morning (or whenever), tear the bags off and start painting. If you took the roller off the handle like I do, open one end of the bags, push the roller on the handle, then pull the bags off. Since the bags are pretty messy, I unwrap them while standing next to the dumpster or a big trash bag!
I've used this method for both oil- and water-based paints with great results. I'm not sure that I'd try it with varnish – both for the life of that expensive varnish brush and I don't know if it might cause slight imperfections in the finish.
An added bonus is that since you start the day with a paint-soaked roller, you're not wasting paint by first cleaning out yesterday's paint and then having to get the roller soaked again. Ditto if you normally don't clean out a roller but just throw it out – and in addition, you use fewer rollers. With most bottom paints costing over $150 a gallon, I want it all going on the boat!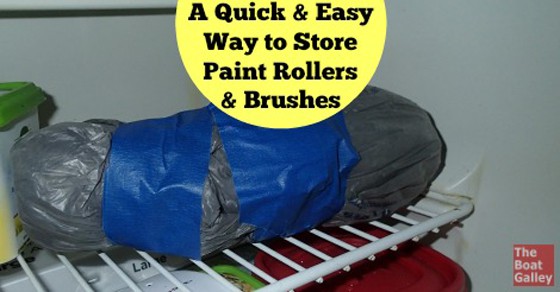 Some links above (including all Amazon links) are affiliate links, meaning that I earn from qualifying purchases. Learn more.