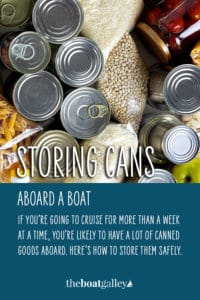 If you're going to cruise for more than a week at a time, you're likely to be storing lots of canned food onboard. Dave and I always figured that if our refrigeration failed, we could still eat well if we had a decent stock of canned good aboard. While we never have had a problem with the refrigerator, our stock of canned goods enabled us to go two to three weeks between provisioning runs. And since we like snorkeling, hiking and fishing far better than schlepping groceries, this worked perfectly for us. In most meals, I used a combination of fresh, canned and dried foods to add interest and variety.
So, you're thinking, what's there to know about stowing canned goods?
It's not quite as simple as I thought when I did the first provisioning run for Que Tal. I learned a few things the hard way.
Canned Goods Considerations
Storing canned food on a boat is quite different from doing it in a land-based home. These are the important things to consider:
Cans are heavy – typically about a pound each. This means two things in storing them. First, cans need to be stowed low and in the center of the boat so they don't interfere with the trim of the boat. And second, cans need to be stowed securely so they don't become flying missiles in rough weather . . . or when a jetski comes by.
While cans don't break, they are susceptible to pinholes from salt spray or drips. So if there is any chance that salt water could get into a particular locker (for example, if it's under a deck fitting), use solid plastic bins to hold the cans. And if the salt water could come from above, the bins need to have lids.
Sometimes, that salt spray comes as you're transporting groceries to the boat in a dinghy – or even down the dock on a windy day. Cans may also carry insects and their eggs. For both these reasons, it's good to give cans a quick wash and dry when you bring them aboard. Yes, it adds extra work when you're putting them away. But cleaning up leaking cans or insect infestations can take far longer.
Another big consideration is to keep cans from shifting with the motion of the boat. If the cans can move, they will. And this will result in dented cans, possibly broken cans, pinholes from wear, and lots of noise!
In large lockers (anything over about 1 cubic foot), I use two or more plastic bins to divide the space up. Otherwise, it's hard to keep the cans from shifting with the motion of the boat. With smaller spaces, it's easier to add rags or pieces of bubble wrap to keep cans from moving. And to consolidate cans from one bin into another as you use some.
I also used bins with smooth, rounded bottoms in a couple of lockers that had wiring running along the bottom of one side. I definitely did NOT want a can rubbing a hole in the insulation on the wire and causing a short or worse, a fire!
In smaller lockers and on shelves, I used non-skid "shelf paper" (Amazon) so that cans couldn't slide as much. I also used padding to take up extra space.
Most cruisers prefer to store cans upright so they don't roll. And that's one reason for taking up extra space with padding so that cans don't fall over and start rolling. Rolling is more likely to dent cans, cause pinhole leaks, and it's horribly noisy!
For cans stored in lockers accessible from the top, it's a good idea to label the tops of cans. That way, you don't have to pull every can out to see what it is. Be sure to use a permanent marker so the ink doesn't run.
Labelling the top is also a good idea if there is any chance – however remote – of the cans getting wet or damp so that the labels come off. Guessing at can contents can make for very "interesting" meals!
Other Ideas for Food Storage
To see my recommendations on bins, padding and other items mentioned here, see my article on Food Storage Supplies. And be sure to check out Sami's Can Pantry — a WONDERFUL way to use a very shallow space!
Related Posts
Want some help with that tiny refrigerator? Check out our step-by-step how-to:


Making Boat Life Better
Some links in this article (including all Amazon links) are affiliate links, meaning that we earn from qualifying purchases.