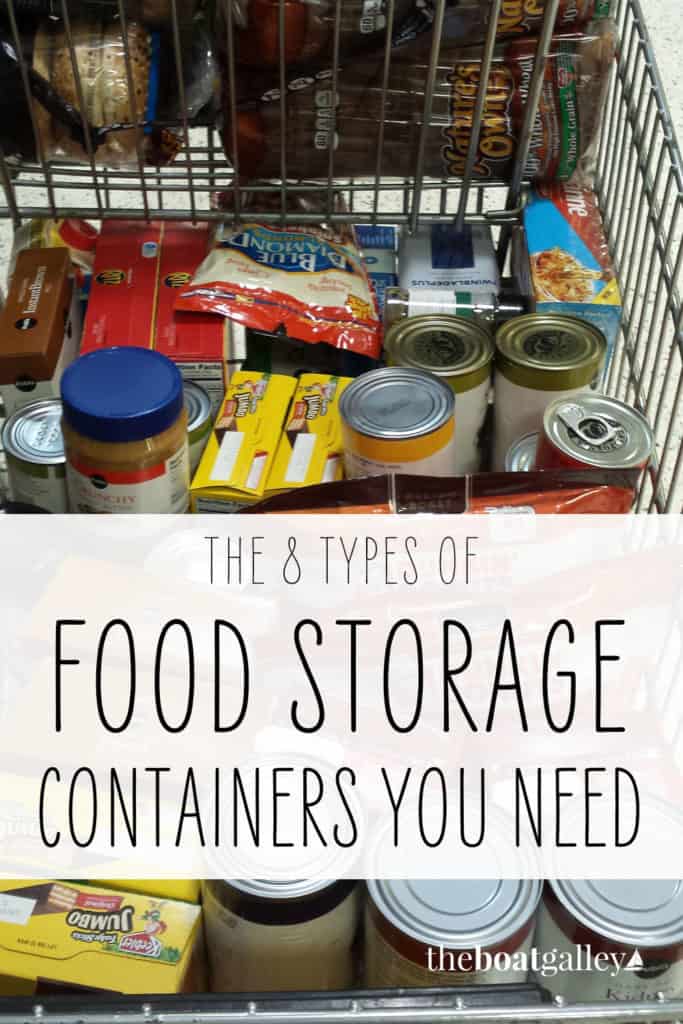 Wondering how to store food on a boat? Let's start with the goals (read my article). Then, you need 8 supplies to store food on a boat effectively.
1. Plastic bags. Heavy-duty resealable plastic bags are indispensable for food storage. I tried to always have a substantial stock of 1-quart, 1-gallon and 2-gallon Ziploc freezer bags on hand. While the zipper style bags are convenient, I've had more problems with them leaking than with the traditional "press together" style.
The heavy-duty freezer bags can be hard to find once you're out of the US (particularly in the larger sizes), so I try to re-use as many as possible although I never re-use ones that had meat in them for fear of contamination. I also took bags back from the US several times. You can often buy them in quantity at Costco, Sam's Club or on Amazon at much cheaper prices than at your local grocery store.
2. Permanent felt markers. I like the Sharpie fine point felt pens for marking on Ziploc bags and on the top of canned goods. Don't use markers that aren't permanent — the ink will run if it comes in contact with any little bit of water!
3. Plastic bins. Use plastic bins to organize lockers and the refrigerator. The sizes you need will vary depending on your lockers, but you need solid ones for things that would be messy if they broke, and ventilated ones for items that need airflow. I really like the Sterilite ventilated baskets like the one shown here — they come in a variety of sizes, are very tough, are easy to clean and they have solid bottoms so that if anything spills, it's contained. Sterilite also makes a set of nice solid bins — in lockers, I don't use the lids and so don't bother to pay extra for latching lids. I do have a few boxes where lids are important, and for those I pay for ones with latching lids. Both kinds of Sterilite bins are available at Wal-mart as well as at Amazon.
I also use a few milk crates but really don't like them as well as they don't have solid bottoms. And for some odd-sized places, I used things like small plastic waste baskets (good in a deep refrigerator for storing drink cans — cut some holes in the sides for air flow) and plastic juice bottles with the tops cut off (good for organizing a top loading locker with lots of small packets).
4. Gear hammocks. Gear hammocks are wonderful for storing "fragile" items like chips, eggs and produce, and they also make use of space that is otherwise empty. I had four of them aboard Que Tal, along the ceiling in the saloon. Just don't store anything really heavy in them . . . and don't hang them next to a wall if you have anything fragile in them — the hammock will hit the wall with the motion of the boat and suddenly your bag of potato chips will be a bag of crumbs.
5. Plastic food storage containers. You'll use plastic lidded containers not just for leftovers and putting things in the refrigerator, but for storing lots of dried goods to protect them from moisture and bugs. When we left to go cruising, I bought a big box of cheap storage containers and soon found that they were no bargain — the lids popped off and the containers themselves cracked with the motion of the boat. I had pasta salad all over the bottom of the refrigerator and sugar all over the bottom of a locker. I spent a lot of time cleaning up and wasted a lot of food.
I like locking lid containers and ones that are VERY hard to pull open, and I try to buy ones that are square with vertical sides — round ones waste a lot of space when you try to put several in one locker. I don't like to get ones that have an "air vent" to let air out — I've had problems with these leaking.
There are several good brands, and you can buy sets that have a variety of sizes which cost a lot less than buying individual pieces. I found that I used a bunch of "canister size" containers for sugar, flour, pasta, rice and other dried goods — far more than I had in a home kitchen. My favorites:
Wal-mart also carries inexpensive half-gallon and gallon clear plastic square canisters with screw-on tops. I used 6 of these — they're not totally airtight like some of the others, but they fit the space I had.
6. Non-slip shelf paper. I lined all my lockers (both shelved and top loading) and drawers with non-slip shelf paper to keep cans, utensils and other items from sliding around as the boat moved. Not only does it keep the noise down, it also prevents wearing holes in cans and plastic containers as well as dents.
7. Cushioning materials. I used paper towels, bubble wrap and pieces of fleece to pad fragile foods and also to take up space and keep things from sliding. Take along a package of cheap tube socks to pad bottles.
8. Critter deterrents. You'll need a number of different things to deter weevils, cockroaches, ants and other critters:
Bay leaves to put in flour and mixes containing flour to prevent weevils
Cloves (whole, ground or oil) to prevent ants — in every locker
Ant traps in every locker
Cockroach traps in every locker
I don't like to use ant and roach sprays both because of the possibility of overspray getting on food preparation surfaces and because we have a small dog and I didn't want to spray it anywhere that she might go.
When we first moved aboard Que Tal, I was surprised by how much I needed of all these supplies. I had bought what I thought were reasonable amounts and quickly ran out. So don't be surprised if you find yourself needing more than you originally thought — but having a good food storage system will really pay off in the long run.
Read Next
Want some help with that tiny refrigerator? Check out our step-by-step how-to:


Making Boat Life Better
Some links in this article (including all Amazon links) are affiliate links, meaning that we earn from qualifying purchases.