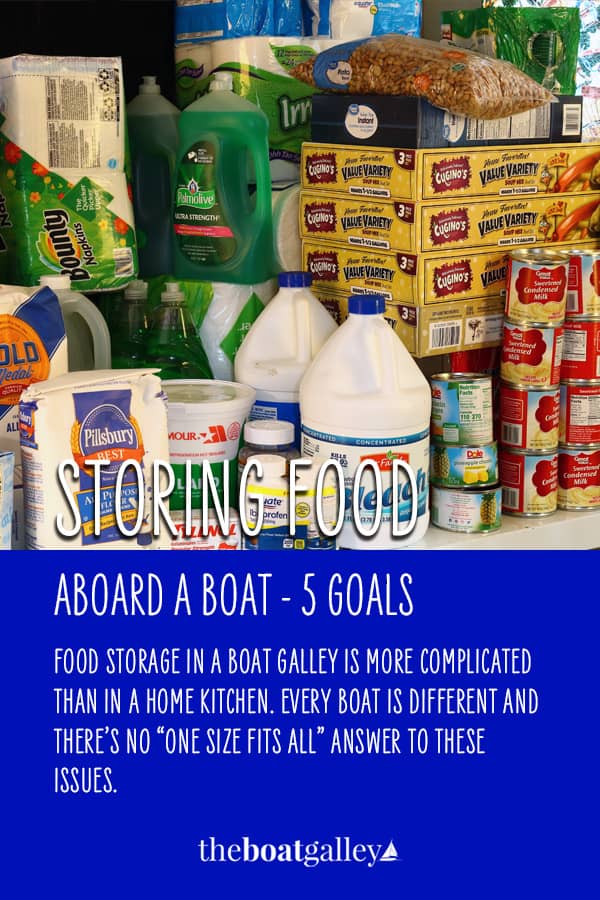 Storing food on a boat is more complicated than in a home kitchen.  For one thing, the storage areas are different – there's no walk-in pantry on a boat and a lot of your food will be stored in other areas of the boat, under settees or the floor.  Most likely, the boat refrigerator opens from the top, so organizing it is different (read about that here).  And finally, there are more hazards to protect your food from.
The five primary goals in storing food on a boat are to:
Protect the food from the motion of the boat, which includes protection from crushing for fragile foods, as well as from chafing and breakage of containers;
Protect the food from heat and humidity, which can cause spoilage much faster than in an air-conditioned house;
Prevent a bug infestation;
Make foods and ingredients as accessible as possible;
Make efficient use of the storage space available so as to have sufficient food for the trip.
Every boat is different and there's no "one size fits all" answer to these issues.
The weight that you'll give each of the five goals in food storage will vary by where you're cruising. For example, when we cruised the Sea of Cortez in the summer months — which tend to be very hot, with little wind — protection against damage from heat was a far bigger consideration than damage due to the motion of the boat. In the winter months, with lower temperatures but northers roaring through an average of once a week, the situation reversed.
Spend just a few minutes thinking about your food storage system in terms of these goals, and you'll be a lot less frustrated when it's time to prepare a meal.
One warning, however: expect to re-arrange things in your boat galley a few times before you're satisfied. I changed things around several times in our first year of cruising, and after that I still made some changes as we traveled from one area to another and found myself buying somewhat different foods in different packaging.
It's important to keep things you use most often in the most accessible places. Initially, I had a hard time with this, as I wanted to keep all of a certain item together. The reality, though, is that you can't always keep your entire stock of something in an accessible place, but you can store enough for a few days or a week. For example, I kept canisters of pasta and rice right in the galley, but extra stores were in big plastic tubs under the floorboards, which were under a carpet. Once a week, I'd get in that locker and replenish stocks of everything stored there.
If the location of a particular item frustrates you on a daily basis, it's time to change how you store it!
Read More About Storing Food
Want some help with that tiny refrigerator? Check out our step-by-step how-to:


Making Boat Life Better
Some links in this article (including all Amazon links) are affiliate links, meaning that we earn from qualifying purchases.