One of the very first articles I wrote for The Boat Galley was some general tips for organizing the refrigerator. But, frankly, that empty box is a little intimidating when you see it at first. Unlike a home refrigerator, it's usually just a box. Either no dividers or just one between the refrigerator and freezer. No meat keeper, produce drawers, wine bottle holder or even a shelf!
Add in the fact that the total space tends to be smaller than "house" refrigerators and no wonder that planning what you'll do with the space gets stressful!
There's actually no one correct way to organize the refrigerator — everyone has different preferences and priorities. I can, however, give you some pointers and show you what I eventually came up with.
Organizing that big open box will ensure that you don't have to keep the refrigerator open too long when you need something, that everything is kept at its proper temperature and that the space is fully utilized.
First, determine your priorities for the limited space in the refrigerator and freezer, asking yourself questions such as:
Do you need ice in your drinks, or will "cold drinks" suffice? If your freezer is tiny, you may have to choose between ice and being able to freeze meat.
If you want plenty of cold drinks, you may have to use more canned fruit, vegetables and meat; if you want lots of fresh produce, there will be less room for other things.
Second, think about what needs to go where. The coldest area in the refrigerator is at the bottom, with the area right under the chill plate the coldest – a good place for meat. The bottom is also good for drinks, not only to keep them cold but also to keep the weight low and prevent them from falling onto fragile items. The warmest area is at the top, away from the chill plate, making it perfect for things like lettuce.
If you want more "cold" or "not so cold" space than the natural progression of cold-to-warm areas offer, it's easy to wall off sections without totally rebuilding the box. Rigid foam sheets, sold at home improvement stores, are best to use but a double layer of corrugated cardboard will work too. Cut it to size to make a wall between the "cold" and "cool" sections, and duct tape it in place (don't tape it too securely – you'll want to remove the wall to defrost). The side that contains the freezer compartment or chill plate will be quite cold (possibly freezing), and the other side much less so. You can adjust the relative cold by making holes in the divider so that more cold air passes to the "cool" side – just don't make too many all at once as it takes about a day for the relative temperatures to settle in.
Third, find bins and boxes that will fit in your planned areas to put your food into. Grouping like items together – drinks, produce, cheese and so on – will ensure that foods stay in the proper temperature areas, that fragile foods will be protected and that you'll be able to find things quickly. Containers need to be sturdy to stand up to the motion of the boat and being moved about several times a day. Covered containers work well for things like lettuce and tomatoes that you don't want squished; otherwise, I like open tops for easy access, solid bottoms to contain the mess if anything leaks and ventilation holes in the sides.
Finally, try different arrangements with the bins empty, putting the food into coolers until you find an arrangement that works. It may take some trial and error to come up with the best sizes and placement of bins and dividers, but in the long run pays huge dividends. Foods will stay fresh longer and you'll find what you need much more quickly, lessening both your frustration and the battery drain.
Click to learn about Eating Well with a Tiny Fridge
How Mine is Arranged
You may have different priorities, different things you're keeping in the refrigerator and your refrigerator may be sized or shaped very differently. But seeing how I do it may give you some ideas!
A chest freezer stands in for the refrigerator, allowing me to take photos showing the entire arrangement. I start with the things that need to be kept coldest, putting them on the bottom directly under the freezer. I'm thinking I'm going to have to wall off a section for a larger "really cold" area . . .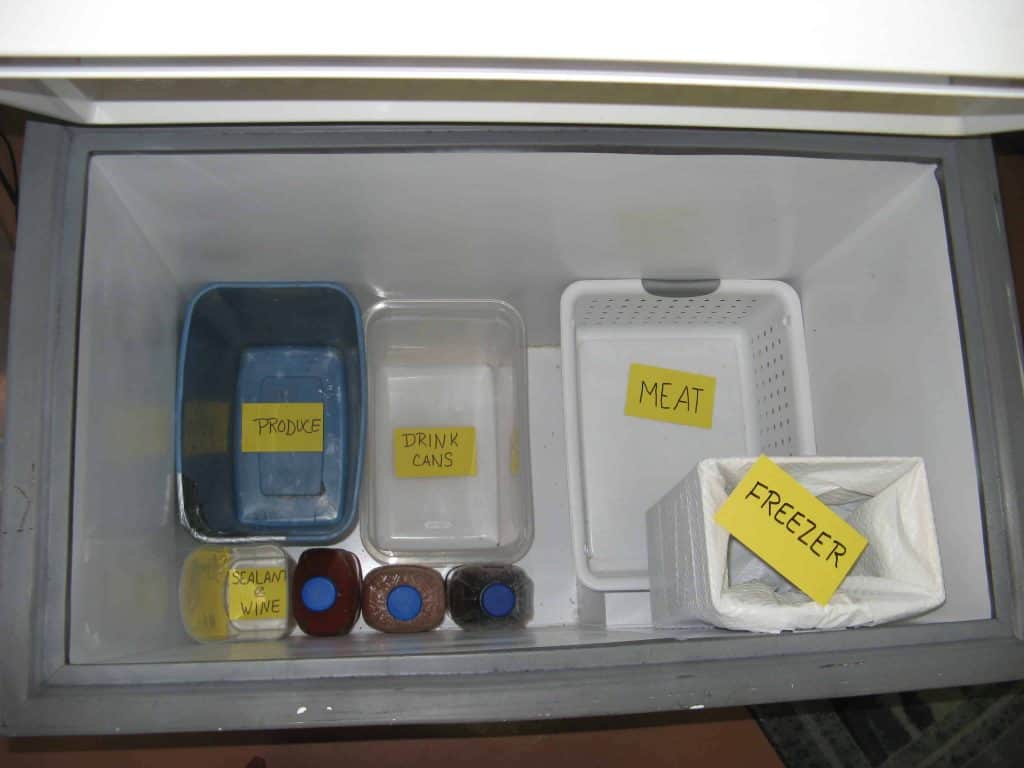 The bottom level has meat just below the freezer, drinks (canned and in bottles) on the lowest level, and space for extra produce and wine or sealant tubes (they last much longer in the refrigerator — read more). I'll use a Dremel tool to cut some ventilation holes in the bins that don't have them.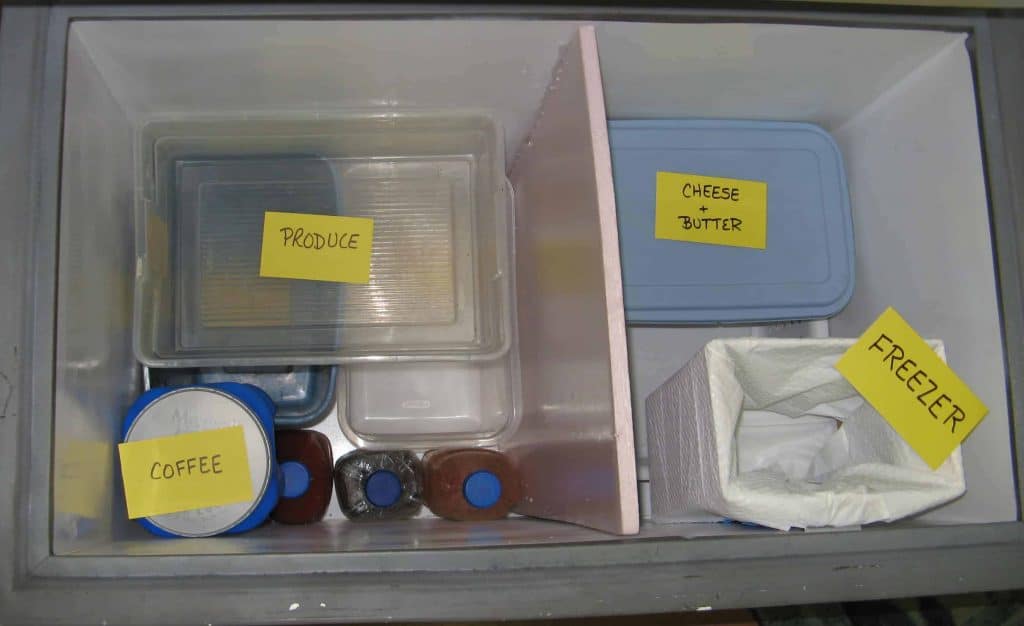 A second produce bin for lettuce and other fragile items doesn't completely cover the bin for canned drinks, so it's still easy to grab them when needed. A divider makes an "almost freezer" for meat and cheese.
My final step is to add a few holes in the divider to let cold air pass into the "cool" section. I'll duct tape their edges, too, when I'm sure I don't need to enlarge them.
Now, I just put the food back into the refrigerator from the coolers . . . and then enjoy a cold drink!
Struggling to live with a small refrigerator? Eating Well with a Tiny Fridge will teach you how to have the ingredients you want for the meals you love! Just $19.
Some links above (including all Amazon links) are affiliate links, meaning that I earn from qualifying purchases. Learn more.