Does your boat have a really shallow "locker" (using the term loosely) behind one or more of your settees? If so, use it to create a great can pantry!
This is another one of those "why didn't I think of that?" ideas. Aboard their liveaboard sailboat, Ever After, Sami and Barry Shreve created the can pantry shown in the photo. The best thing about it, says Sami, "was being able to see and access cans at a glance." Although she pulled the settee back down totally for the photo, in everyday use she could just tip it forward a bit, see what she wanted and grab it.
One thing that immediately struck me was that it removed one step from my whole "putting away the provisions" routine: labelling the can tops. Not a monstrous task, I'll admit, but one that added a half hour or so to the chore when we did a big provisioning run.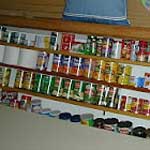 And I love that you can totally see what you have! The close-up at right shows just how easy it is to find what you want, with all the cans in a single layer.
I kept my cans in a top-opening locker, with two layers. So if what I wanted wasn't in the top layer, I'd have to start pulling cans out to look underneath them until I found what I wanted.
Sami and Barry liked the system so well that on their current boat, a trawler named Deja Vu, they're going to build a similar pantry this summer.
If you find that your cans roll a bit particularly as you take a few cans out, you can toss a few rolls of toilet paper onto the shelves, as Sami did. Other options would be to glue foam to the settee back or putting a few rags between the cans and the back.
Some links in this article (including all Amazon links) are affiliate links, meaning that we earn from qualifying purchases.