Whether you're a "snowbird," just now putting your boat away for hurricane season, or a summer boater getting the boat ready for the season, spring is a great time for a thorough galley cleaning.
I prefer to tackle the job one locker at a time instead of doing one step at a time and ending up with everything out of every locker at once. Your preference may be to open all the lockers, make one big mess and then have it done with. There's no one right way!
Getting ready to cruise? Prepare to Cruise (a FREE mini-course) gives you lots of free resources along with affordable recommended courses and coaching for more in-depth needs.
Food and Lockers

I start by taking each item out of the locker and checking to see if it's still good . . . pitch anything that insects have gotten into, where there is mold, powders that are rock hard, or anything that otherwise looks "bad" (read more about checking spices).
My next rule is that if I've had it over a year and we haven't eaten it, set it aside to donate to a food pantry.
Then I wipe all the "good" cans and bottles down with a bit of bleach water and let them dry. While they are drying, I remove any non-skid shelf paper and bins in the locker and wash them out, too. I like to give them a wipe down with bleach water, too, before letting them dry. And finally, I wash out the locker itself, being sure to first clean any old bay leaves or other "critter control" out (discard all these).
I let the locker dry, then put fresh bay leaves (to protect against weevils in items with flour, corn or other cereals), cloves (ants) and roach preventive in the bottom. Then any bins and non-skid go back in (make sure they're 100% dry).
As far as the food goes, what you do depends on whether you're getting the boat ready for the coming season or putting it away.
If you'll be using the boat, I recommend inventorying the food as you're putting it back in the lockers, either with my "What's on the Boat" list (better for weekenders) or Downloadable Inventory & Provisioning Spreadsheet (better for part or full-time cruisers away from provisioning sources for weeks at a time). I usually end up rearranging things a bit, too, as I re-think what items I want easiest to get to.
If you're in the process of "de-commissioning" the boat (assuming it will be left for months, not just a week or two), most of the food will need to come off the boat. If it won't freeze, canned food can be left on board, although the quality will degrade if it gets particularly hot on the boat for weeks on end (it won't hurt you to eat the food, but I often notice that the color has darkened). I tend to take everything else off the boat to avoid any possible bug and mouse infestations. If it will be hot, be sure to take spices off as they'll be totally dead otherwise. Ditto for baking powder and any box mixes that contain baking powder (almost all do).
On the other hand, if you're getting the boat ready for the season, there probably isn't much food already on board. Hopefully you gave the galley a thorough cleaning before you left it at the end of last season and all you're having to do is give it a wipe down with bleach water and change all the "critter proofing" (the bay leaves, cloves and roach killer). But check carefully as you go through each locker — if there is any sign of mold, mildew, bugs or mice, take care of it before you bring any other food (or other gear) aboard. Problems only get worse if they are ignored!
Fabrics
I don't like to leave "dirty" fabric items on the boat as they tend to attract bugs. It's best to wash all the towels, dish rags, place mats, rugs and whatever else can safely be washed (bedding too, even though it's not part of the galley). Then put them in plastic bags to keep dust off — some people like to take them off the boat in the off season; if it is likely to even very hot and humid on the boat when it's closed up, taking anything rubber-backed off to a cooler location will help prolong the life and keep the items from sticking to whatever they are on (rubber-backed rugs have a tendency to stick to the floor if left in place, when you lift them next season you'll frequently have part of the backing pull off).
TIP: I've heard from a couple of cruisers that putting dryer sheets in with fabrics when you are storing them is a bad idea as they mold easily.
At the beginning of the season, quickly check everything as you set it back out to make sure it's still clean and bug-free.
Utensils, Cookware, Dishes
As part of my spring cleaning, I pull out all my pots, pans, dishes, utensils and everything else and take a good look at them while at the dock with plenty of water. Many times, I'll find some "gunk" under the lip of a pan, or utensils that haven't been used for a while and have just picked up some stickiness from the humid air and dust (at least this is what I assume it is). I heat up a big pan of wash water and give everything a good scrubbing, as well as wiping out the drawer or locker, replacing any liners necessary and so on. Make sure that everything — both the locker and the contents — are totally dry before putting things back in their places.
This is also a good time to see if anything needs replacing or if you have gear on board that you never use and is just taking up space.
Stove/Oven
Yuck. This is one of those nasty jobs, but important. Grease and food particles around the stove both attract bugs and rodents, and can be a fire hazard . . . and can be the source of some funky odors, too. If you're a part year boater, it's best to do this at the end of the season to lessen the chance of a bug infestation over the off season — but if you didn't do it at the end of the season, do it now!
In the typical boat installation, there are four parts to cleaning the stove and oven (you can omit the "oven" portion if you don't have one). Check your owner's manual for specifics, but basically you need to clean the oven and racks, the top and all the burners, under the stove and all around it (both the stove and the "walls" around it). Most stoves can be removed for cleaning around them and there will be instructions for how to do it in the owners manual — or at least you can read how it was installed and reverse the steps to pull it out. If your owners' manual does not have directions, check the manufacturer's web site and if that also fails, there's always Google.
I don't have any wonderful labor-saving ways to make cleaning the stove and oven easier, other than to say that spraying everything down with your cleaner of choice and letting it sit for a few hours (or overnight) usually helps. A good degreaser (my favorites are Awesome and Krud Kutter, and any with orange tend to be pretty good) and hot water helps in cleaning the surround.
If you have a microwave, give it a good cleaning, too — and be sure to remove it to get under it and behind it.
Refrigerator/Ice Box
If you're ending your season, it's also time to defrost the refrigerator and clean it out. See my post on how to defrost the refrigerator for details, but obviously don't put any food back in it and leave it turned off. It's a good idea to wipe it out with a baking soda and water solution (maybe a 1/2 cup of baking soda in a quart of water, I never really measure it); this is also a good idea for ice boxes and coolers. Be sure to dry it out as thoroughly as possible!
Leave the box propped open for the off season so that air can circulate to at least some extent. Closing the box up will almost guarantee some funky smells in there when you open it again . . . and mold is likely to grow, too. I usually leave an open container of baking soda in the box; some cruisers wipe the insides down with a tea tree oil solution to retard mold and mildew too.
If you're beginning your season, I like to wipe down the inside of the box with a baking soda solution before putting any food in it (if you find mold has invaded in the off season, wipe it down with a vinegar or tea tree oil solution). Dry it thoroughly, too.
And don't forget — at the beginning, end and monthly — to vacuum the refrigerator coils and any air vents and fans leading to them. Read more about keeping your refrigerator running efficiently here.
Counters/Floors/Etc.
I like to leave everything clean at the end of the season and then wipe it all down again at the beginning of the next season. I dig into all the nooks and crannies of the fiddles, storage cubbies and everything else. Depending on what I'm cleaning, I use degreaser, ammonia, bleach water, vinegar water, baking soda and maybe even cleanser. I have just recently started learning about tea tree oil and am sure I'd use it, too, to retard mold and mildew.
To get into little areas, I use both Q-Tips and a screwdriver with a bit of rag or paper towel over the tip. While I loved the fiddles on Que Tal's galley counters which made it almost impossible for anything to fall off, the joint between the counter and fiddle just collected crud. And while I cleaned it daily, several times a year I'd really dig into the corners . . . and be surprised that there was more gunk than I realized lurking there.
If your lockers have louvered doors, it's important to clean the louvers — dust and grease just love to get in there and stay. I learned that the easiest way to clean them was to remove the doors (mine just lifted off the hinges so it was easy), take them out on the dock and use a hose. A quick blast of water, a dab of biodegradable soap if I really needed it, and then I'd let them dry before reinstalling them.
The doors that weren't easily removed were more, uh, challenging. I used Q-Tips in the corners of each slot, and would slide a rag soaked in cleaner through each slot so that I could take an end in each hand and "scrub" back and forth. In salt-laden air, the slots get really sticky!
It's also a good idea to clean any fans in the galley area (and if there is a nearby exhaust fan, get that too). The humidity and grease produced by cooking gets on the blades and attracts dust which then turns into "gunk." I like the Caframo fans as the blades are finger-safe and not enclosed in a cage, which makes them (relatively) easy to clean. Other fan designs may have to be partially dissembled in order to clean the blades . . . but when you take a look at what's on the blades, you'll probably be motivated to take the time to do it!
Conclusion
I admit, doing a thorough galley cleaning is a pain. Even though it's a smaller space than a shore kitchen, it seems harder to clean just because there is so little space to work in. However, really doing the job right is essential for avoiding bugs, rodents and funky smells.
Got any tips to make it easier? Or did I miss something? Leave a note in the comments!

---
Our FREE Provisioning Spreadsheet
Wondering how much of what foods to take on your next trip? Know just how much to buy of what — all arranged by grocery store aisle — with our handy Provisioning Spreadsheet. Includes detailed instructions to edit it for your favorite foods, how much your family eats, and how long you'll be gone. No spreadsheet skills needed!
It's FREE — get it here.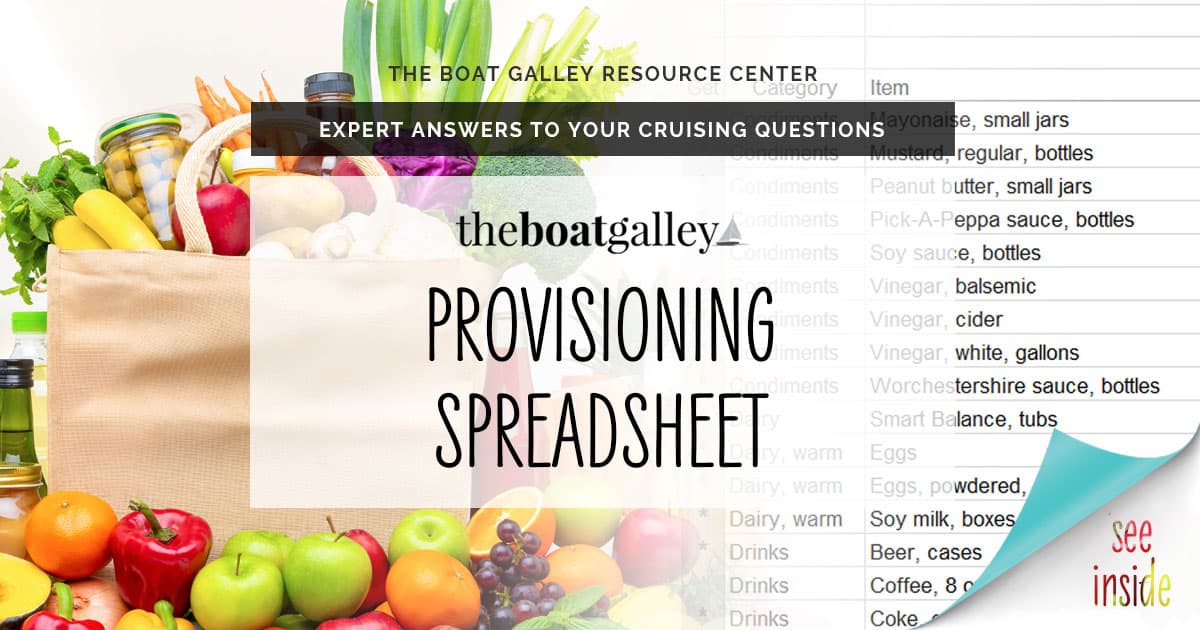 Some links above (including all Amazon links) are affiliate links, meaning that I earn from qualifying purchases. Learn more.