A few days ago, a partial bucket of water spilled on the floor and Dave noticed that quite a bit of it just disappeared into the seam between the fiberglass floor and the teak and holly overlay.
So he unscrewed the wood and lifted it up to wipe up the water.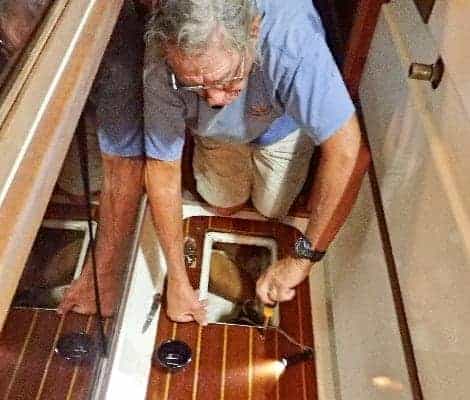 YIKES!
I was embarrassed by what we found.
Sixteen years of accumulated dirt, grime, mold and mildew. The back side of the wood was the worst
While we have never noticed any particular "funky boat" smell on Barefoot Gal, it had to be there. And that incubator for mold and mildew can't be good for putting the boat into storage for the (hot and humid) summer.
We got two of the floor sections cleaned before we left Marathon, using lots of bleach to kill the mold and mildew and letting the wood dry thoroughly before putting it back down. Where there was just dirt, we vacuumed it up and then washed the fiberglass. Four more sections to go.
I am not looking forward to the ones by the table and in front of the refrigerator. What food and drink must have spilled and collected there?
A friend on another Gemini told us that after spilling a Coke one day and watching it disappear under the floorboards, he (of course) began with the same lifting the floorboard and cleaning under it. But when he rescrewed the wood, he set each screw in silicone and ran a thin bead of silicone around the edge where it meets with the fiberglass in order to seal it off.
That seems like a good idea, although I wonder if minute cracks would develop in the silicone that would still let liquids through. John has never lifted his floorboards since doing it, so can't say for certain that nothing has collected.
Got any similar places on your boat where you've found more gunk than you imagined could be there?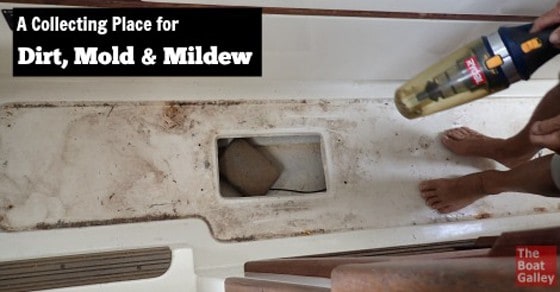 Some links above (including all Amazon links) are affiliate links, meaning that I earn from qualifying purchases. Learn more.