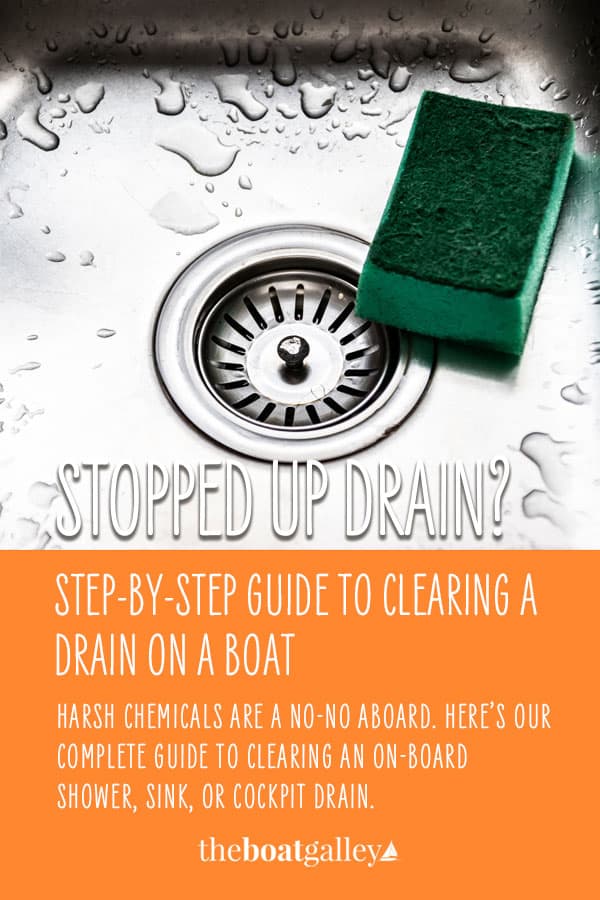 How do you fix a clogged boat drain? You're not going to use Drano on a slow galley sink drain — or one that's totally stopped. So what do you try?
I'm assuming here that the drain has worked well in the past, so it's not an "engineering" problem like too small a drain hose or location problem. Those are issues way beyond the scope of this article!
6 Methods to Clear a Clogged Boat Drain
Dave and I always believe in trying the simplest fixes first. Here are six methods of clearing a clogged boat drain in order from easiest to most complex. The same techniques work on galley, head and shower drains.
Seacock. Assuming that the seacock for the boat drain is in the bottom of a locker, it's possible that something fell against it and partially closed it. Unlikely, yes, but possible. And you'd feel really silly if you hadn't checked the seacock first — it'll only take a minute or so. With most valves, when the handle is in line with the hose, it's fully open. And while you're at it, work the seacock some — it's a good maintenance precaution so it doesn't freeze in one position, and maybe the blockage was right in the valve and this will dislodge it.
Plunger. If you have a plunger on board, try it first. Note that a plunger won't work unless the basin is full of water — air will just compress and you won't create any pressure to dislodge a blockage.
Hot Water. Grease and soap are the most likely culprits for a slow drain. Hot water will dissolve either one. Boil a teakettle full of water, and pour it down all at once — don't trickle it in. You should see improvement after one pan, although it may take two or three to fully restore the flow. If it doesn't, you'll have to try the next step.
"Drain Cleaner." You don't want to use any harsh chemicals both for the sake of your drain hose and for the environment. But you can use a couple of everyday items and simple chemistry to create a safe foaming drain cleaner. Pour 1/2 cup or more of baking soda down the drain, then add 1 cup of vinegar — cider vinegar works best as it has the highest acidic content. It's a simple, mild acid-base combination that will foam and expand and work its way through a lot of clogs. For even better results, if you have a drain plug or stopper (even a rag is better than nothing), immediately put it in the drain hole and hold it in place so that the soda and vinegar mix expands down the hose and not just up into the sink. Let it sit 10 to 15 minutes, then pour another pan of hot water down. UPDATE: Read about a great drain cleaner that's environmentally friendly for use on boats: Super Digest-It and Marine Digest-It for head and holding tank problems.
Thru-Hull. If the above hasn't cleared the problem, the next step is to clear the thru-hull. And that means going overboard with a mask, snorkel and large screwdriver (and any other dive gear that might be appropriate for the conditions). I like to wear a pair of old jersey gloves to protect my hands, too. Basically, you need to carefully stick the screwdriver into the thru-hull and scrape out any barnacles or other things that may be lodged in there. After grease and soap, this is the most likely cause of problems.
Hose. When all else fails, you're going to have to remove the hose, check for blockages and if you can't remove them, replace the hoses. Be sure to close the seacock before beginning the work! A wire coat hanger or piece of 1/4″ dowel can work wonders for clearing blockages.
A friend recently told us about another way to clear a nasty drain without chemicals.  It's called a Zip-It and it's basically a 17″ wand with little teeth on it.  Stick it down the drain and pull it out, and it grabs all the nasties and pulls them out too.  Officially, it's "disposable" but can usually be used a couple of times before being too bent up.  I got one and have used it a few times, particularly on cockpit drains, and it works great.
Here's hoping that you never have to use this information, and that if you do, the problem is quickly solved!
Read Next
Making Boat Life Better
Some links in this article (including all Amazon links) are affiliate links, meaning that we earn from qualifying purchases.