Five minutes of preventive maintenance a month will go a long ways towards keeping your drains, well, draining.  And not backed up like mine was this morning because I'd been, well, a bit lazy.
Every day, little bits of grease and food particles go down the galley drain.  Little by little, they clump together and slow the drain down — particularly right at the waterline.  Eventually, the clump gets large enough that the drain's not just slow, it's backed up.
Aboard Que Tal, one of our once a month maintenance chores was to boil a big pot of water (I usually got a bucket of sea water so I could use plenty) and quickly pour the whole thing down the galley drain to melt and flush away the congealed goo.  The only two "tricks" are to use plenty of boiling water and to pour it in all at once (obviously, be careful with boiling water and do this on a calm day). Like most other preventive tasks, it's easier than dealing with a plugged up sink.
By the way, it's good to do this in the head sink and shower drain as well.  In both of those, soap will congeal and cause clogs (especially when there's long hair around).
And if you do get a clog, check out my article on clearing one.
And this morning's little experience that led to this?  I'd been sort of lazy and hadn't done the boiling water for a few months.  Well, maybe more than a few.  And when I poured the leftover coffee into the sink this morning, it just sat there.  Luckily the plunger made quick work of it and then a big pot of boiling water had everything flowing again.  And yes, I immediately boiled more for the shower and other sink.
There's now a repeating entry on my calendar each month:  "Boiling water down drains"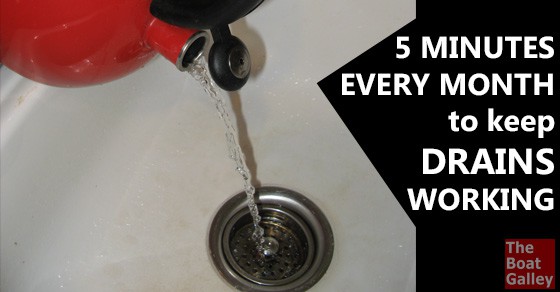 Making Boat Life Better
Some links in this article (including all Amazon links) are affiliate links, meaning that we earn from qualifying purchases.