As a follow up to a couple of posts that I wrote about ways to fix a slow or stopped drain and a 5-minute monthly preventive maintenance routine, Melody on Vacilando wrote me a short note about a great product they had discovered:
I always try the vinegar and baking soda trick first, but we did find a product that worked wonders on a sink drain that just would not budge. It's from a brand called Unique Natural Products and it WORKED. We now use it once every month or so – just close the seacocks and put a little down all of your drains and it will keep them draining like a charm.
Okay, we'll take it for granted that you don't want to put harsh chemicals down your boat drain.  They could eat through the hoses, damage the gray water tank (where used) and are nasty (and most likely illegal) if your gray water discharges overboard.  So I was pretty excited about Melody's find, but have to admit that I haven't used it myself as we haven't had a drain problem since she told me about Super Digest-It Safe Drain Opener.
Instead of nasty caustic chemicals, Super Digest-It does just that:  uses good bacteria to produce enzymes that break down and digest various components of drain clogs.  You pour it right through standing water (or close the drain/seacock and add water if necessary) and wait about an hour.  Admittedly, some clogs may take longer or an additional treatment.  The one thing that the bacteria can't eat is hair (a more common problem in the head/shower than in the galley).  And it won't touch inorganic solids — meaning that the plastic hoses and metal parts of your drain system are safe.
It claims to be safe not just for plumbing and the environment, but also for people and pets.  If it spills or splashes, you're not dealing with a hazardous situation!
You can buy it at most Ace hardware stores, Do-It Best stores, on the company web site or from Amazon.  As far as I can tell, it is only sold in the US and none of the retailers offer international shipping.  The price is about the same from the two online sellers after shipping.
If you want to know more, check out the usage info and FAQs on the Unique Natural Products web site.  The company also makes several other products great marine products — a marine holding tank treatment (Amazon) that liquifies everything including paper and also deodorizes it, a wine stain eater (!) and a pet odor and stain eliminator.


Melody lives aboard Vacilando with Chris, her partner, and Jet, their boat dog.  She makes these awesome nautical bracelets in all sorts of colors and a couple of different styles.  I love mine!  See them all (and buy one for yourself and/or as a gift) at her online shop!
And see the post they wrote about their experience with Super Digest-It here.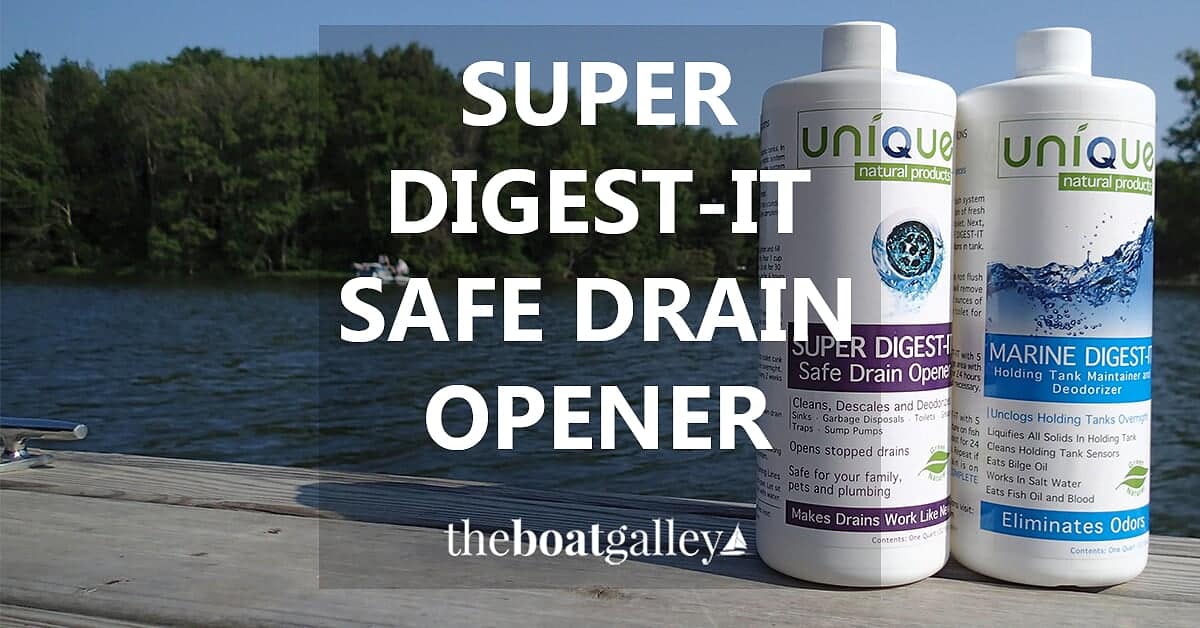 Some links above (including all Amazon links) are affiliate links, meaning that I earn from qualifying purchases. Learn more.