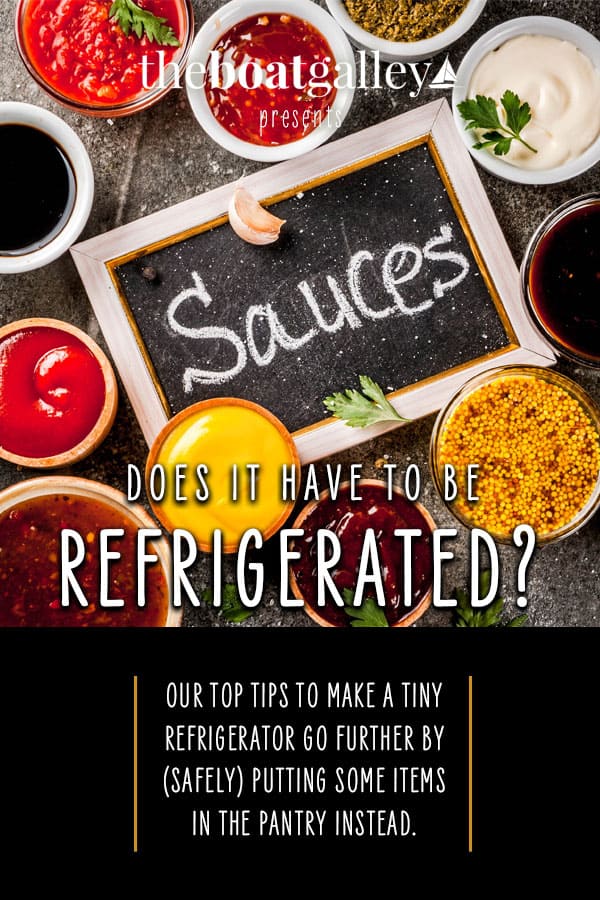 How do you reduce what's in the refrigerator — outside of just not having as much food?
Most boat refrigerators are far smaller than those in houses or apartments. Ice boxes are usually even smaller. And when you combine that with less frequent grocery shopping, something has to give!
For me, the answer was a combination of two ways to reduce what's in the refrigerator:
not refrigerate items that didn't have to be, and
use non-refrigerated substitutes for some items
Space
While I enjoy visiting towns and villages as we cruise, I really prefer to do a big stock-up every two to four weeks, staying in secluded anchorages in between. This means that I have to make the most of the refrigerator space I had.
Don't Refrigerate Most Condiments
Most condiments don't need to be refrigerated. Ashore, most Americans refrigerate open containers of catsup, mustard, jellies, and jams. Some even keep steak sauce, hot sauce, soy sauce and Worcestershire sauce in the refrigerator.
I keep all of them just in a cupboard and have never had a problem with any getting moldy in the 3 to 6 months it took us to use a container. For things that we don't use a lot of, I buy smaller containers so that we'd use them up before they got rock hard.
Use "Boxed Milk"
Boxed milk is a cruising staple. The milk is ultra-pasteurized and vacuum-sealed in boxes similar to juice boxes, typically holding 1 quart or liter. You can get whole milk, 2%, skim milk and even almond and soy milk. Some people think boxed milk tastes slightly different from fresh milk or the same variety; we didn't.
Boxed milk was sold everywhere in much of the world. We found it easily in Mexico, Central America, South America and Africa. In many villages, you could only buy boxed milk and powdered milk — there wasn't any fresh milk.
In the US, boxed milk can be a little harder to find. I've always been able to get it in Super Wal-marts — in the baking aisle! In coastal Florida, almost every grocery carries at least one or two brands; Publix has a wide variety. Read more about boxed milk.
I've kept boxed milk for up to 6 months — I think the official recommendation is more like 3 months. Shake it up before using it — the milk solids can settle a bit. Many of the boxes have a resealable pour spout, but whenever we were on the move or in a rolly anchorage, I'd transfer the milk into a bottle with a screw top.
You can also buy light cream ("media crema" in Spanish-speaking countries) in cans or boxes — in the US, it's usually in the Mexican foods aisle. Evaporated milk, which comes in cans, is not as thick as media crema, but is also a good substitute for refrigerated half-and-half in recipes.
With media crema, you can easily make your own sour cream when you want it — without having to keep it in the refrigerator!
Use Canned Fruits and Veggies Along With Fresh
We love fresh produce. And a great deal can be stored without refrigeration. While some veggies last a surprisingly long time without refrigeration, others don't. So I took those in cans.
I used a combination of fresh and canned so that we could go longer without re-provisioning. Often, I'd make salads that were a combination — such as canned green beans with fresh tomatoes and onions and a vinaigrette dressing. We'd still feel that we were eating fresh veggies!
This post was originally written in December 2010. It was last updated in May, 2020.
Want some help with that tiny refrigerator? Check out our step-by-step how-to:


Making Boat Life Better
Some links in this article (including all Amazon links) are affiliate links, meaning that we earn from qualifying purchases.