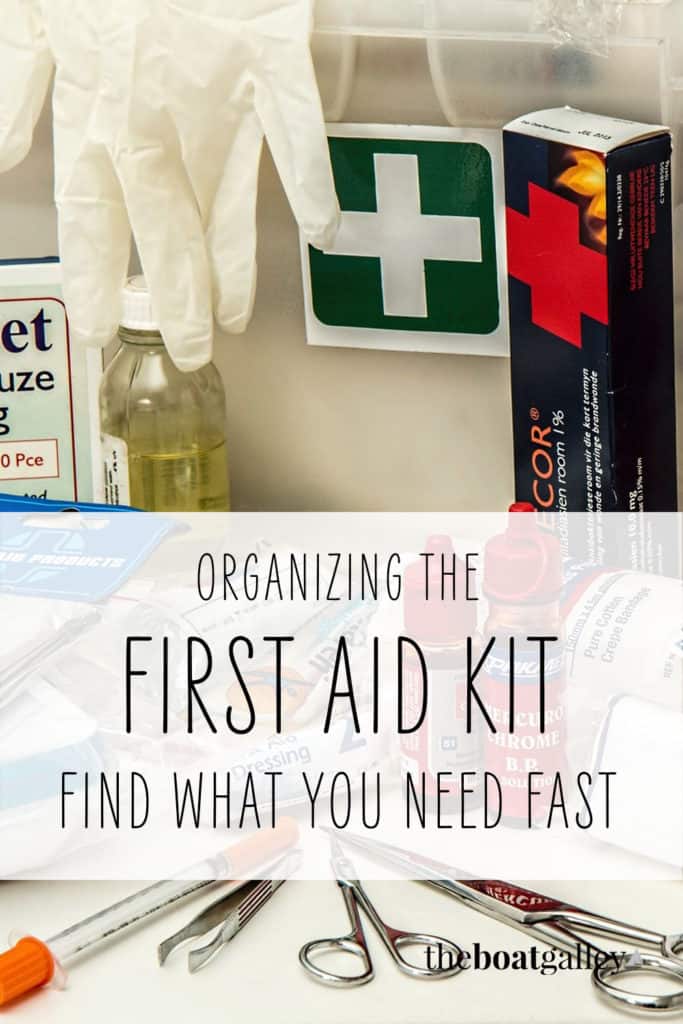 How should you organize first aid supplies on your boat, RV or, really, anywhere?
If you dump all your first aid supplies into a big bin or locker, it can be next to impossible to find what you need, particularly if it's an emergency or you're just feeling rotten.
The Basic System to Organize First Aid Supplies
The best system I've discovered is to sort items by the type of problem they're used for, pack each group into a Ziploc bag and then pack the Ziplocs into a locker, dry bag or bin. The nice thing about this is that when a problem occurs, you can just grab one bag and have everything you need to deal with it.
On Que Tal, we had a top-opening locker that was the perfect size for commonly used first aid supplies (minor cuts, colds, upset stomach and so on) and stored what we referred to as our "major medical" supplies (splint, Ace bandage, prescription pain killers, antibiotics, sutures, etc.) in a large dry bag in a less accessible locker (read more about dry bags here).
Since we'll be coastal cruising aboard Barefoot Gal — and in places where there is good access to medical help — we won't have nearly as comprehensive an inventory of medical supplies as we did for cruising remote areas of the Sea of Cortez and Central America. But my basic organization will be similar.
DISCLAIMER:  I am not a doctor nor a medical professional — check with yours if you have any questions about what you should have aboard. Your first aid kit is your responsibility, as is knowing how to use what's in it.
General Categories & Contents
Below, I've listed my "category bags" and summarized what in is each. But please — don't take this as an indication of what you should have in your first aid kit. Instead, think of things that you are likely to encounter where you'll be boating, any typical problems suffered by those on board and how far help will be in deciding what you should have. I'm putting our list here just to get everyone thinking — maybe something we have will remind you of something you should have.
You'll notice that some items don't really "go" in the bag they're listed in, but they don't really go anywhere else either. Such is my system!
Allergies
Epi-pen, steroids, Benedryl, bug bite medicine, cortisone cream
Cuts
Band-Aids, gauze pads, tape, triple antibiotic ointment, butterfly bandages, antiseptic hand wipes (we take these on hikes where we might have to clean something out with limited water), needles (for splinters or blisters), moleskin and New Skin for blisters, tincture of benzoin (learn how to use this to keep Band-Aids on better), rubbing alcohol
Cold meds
Decongestants, cough syrup, sinus meds . . . whatever works best for those on board
OTC pain meds
Ibuprofen, Tylenol, etc. — again, what works best for you. It's a good idea to keep some aspirin on hand in case of a suspected heart attack.
Sprains and breaks
Prescription strength pain meds, SAM splint, ace bandage (note: forget about those little clips on the ace bandage; secure it with a safety pin or piece of tape (another great use for duct tape). If you aren't familiar with a SAM splint, it's a field splint designed to be cut with regular scissors, etc. I had the unfortunate "privilege" of using one for almost a week when I broke my wrist while rafting through the Grand Canyon; I can attest to how well it works (it was more comfortable than the one I got at the doctor's office when we got off the river). The 36″ length can be used for almost any break or sprain; buy one on Amazon (note: other brands that look similar don't always stay as rigid; I get the true SAM splints). If you have a freezer, you can make your own gel ice pack; keep an extra ace bandage on hand to hold it on.
Dental
Toothache pain reliever (we use Anbesol; there are lots of brands) and a temporary filling kit.
Rehydration drinks
Either the commercial packets or the ingredients to make your own. Dehydration is always a possibility, either from illness or heat. Read more about rehydration drinks including what you'll need to make your own.
Gut
OTC meds for diarrhea, constipation, indigestion, gas, urinary tract infections and yeast infections.
Antibiotics
We carry three days' worth of a couple antibiotics prescribed by our doctor and only use it after consultation with him or another medical professional. Basically, it's enough to begin treatment while en route to professional care.
Paz (our dog)
Antibiotic; liquid Benedryl (for allergic reactions); liquid Dramimine (seasickness); steroids (severe allergic reactions); dropper for liquid meds — if you have a pet aboard, check with your vet for a list of suggested meds and doses (some meds cannot be tolerated by certain breeds)
Miscellaneous
Other stuff we have but not in the first aid kit:
seasickness meds (meclizine works best for me)
swimming ear drops (we use half rubbing alcohol and half hydrogen peroxide in a dropper bottle)
antifungal for athlete's foot
Gold Bond powder for chafing
eyeglass repair kit
tick puller (both for us and the dog) — read more about them here
Semi-Annual Review
While I try to always keep things put away properly and note on the provisioning list if we're low on something, I go through the whole box a couple of times a year to make sure everything is still good — check expiration dates and make sure tape still has plenty of "stick" — and nothing is missing (yes, sometimes we forget to put something on the "to buy" list). In particular, I check it over before we leave a good-sized city for remote places.
If I were really organized, I'd have a list in each bag with what's supposed to be in it, which would make it much easier when I go to check it. I keep saying I'm going to do this, but haven't.
DISCLAIMER: If you're heading offshore or anywhere that medical help would be more than a day away, you need a far more extensive first aid kit. Those are way beyond the scope of this post, and I am not about to suggest what all should be in one.
Read Next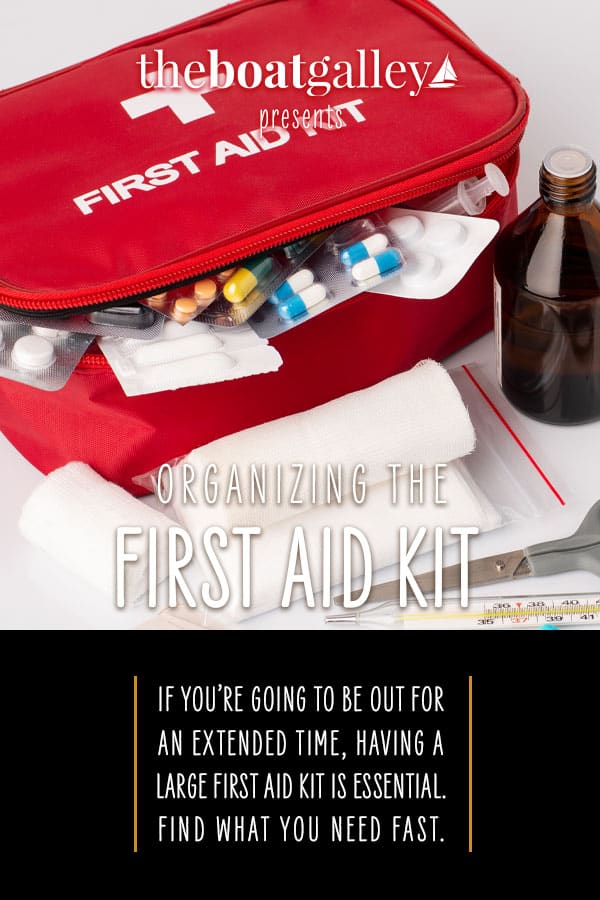 Making Boat Life Better
Some links in this article (including all Amazon links) are affiliate links, meaning that we earn from qualifying purchases.