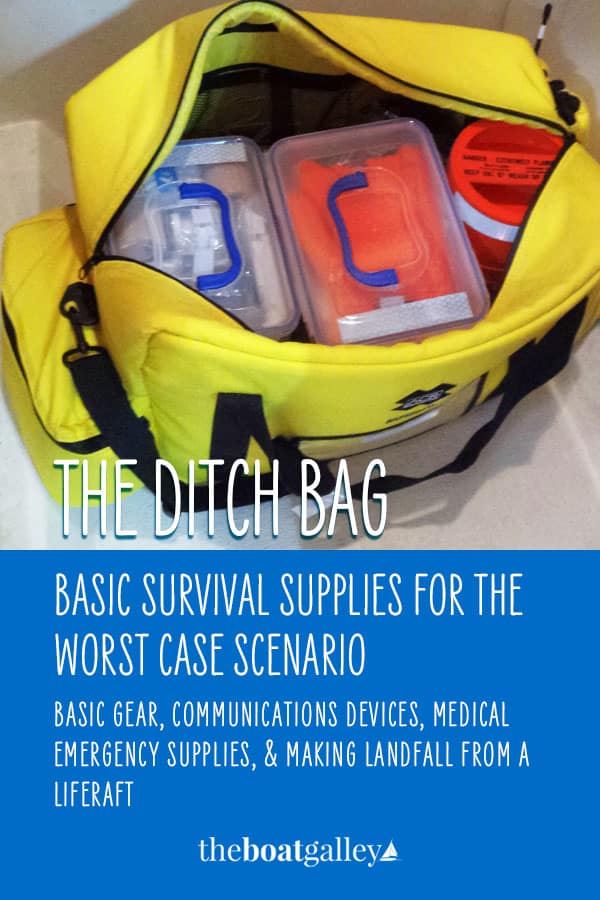 One of our bigger safety projects this summer has been to build our ditch bag. This is one of those things that we really hope we've wasted a bunch of money on. But should we ever need it, we want it to have exactly what we need!
There's no such thing as a one-size-fits-all ditch bag. Everyone's is different, depending on where they boat, what the likely rescue scenarios are and the budget. Just because this is what we have does not mean it's right for you — particularly if you are planning to go offshore.
Right now, we're cruising southern Florida and the Keys and the Bahamas. We're not planning any multi-day passages or major offshore trips. We don't have a lift raft; with our present cruising plans, the dinghy is our evacuation vessel. Our dinghy always has two life jackets, an anchor and a solar light aboard, so these are not part of our ditch kit.
We chose the contents of our ditch bag for:
Communication – notifying other boats and the Coast Guard of our predicament and making sure they can find us.
Injuries – people are often seriously injured in situations where a boat has to be evacuated. Burns, major bleeding and broken bones are the primary things we're worried about.
Keeping ourselves alive – food and water are the big items, along with our daily medications.
Necessary items – if the boat is lost what would we need immediately?
Below is a simple list of our gear with links to what we bought from wherever we bought it. I plan to write some additional posts on specific pieces of gear and why we chose the model we did. Where I've already written about something, I include that link also.
Basic Gear for the Ditch Bag
Let's start with the bag itself and basic gear:
Ditch bag. We bought an ACR floating ditch bag. You can also use a waterproof bag, sealed 5-gallon bucket or all sorts of other things.
Waterproof crank/solar flashlight. Disasters always seem to happen at night and you need to be able to see. Tied onto the bag where it's easy to find first of anything.
SOLAS Reflexite reflective tape. I put tape on everything I could, paying particular attention to the "critical" gear. If it should go in the water at night, I want to be able to find it.
Spare glasses. I'm blind without them.
Small waterproof binoculars. Helpful to spot potential rescuers or what's on shore.
Lock & Lock waterproof containers. Much of the gear needs to be kept as dry as possible — and organized. I got two of these (they fit the old Orion flares and are waterproof vs. the round flare container in the photo above) and already had one of these (for papers). Some of the others that I bought seem to no longer be made/sold, but you can see all the Lock & Lock containers available from Amazon here (Amazon seems to usually have the most sizes). The airspace inside these will also help the bag to float.
Duct tape — as much as there's room for (wrap some around a pencil if you need to make a small roll).
Swim noodle, cut into chunks. The ditch bag says it will float 25 pounds of gear but we want to be sure it will float if we miss getting it into the dinghy. Air in the Lock & Lock boxes will help, but I also took a swim noodle and cut it into chunks to put into every nook and cranny I could.
Communication Gear
Communication is the first key since we are near other boats and the Coast Guard (assuming we can't make it to shore under our own power, which is also a possibility with the dinghy). We believe that with the following, we would be found within 72 hours (actually, less than that, but for food purposes . . .):
Phone in waterproof case (read about my waterproof case)
Solar charger for VHF and phone (and cords!) — it doesn't do any good to have electronics and no power
Handheld GPS (and 8 sets of extra batteries) — ours is 10 years old but still works; lithium batteries hold their power in storage. Phone has GPS too for backup but we want to be able to tell rescuers exactly where we are.
Greatland green laser flare and 4 extra batteries
Three Pains & Wessex red SOLAS handheld flares (day/night).
All the old flares on the boat (red and smoke) — don't meet USCG requirements since out of date but in an emergency I want all the flares I can get my hands on!
Gloves to hold flares — slag will drip from burning flares and everyone who has ever fired one off says "have gloves!"
Cyalume sticks — these are the sticks that night divers use — bend it and it lights up even in water
Day signal flag — it was on the boat; frankly doubt anyone would see it since it's less than a yard square
2 ACR C-light strobes (use same batteries as GPS) — got a special deal or we wouldn't have gotten them; we have strobes on our PFDs (Update: if ACR unavailable, consider the See-Me Waterproof LED light)
Whistles (the kind that work when wet)
About a month after we packed the ditch bag, the Sirius Signal electronic flares came out (see them on Amazon). We love the idea of not having burning slag and now have one in the bag, too. Since we think it's impossible to have too many signalling devices, we left the other flares in, too. We carry extra batteries for the Sirius Signal — it comes with 3 "C" batteries and we carry 12 extra.
We also now have an inReach SE satellite tracker/communicator. We really got it to show where we are online and for the text communication ability, but it would be invaluable in an emergency. On passage, it'll be hooked onto the ditch bag "just in case."
First Aid
We figure that a fire, explosion or holing the boat are the most likely reasons we'd have to abandon ship. Consequently, our ditch bag contains what I call our "oh shit!" medical supplies to deal with burns, major bleeding and broken bones, along with a few more everyday items. You may have different needs or feel different products are best. This is one area where you just can't take everything, so figure out what you are most likely to need that would be life-saving.
QuikClot (2) – clotting sponge
Israeli Battle Dressing (1 4″ and 1 6″ size)- very effective pressure bandage
Telfa pads – 3″ x 4″
Cohesive elastic bandage – sticks to itself; holds bandages on; doubles as compression bandage for breaks and sprains
WaterJel – for burns
Second Skin Burn Pads – for burns – several sizes
Bacitracin – antibiotic ointment that is particularly good for burns
Ace bandage – 3″ (if space is a problem, I'd drop this since we have the cohesive bandages)
Regular and extra-large Band-Aids (can be held on with the cohesive bandages); butterfly bandages
Aspirin – few in case of a heart attack
OTC pain meds
Stong prescription pain meds
Prescription muscle relaxant – in case of strained back or broken ribs
Epi-pen and steroids for anaphalytic allergic reactions
Mylar emergency blankets (5) — retain heat, provide shade, signalling
Staying Alive
We are coastal cruising and with our communication devices we plan (hope!) that help will arrive within three days. Hence, no fishing gear or watermaking capability.
Water — four ounces per person per day is considered the absolute minimum. I can't imagine that in the heat of south Florida at certain times of the year. Instead of the little pouches (expensive!) I bought a package of 12 12-ounce water bottles for just a couple bucks at the grocery!
Dog water dish — Paz is small so we just use a silicone muffin cup as her travel water bowl. I stuck an extra one in the ditch bag.
SOS Emergency Food Rations — 1200 calories per person per day, with a tiny bit given to Paz (she eats less than 100 calories a day). 5 year shelf life and food that won't make you thirsty. Supposedly doesn't taste too bad.
Sunscreen — if you've just had to abandon the boat, sunscreen isn't at the top of your list. But in south Florida, you're going to burn fast!
Sun hats — not the prettiest, but it'll keep us more comfortable and help avoid dehydration. Plus you can wet it with salt water and stick it on your head for major cooling action! Got the white (milk) as it'll be coolest in the sun.
Daily medications – a 5-day supply and we change it out every month.
Items Needed When We Reach Safety
With luck, our phone (discussed under communications) will be with us and still working. But pretty much everything else we own is on the boat. What will we need in those first few days?
ID – copies of our passports and drivers licenses
Health insurance cards (copies) — chances are good that we'll need medical care in an abandon ship scenario.
Car keys – since we are coastal cruising and have a car, we're want to be able to use it to put our lives back together. Easier than calling a locksmith and having a new key made.
Boat documentation and insurance (copies)
Credit card copies — some companies will issue an extra card, which is even better
Cash
Bottom Line
Note that this is emphatically not an offshore ditch bag. We are coastal cruising in an area with good rescue services. This is what we feel will serve us where we are going in the near future. It's possible that we're wrong. I hope we never find out if we did it right!
Read Next
Here's your "Quick Start" to everything you need to know when living on a boat:


Making Boat Life Better
Give your boat its best chance in hurricane season:


Making Boat Life Better
Some links in this article (including all Amazon links) are affiliate links, meaning that we earn from qualifying purchases.