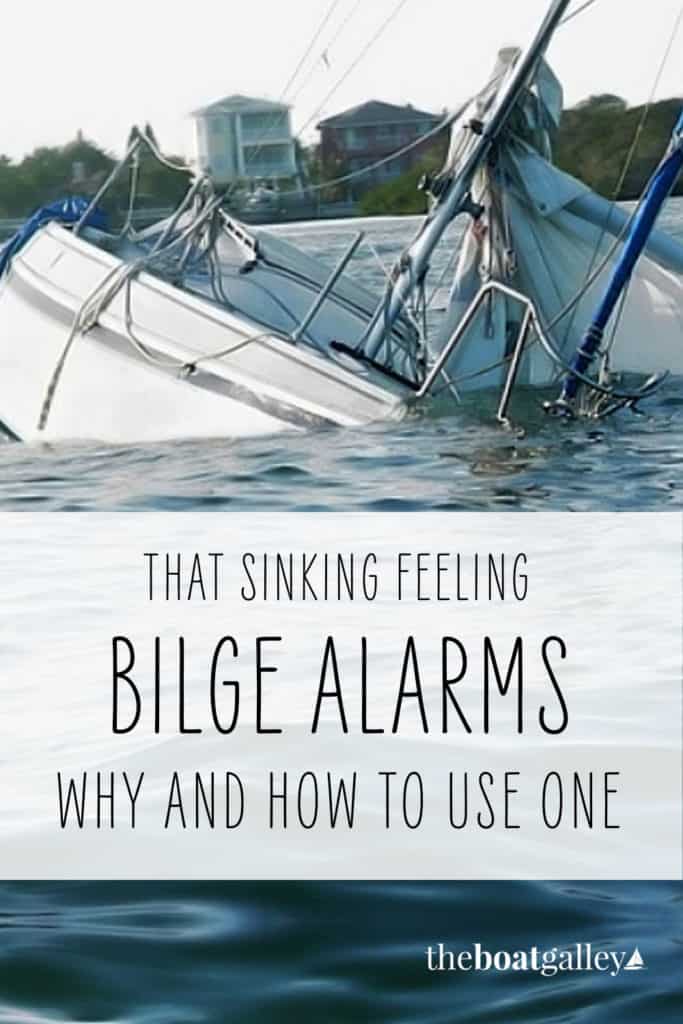 A couple of weeks ago, we got the horrible news that another Gemini took on water and sank underway to the Bahamas. The two people aboard were rescued by their buddy boat with no injuries but the boat was lost.
The owner has publicly said that they discovered two inches of water over the floorboards in one hull around midnight, were unable to find where the water was coming from, and within twenty minutes had to abandon the boat as it was about to capsize due to all the water in one hull.
That got Dave and I thinking. Barefoot Gal did not have any sort of "early warning system" of water intrusion. Our previous boat, a Tayana 37 with deep bilges, had a very loud alarm on the primary bilge pump – if the pump ran, you knew it. And you could/would investigate.
Twice it alerted us to a problem: one when the fresh water tank developed a leak and once when the stuffing box was reinstalled upside down after having been worked on.
We both think that in order to have any chance of saving the boat in the event of a thru-hull failure or any other water intrusion, you have to know about it as soon as possible. (You also have to have the tools and a plan to stop the leak.)
So I started looking at bilge alarms from various marine sources. And I discovered that they tended to be expensive, hard-wired (hence, time-consuming to install) and most were designed for a light and alarm at the helm. Nothing wrong with them, but just seemed like overkill for a boat like ours. We don't believe in "cheaping out" when it comes to safety equipment, but we thought that something simpler would actually be better.
Continuing to search, I was able to find a better solution for our needs: a home "leak detector." They're designed to sound an alarm (it sounds similar to a smoke detector) when water is detected and are typically used near hot water heaters, washing machines, dishwashers, under sinks and toilets and near sumps. Luckily, one listed "boat bilges" as a possible use and Google picked up on it! (Disclaimer: while we thought these were right for us, you have to decide if they're right for you.)

You place the unit on its back where you want to detect water. If water contacts both of those sensor wires, the alarm will sound.
They're pretty small (a little larger than a deck of cards) and most run off a 9-volt battery. No installation, either – just pop in the battery, test it and place it where you want it.
Several different companies make leak detectors and each has at least a couple models. After looking at many product listings and reviews on Amazon, I started picking up on some differences:
Some are single-use and come with the battery preinstalled: they're slightly cheaper but you can't test them and if they get wet once (say you leave a hatch open, it rains and water gets in the bilge) they have to be replaced.
Some do not float – if there is a lot of water, they'll beep maybe once or twice, then silently die.
Some have batteries that cannot be replaced.
A few can't be turned off except by removing the battery – just drying the contacts won't stop the alarm.
Most but not all have a low battery alert – generally a chirp similar to a smoke detector.
Some have a lot of reviews saying that they're not all that loud.
All will detect water somewhere in the 1/32" to 1/16" deep range. That's actually a little oversensitive for us, as even a few drops of water from changing the speed log to the dummy plug when at anchor or a tiny leak in a hatch would set it off. But the gizmo can be set up so it's not quite in the lowest point of the bilge (what we did – it takes a couple gallons of water to trigger the alarm) or you could glue a small strip of wood to one end of the bottom so that it would take more than just a few drops of water to sound the alarm (we don't want a lot of nuisance alarms).
We chose the Zircon Leak Alert Electronic Water Detectors – they float, have a low battery alert, are small and are loud (from our test, I'd say they're on a par with most smoke detectors which is plenty loud to wake us up or be heard anywhere on the boat). They can be turned off by drying the contacts and can be used again after they've gone off once.
Dave and I got one for each hull/bilge. Depending on your boat and bilge configuration, you might want additional water detectors near a fresh water tank or near your holding tank to tell you of problems in those areas too. They are relatively inexpensive so are a cost-effective early warning system.
We got the two-pack without batteries and bought four lithium 9v batteries (two to install immediately; two as spares):
Lithium batteries have by far the longest life in devices such as this and are worth the extra expense.
UPDATE: We recently got a couple more of a different model: The Glentronics Water Alarm reconmmended by a reader where the sensor can be placed 6 feet from the electronic alarm, which we mounted considerably higher than the sensor. This way, we can be sure that alarm won't be flooded before we hear it.
EXTRA: Reader Chris Munson sent me an email telling how his boat had been saved once by these and another time headed off quite a bit of water damage. He gave me permission to share it here:
I'm SO glad you posted the article about bilge detectors! I have three $10 water detector alarms on my 32′ sloop; these are hardware store type alarms for home hot water heaters, dish washers, etc. They look like smoke detectors, with a sensor strip on a 36" wire. Nowhere does the word 'Marine' appear on the packaging. One sensor is at the 'trigger' water level at my main bilge pump. Should the auto-pump run, the alarm goes off. This alerted the marina staff the night my hot water heater sprang a leak and filled the bilge, syphoning the water tank as well. The other 2 are in my very isolated and sound-proof engine box. Last summer one went off while under power. Sure enough, an engine water hose had popped off, and there was 6 inches of rising hot engine raw water in the compartment. Without the alarm I would not have known the situation until the engine flooded and died. The alarm sound is like that of a smoke detector. The sensors are 2 metal studs on a plastic strip that is velcroed in place. I replace the 9 volt batteries every spring. $10 dollars each at Home Depot (see them here), usually stocked near the hot water heaters. Yes, I have 2 in my house also. They last years.
Here's your "Quick Start" to everything you need to know when living on a boat:


Making Boat Life Better
Some links in this article (including all Amazon links) are affiliate links, meaning that we earn from qualifying purchases.