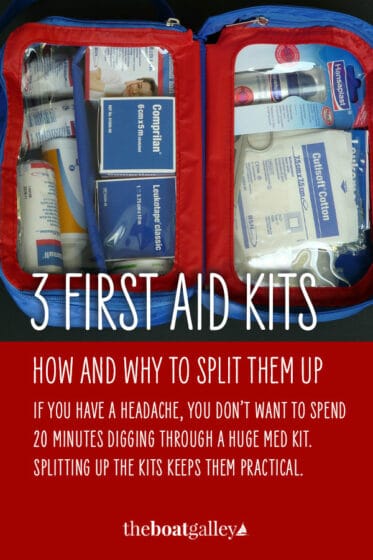 When we began cruising, we had one huge first aid bin. Absolutely everything you could ever need was in there . . . somewhere. The previous owner of our former boat, Que Tal, had extensively prepped the boat with all the medical supplies we might ever need.
There was just one problem: finding what we needed. It was impossible.
Now, we have three first aid boxes:
The "OH SHIT" box that we hope to never need. It's got the stuff for major burns, life-threatening bleeding, major painkillers and supplies for serious broken bones and so on.
The "everyday" box – Band-Aids, antibiotic ointment, anti-itch cream, needles for splinters, a thermometer and the rest of the stuff that you want to be able to find quickly when you need it, but it's not a life-threatening emergency. If we're currently taking cold or cough meds, we usually put them in here "for the duration" so they're convenient – but the box isn't big enough for all of them to stay here permanently.
The "I'm sick" box – cold and flu remedies, diarrhea meds, upset stomach meds, toothache remedies, and even though it's not an illness, items for a sprain or break.
The major emergency box is a watertight Lock & Lock box that lives in our ditch bag. I figure that if we ever have to abandon the boat, we want that stuff with us.And since we keep the ditch bag in a convenient place even when we're at anchor, that stuff is always easy to get to. (You can read more about our ditch bag and the medical supplies in it here.)
The everyday box is a plastic box about the size of a shoe box that sits under the medicine cabinet in the head – it's just in a convenient place and contains the stuff we need about 80% of the time. I like it as if either one of us gets a cut or splinter (our two biggest injuries aboard), I can just grab it and take it to where the light is good to actually use. (If you do a lot of hiking or other adventuring ashore, you might want to create a pocket first aid kit with just the essentials that you can pop into a daypack, too.)
Everything else goes in the "I'm sick" box, which is about 9" by 12" by 12". There's quite a bit of stuff in here, so I sort it by "ailment" – cough and cold, gut, teeth, eye, blisters and so on, putting each group into its own labeled Ziploc bag (read more about that here). We don't use these items all that often, but do need to have them aboard. The box is in a less accessible place than either of the other two, as we don't get in it all that often and when we do, the situation isn't immediately life-threatening.
At times, it seems ridiculous all the first aid supplies we have for just coastal cruising, but the reality is that we're often in places where it'd be an hour or more to medical help or even a drugstore. So we need to have it with us. If we were going offshore or to more remote places, we'd take more – including any likely antibiotics or other prescription meds we might need.
We're lucky in that Dave's brother is a doctor and "gets" our need to take prescription drugs and painkillers with us. If you have problems with your primary care doctor not understanding why you need them in advance, you can often find a doctor who does understand in a big "cruiser port" and complete your first aid kit at that point. Once you get to one of the bigger "cruiser towns" just ask other cruisers if there is a local doctor or clinic that they've found helpful.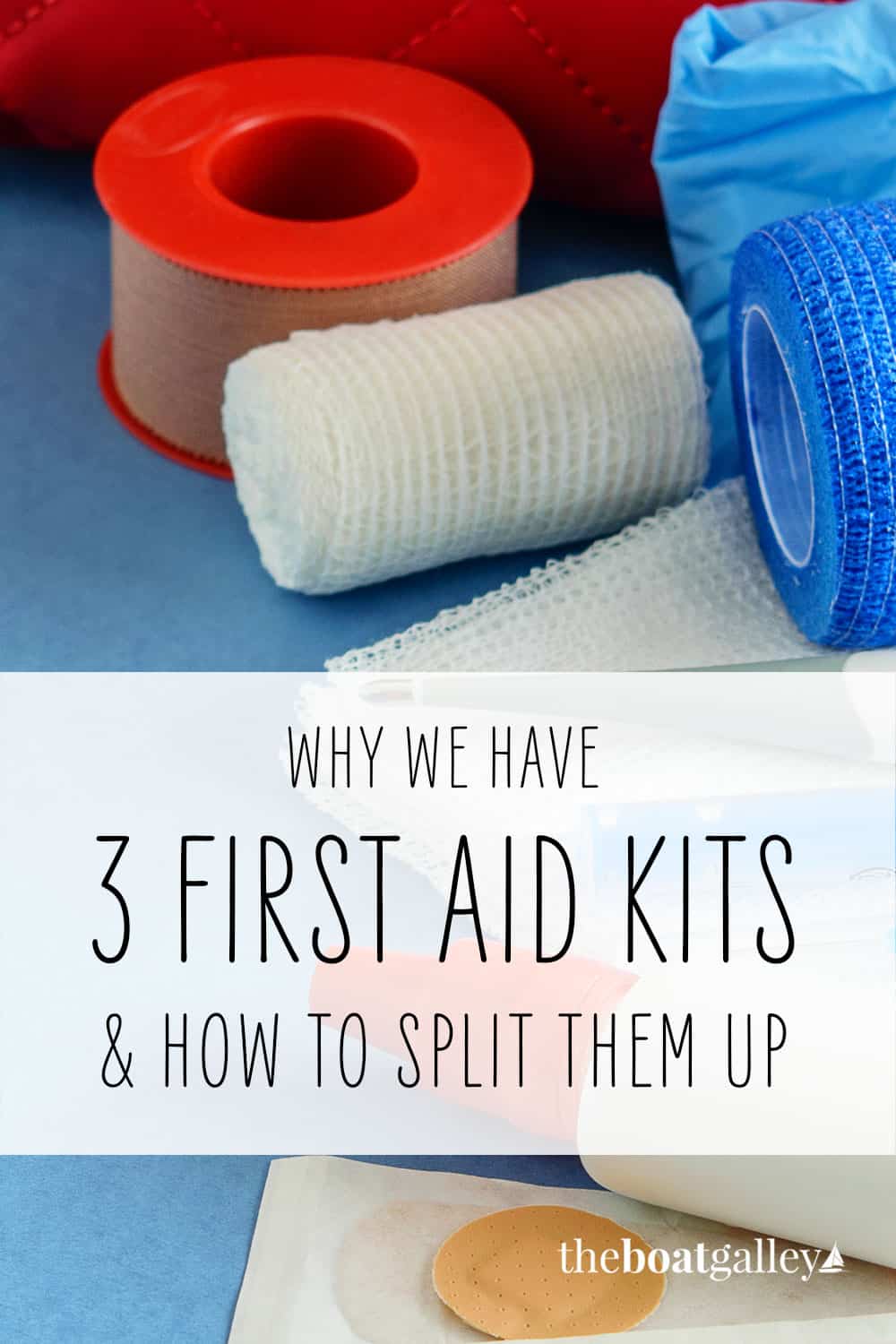 Making Boat Life Better
Some links in this article (including all Amazon links) are affiliate links, meaning that we earn from qualifying purchases.