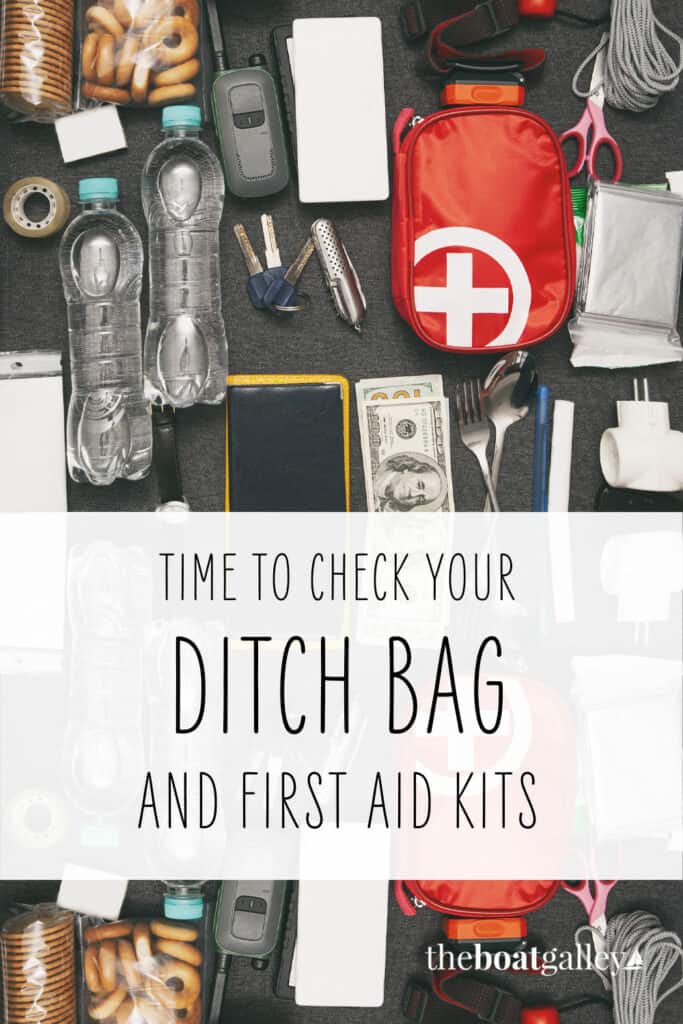 Your ditch bag and medical kit are critically important on your boat. Where you're going really dictates how extensive each one needs to be – going out for afternoons in reasonably protected water with other boats and Coast Guard nearby is vastly different than crossing an ocean. But in either case, you need to be prepared.
I've provided detailed lists of what's in our ditch bag and medical kit and how we arrange it. I suggest using those as a starting point and then add or subtract depending on where you'll be and any known problems that your crew has. And to make it even easier for you, we've set up a Ditch Bag category in our Amazon Store. It's a simple way to see just what we include in our ditch bag and what it's likely to cost.
Beyond that, though, is the need to periodically re-check both. We check before any major trip; I make sure to check the first aid supplies at least twice a year and the ditch bag once.
Take everything out.
Is the bag or box still is good shape?
Check that each item is in good condition, works, and is not past any expiration date. Be sure to check batteries and expiration dates on medicines.
Be sure that you know how to use each item.
Check everything off against your master list of what should be in the box or bag.
Replace anything needed.
Spend a bit of time thinking if you need anything else, or if there are items that you don't need.
For your ditch bag, add or replace reflective tape on the outside. Test that the bag will float and that everything inside is sufficiently waterproof. Don't just guess — put a line on the bag and throw it into the water. Yes, it's a pain if it sinks or if anything inside is ruined by water. But better to know now, when you have access to stores and can replace items, than in the middle of an emergency!
I hope you never have a major emergency but if you do, it's good to be prepared.
---
Be sure to subscribe to The Boat Galley newsletter to keep up with what we're up to and get helpful tips and encouragement from the water.
---
Give your boat its best chance in hurricane season:


Making Boat Life Better
Some links in this article (including all Amazon links) are affiliate links, meaning that we earn from qualifying purchases.