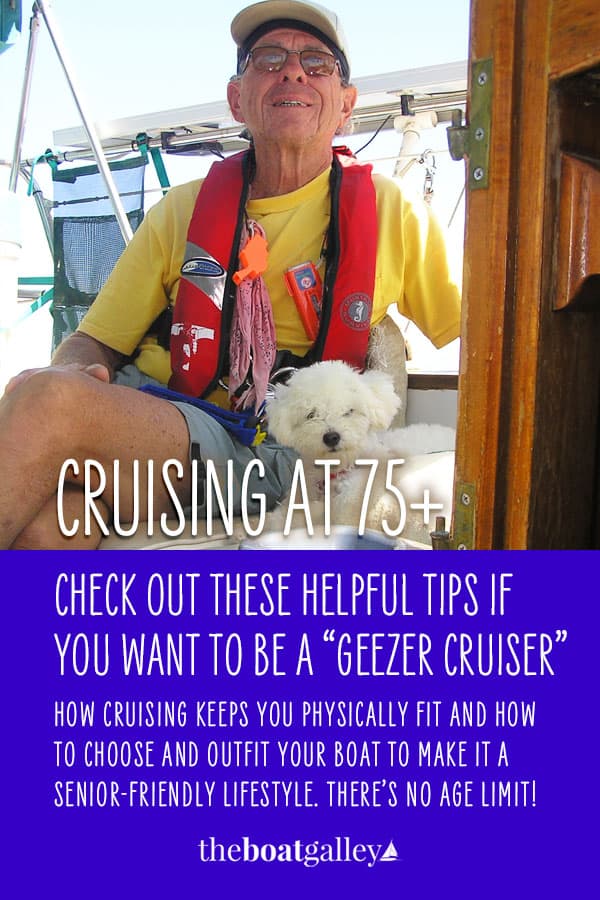 In a recent post I mentioned that Dave is 78 and I'm 56. Several readers contacted me, basically saying that Dave is one of the few active cruisers they know over 75, and wanting tips on "geezer cruising" (note that we've both been sailors since our teens and began cruising full time when Dave was 64). 2019 UPDATE: We're both three years older and currently cruising the Bahamas. 2023 Update: Dave is now 85 and we're hoping to cruise the ICW this coming summer.
First off, there's no one size fits all answer. Actively cruising – that is, going new places and primarily anchoring out – isn't for everyone at any age. Cruising outside the continental US, without its support systems (weather forecasts, Coast Guard, towing services, network of marinas, and the ICW for those on the East Coast), is harder no matter what the age. A large part of the equation is wanting to do it: there's no age limit on cruising!
Six Considerations for Cruising When Older
We think that we think that there are six important factors in being able to cruise in later years.
Health
Dave is in generally good health, but we take care of health issues as they arise and don't leave a place with good medical facilities when either of us has an issue going on. For example, in 2016, Dave was diagnosed with a prostate infection, which required an 8-week course of antibiotics and then follow up tests. We delayed leaving for the Bahamas until we had the all-clear. Now, in 2023, Dave has some heart issues and is 85 years old — we're looking at cruising the East Coast of the US instead of going to the Bahamas.
Dave also tends to be in the "use it or lose it" camp and works to maintain his physical fitness, balance and agility – all of which are helped by living on a boat and all of which help us avoid injuries. That said, we also have tried to lessen the boat's physical requirements – but it's still a good daily workout! It's a bit of a circular proposition: you have to be physically fit to cruise, and cruising keeps you physically fit.
Staying injury-free is a key concept: broken bones, bruises, pulled muscles and such all take longer to heal as we age and it's harder to regain full function afterward. Many of our choices are driven by trying to lessen the chances of injury – as I proofread this article, I realized that every single item I mention refers to it!
It goes without saying that you have to be mentally sharp, but I'd argue that cruising tends to keep your brain working: figuring routes, solving problems and having new experiences has to be better than sitting on the sofa watching reruns!
Boat Choice
Barefoot Gal (a 34' Gemini 105M catamaran) is a smaller and lighter boat than our previous boat (a heavy blue-water capable Tayana 37). The sails are considerably smaller, making the main easier to raise, the genoa less strenuous to furl and unfurl, the spinnaker simpler to set, and all the sails taking less muscle (even with winches) to trim. She requires a much smaller anchor (35 pounds vs. 66). All of this means she's easier to sail or motor and translates to less chance of serious injury if something goes haywire.
Barefoot Gal is also very maneuverable, which makes all close quarters operations (anchoring, docking, locking, mooring, passing through bridges and narrow channels) easier and less stressful. She is also faster both sailing and motoring, making days shorter and less tiring.
With a catamaran, it's easier to get into and out of the dinghy, as well as to load and unload provisions and gear. She's more stable for doing anything on deck – underway or at anchor. No long flight of steps down the companionway also makes it easier to move items with less chance for a serious fall. Read more about our boat choice.
By no means is a small catamaran the only good choice for older cruisers, but choosing a boat that makes cruising easier with less risk of injury is very important.
For many of us, financially it's possible to have a larger boat as the years go by . . . but Dave and I are not at all convinced that bigger is necessarily better.
Watermaker
Cruising and primarily being at anchor (or even in a mooring field), you have to either lug jerry cans of water, make periodic trips to the water dock . . . or have a watermaker. We opt for the watermaker – 40-pound jerry cans get old to lift aboard and pour into the water fill, and docking has other chances for injury (as well as conditions sometimes making it impractical). Read about our Rainman watermaker.
Dinghy Davits and Outboard Crane
The boat came with dinghy davits, which we have beefed up and added extra purchase on the blocks. We added an outboard crane so that we could put the motor on the stern rail when going from one anchorage to another. This takes a lot less strength than hand lifting the outboard and then putting the dinghy on deck as we did when we first were cruising our first boat, meaning that we can have a larger outboard and that I could handle these chores without Dave should he be sick or injured (we think it's very important that all systems on the boat be set up so that either of us can do everything by ourselves).
As Dave read my draft, he remarked that another item on the davits, crane and other systems "under load" was to have good blocks of a decent size. Yes! We have upgraded many – our preference is Harken, despite their cost – and they make a huge difference.
On the dinghy davits, we found that adding a block with an integrated cam cleat so that the line cleated automatically when pulling the dinghy up make it much easier to raise the dinghy when the motor is on it. (The line gets safety cleated around a horn cleat once the dinghy is raised all the way, too.) Pull a foot or two, and the line is already cleated while you reach to grab the next handful of line . . . no having to hold it with one hand.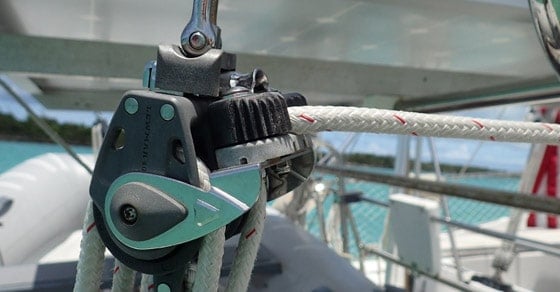 Electric Windlass
Okay, we think that an electric windlass is an important piece of safety gear for all cruisers, as it means that you'll re-anchor as many times as necessary to get a good set in a good location. But it's even more important as we get older.
With it, we have no hesitation in moving if conditions change or another boat anchors too close for safety (yes, I know that if we were there first they should be the ones to move . . . but some people refuse). And if we're suddenly on a lee shore, an electric windlass is much safer to use when the bow is bouncing up and down and we need to get out of there NOW!
Weather Windows and Routing
I don't want to give the impression that we are scared by weather, but we do make more of an effort to avoid rough passages than we used to. We don't recover as fast as we did 15 or 20 years ago and we're more prone to injuries as well. Simply put, we're not as strong or as agile. Our style of cruising is a little slower and hopefully a little less stressful.
We're more conservative in our choice of weather windows and generally don't move on ones that look "iffy." I'm not saying we wait for perfect weather and we're not looking to motor everywhere in flat seas, but yes, we're willing to wait a few days for better weather.  It's a matter of not exhausting ourselves (what good is it to get somewhere two days sooner if we're just going to use those days to recover from a rough passage?) and not risking injuries or gear breakage.

We're a little faster to move to a more protected anchorage than we were 15 years ago. I think this is simply a function of more years spent cruising . . . and riding out some squalls in places we wished we weren't.

We try to create routes with a little less daily mileage (we try for no more than 50 miles; as Dave has passed 80, we now try for no more than 30) and try not to have multiple long days in a row. We try to get into a new anchorage by late afternoon, rather than right at sunset. Sometimes long days can't be avoided and sometimes there's no alternative to an overnight passage, but we realize that we don't have the stamina that we used to and plan accordingly.
Bottom Line
We love cruising and don't think there is any particular age at which people should plan to stop. Perhaps the style of cruising will change, the boat may change, the location may be different than the original dream. The important factor is to figure out a style that works with any limitations you may have and to do everything possible to avoid injuries that could put serious limitations on mobility.
This was originally written in 2016. As Dave has aged a bit more, I've updated it through February 2023. He's now 85 and we're still cruising!
Read Next
Some links in this article (including all Amazon links) are affiliate links, meaning that we earn from qualifying purchases.