Most mooring balls have a pennant with an eye that you tie up to. And here in Boot Key Harbor (Marathon, FL) the marina staff is emphatic about teaching the right way to tie up to one!
What seems to be the obvious way to tie up is to secure one of your dock lines to the forward cleat on one side of the boat, pass the line through the eye, and then cleat it to the forward cleat on the other side of the boat. And that is wrong.
The problem with doing it that way is that as the boat swings and moves in the wind and current, the dock line will quickly chafe on the eye . . . and pretty soon – at night when it's blowing, of course – it'll break. That's actually worse than having an anchor drag – if your anchor drags, it slows your motion. If the line breaks, the boat moves downwind much faster.
The "much-less-chafe" way to tie up is to pass a line from each forward cleat through the eye and then back to the cleat it came from. This way, neither line saws back and forth on the eye.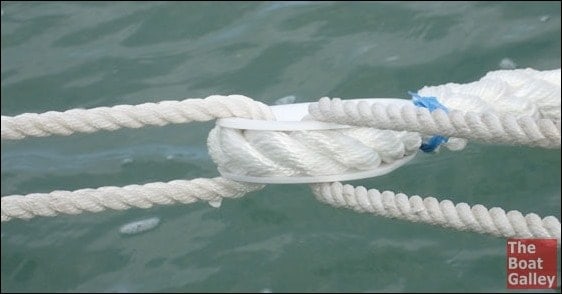 Here at BKH, marina staff make a point of telling you this as you check in and the pump out boat staff also checks boats as they go through the anchorage. They're not being nasty or just sticklers for following the rules, they're making sure that no boats go "floatabout" or go through the anchorage bouncing off others.
Even if you don't totally chafe through with one line going from side to side, it puts a lot more wear on your (expensive) dock lines. Using two lines is safer and less costly in the long run.
The other mooring fields that we've been at – whether on our boat or on charter – haven't said much about the proper way to tie up. The charter companies in the BVIs didn't tell us a thing. Last year, I was talking to one of the office staff here at BKH and she said that since they'd been making a point to tell people to use two lines – and why it's better – they've had almost no boats break free.
TIP: When you first tie up to a mooring, don't worry about getting both lines in place. Just do one. Then when it's secure, you can do the other. Finally, adjust the length of both so they're even (in BKH, they request that there is no more than four feet from your bow to the eye. This way, all boats swing in roughly the same way).
Get info on gaining skills, buying and owning a boat, working on your boat, buying stuff for your boat and moving aboard in Prepare to Cruise (free mini-course).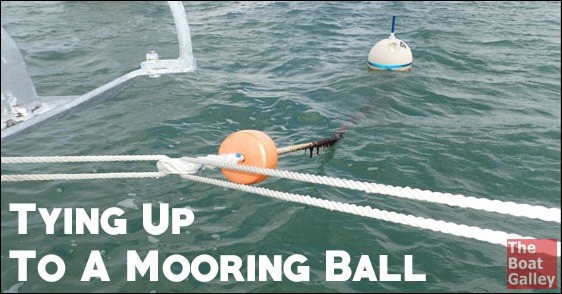 Some links above (including all Amazon links) are affiliate links, meaning that I earn from qualifying purchases. Learn more.