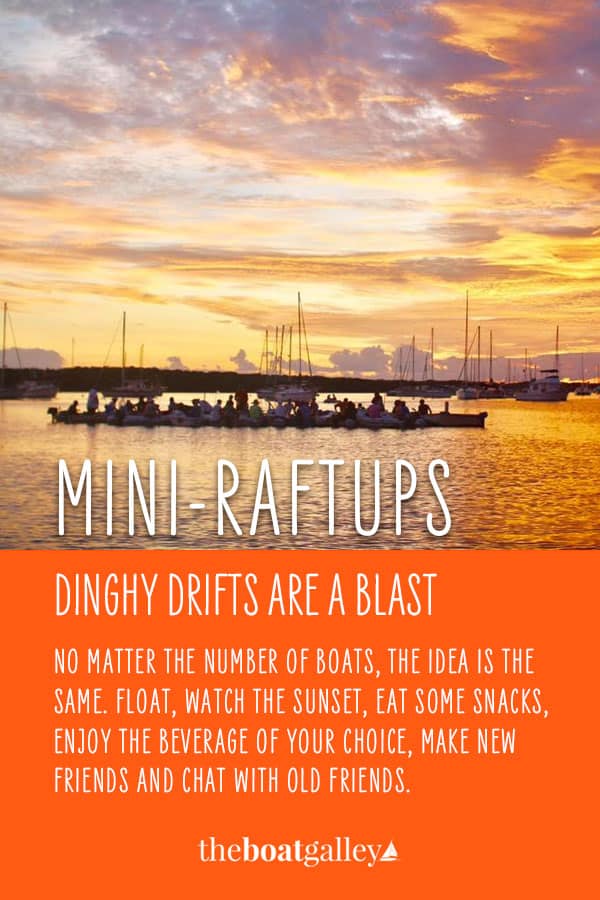 What's a dinghy drift? That was our question the first time we heard the phrase.
Simple. One of the best happy hour ideas!
No matter the number of boats, the idea is the same. Float, watch the sunset, eat some snacks, enjoy the beverage of your choice, make new friends and chat with old friends.
Most dinghy drifts are "organized" (using that term very loosely) on short notice — basically, when the weather looks good.
The less wind the better, but it can work even when blowing in the teens. If it's too windy to just float, one or more dinghies can anchor and then others tie on to them (our two-pound Mantus dinghy anchor once held a group of over 15 dinghies!). In stronger winds, when there are too many people for any one boat to host a party aboard, you can just tie dinghies behind one securely-anchored boat.
It's good if you have a couple of lines on your dinghy to tie to others. Use knots that can be undone very easily in case of an emergency.
If the group starts to drift toward an obstruction or danger (channel, shoal, boat, shore, out to sea . . . ) one or more dinghies can start their motors and push the group back to a safe spot — there is generally no need to untie the dinks.
Typically, starting about 45 minutes before sunset works well — food can be passed while it's still light, then the sunset enjoyed.
Dinghy drifts are great on full moon nights — the moon rises as the sun sets.
Food tends to be simple — whatever is on hand and can be easily passed from boat to boat!
No food that requires utensils! Dips, crackers, chips, nuts, cheese squares. The simpler to "grab some and pass" the better.
Put your boat name on your food containers/dishes so they will make their way back to you.
Take non-breakable plates so you have a place to put food as it is passed and don't have to eat as you're passing.
Everyone BYOB and think about what you can drink/set down in the dinghy — canned drinks work well; if you drink wine, look at Vino2Go glasses for fewer spills (see on Amazon; read my review).
You'll leave your boat in daylight but return after dark, so be sure to have your dinghy lights with you. A handheld VHF is also smart in case anyone has a problem (you may have to call for assistance or be called upon to assist someone else).
Take your boat cards to exchange with new friends. If you have a boat shirt, wear it — it'll help others remember your boat name as they see it when talking with you.
Don't be shy about calling other boats in an anchorage and suggesting a dinghy drift — it's a great way to meet your neighbors and no one has to worry about cleaning up their boat or guests staying too late.
If evenings are cool, don't forget a jacket.
At a recent dinghy drift, one boat passed glow sticks around — it was the first time I'd seen that, and it made the party! (You can get a package for less than $10 on Amazon.)
Don't forget your camera!
Some of my favorite photos from dinghy drifts here in Boot Key Harbor: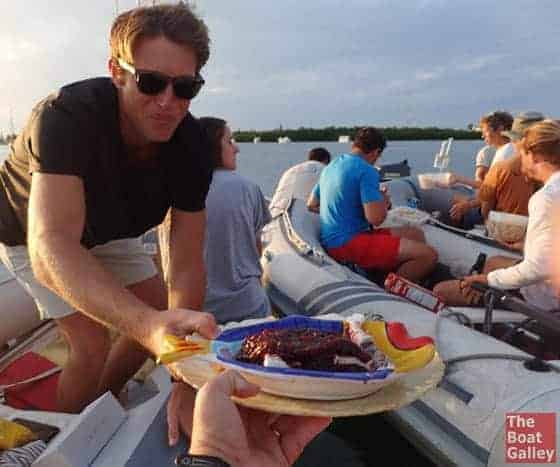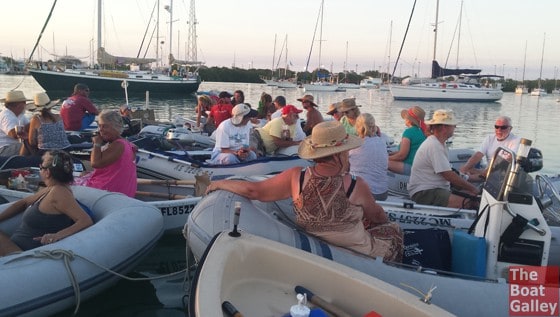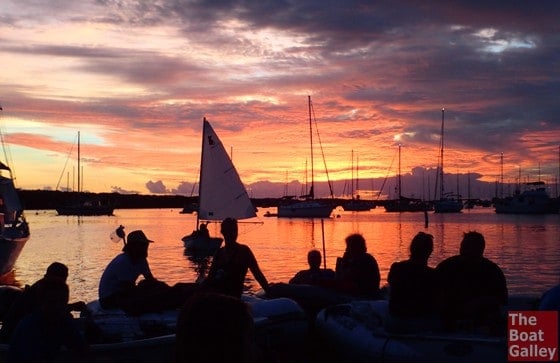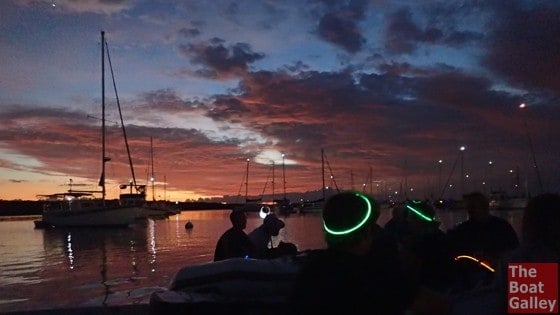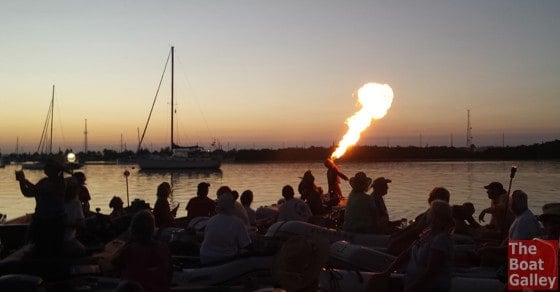 Originally written in 2016, this article was updated and expanded in May 2020.
---
Our FREE Provisioning Spreadsheet
Wondering how much of what foods to take on your next trip? Know just how much to buy of what — all arranged by grocery store aisle — with our handy Provisioning Spreadsheet. Includes detailed instructions to edit it for your favorite foods, how much your family eats, and how long you'll be gone. No spreadsheet skills needed!
It's FREE — get it here.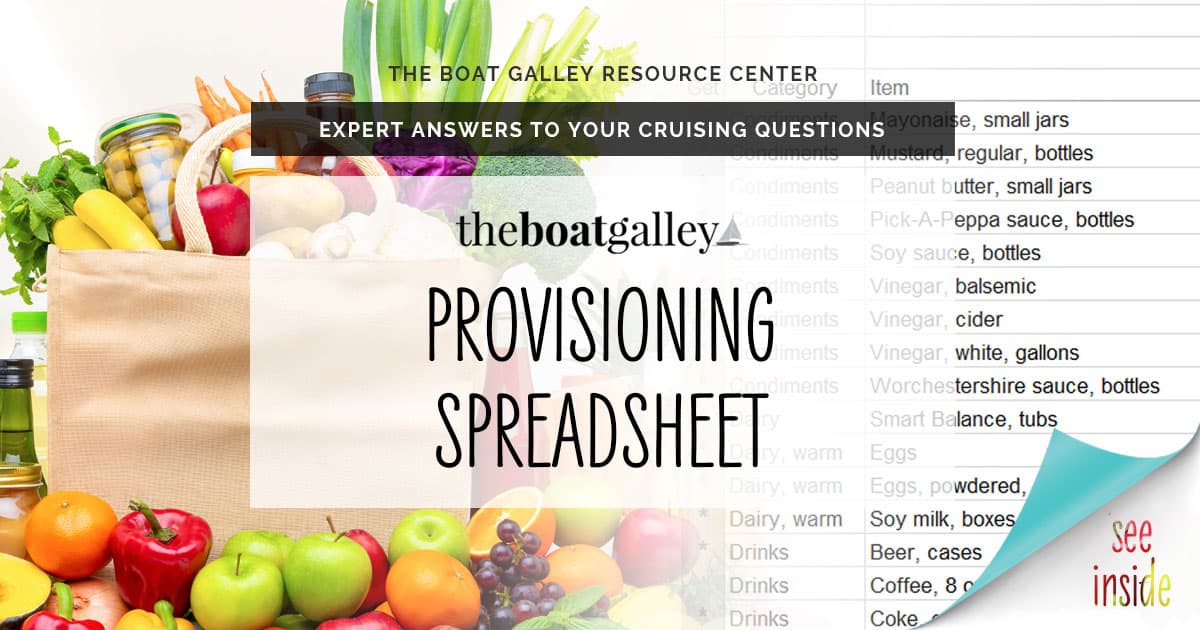 Learn all about the cruising lifestyle in Unwritten Rules of the Cruising Life – just $29.

Some links above (including all Amazon links) are affiliate links, meaning that I earn from qualifying purchases. Learn more.