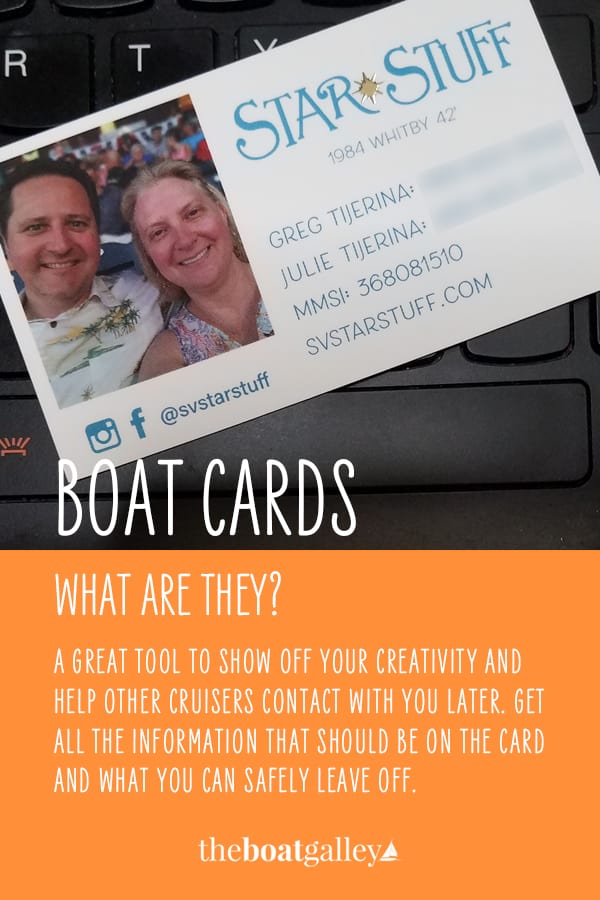 If you're new to cruising, you may be wondering what boat cards are . . . or what to put on yours.
What's a Boat Card?
Basically, a boat card is a "business card" with your contact information that you can give to other cruisers, marinas, and even stores, depending on the local custom. For example, in some of the Mexican towns where we cruised on Que Tal, every store you did business with wanted a boat card. In other towns, no one did.
Where to Have Boat Cards Made
You can have boat cards made at a local copy shop, an online printer such as Vistaprint, or make your own. I like to make our own – we have a laptop and printer on board – simply because I can change the card any time I want to, but if you don't have a printer or don't want to do the fussy design work, you can have them made anywhere that makes business cards.
What to Include
There are three things that you should always include on your boat card:
Boat name
Names of those on board – use the name people actually call you, such as a nickname instead of your legal name that no one ever uses.
Ways that people can contact you – say a cell phone and general email. Ham ID if you have one. DeLorme inReach IDs are also becoming popular.
Think about possibly including:
Photo of those onboard – I find a picture of people much more helpful than a picture of a boat unless the boat is truly identifiable at a glance from a 1" x 1" photo.
Something uniquely identifying to help people remember who you are (for us, both the Gemini cat and the "small white boat dog")
Facebook – if you have a boat page or want people to friend you, include the info (including your Facebook name if different than the name on your boat card).
Blog if you have one.
MMSI number if cruising an area where DSC is used a lot (for example, in many foreign countries where cruisers tend not to have cell phones).
Home marina if you are currently based out of one.
Don't include:
Any information that you don't want everyone to have (say, a satellite phone number). You can write it on the back for people who need it. [That's why I covered up our phone number and email in the photo – I really don't want it in a photo on the internet!]
Any limited bandwidth email such as Sailmail, Winlink or one you get via sat phone. You can write this info on your card for anyone who needs it.
Probably don't include:
Home address or mailing address
Home phone
Fax number
Boat Card Design
A few general thoughts as you're designing your boat cards:
Use large enough type that people can read your info easily.
It's better to have less info and larger type than vice versa.
If you use a photo of yourselves, make it large enough that faces are identifiable, and use a photo that looks like you do when cruising.
If you have a lot of info, think about putting some of it on the back instead of squishing it all on the front.
I really like boat cards that have photos of those on board as it is a huge help in remembering who's who. But I'll admit that ours doesn't have one since we don't have a good picture of the three of us!
This article was originally written in December 2014 and updated through April 2020.
Here's your "Quick Start" to everything you need to know when living on a boat:


Making Boat Life Better
Some links in this article (including all Amazon links) are affiliate links, meaning that we earn from qualifying purchases.