How do you stay in touch with friends and family when you're out of cell phone range?
Internet – email, Facebook, Facetime or Skype, among others — if and when you can find a wifi signal that's fast enough and strong enough . . .
SSB or ham radio – email or a ham phone patch – but the equipment and installation is costly and there's quite a learning curve (and a test for a ham license). Can't be moved from boat to boat for charters.
Satellite phone – email, text, voice, limited Facebook – but the phone is expensive as is the airtime. Less of a learning curve and also very portable.
Aboard our first boat, Que Tal, we relied on internet cafes, a few paid wifi subscriptions in anchorages and SSB and ham radio. I've known many people with sat phones, too. All of those are good options, but what if you want more than just "finding wifi" but don't really want, need or have the budget for SSB/Ham or a satellite phone?
That's where the inReach fits in. It's a satellite tracker and text communicator that's small, portable and very low power consumption. The learning curve is almost non-existent: if you are comfortable texting and using simple apps on a smart phone, you'll pick it up in no time. While not cheap, it is definitely less expensive than an SSB, ham radio or sat phone and is very portable – you can take it on shore excursions, too!
UPDATE June 9, 2016: You can now get weather forecasts (land and marine) via the inReach at very affordable prices. Read more here.
We got one just last week for our trip to the Bahamas. It's great for a lot of reasons:
100% global coverage – you're never out of range.  It uses the Iridium satellite network. You can, however, turn it off when you desire (and you can choose what, where and when messages are sent).
Start the tracker whenever you get underway and friends and family can see your progress. You'll be given a link to share your tracking map and you can decide to just give it to a few people or as many as you want (ours is very public, as I have a link in the sidebar and on Facebook). You can even make it so that it's password-only.
Great for friends and family who might not be familiar with your cruising grounds as it shows your location on a map that can be zoomed in and out.
Peace of mind for family who are worried for your safety.
Post a message on the map when you start and end a journey to let others know your plans and that you've arrived safely. We usually post something along the lines of "Heading to _______ (__ miles away)" and "Anchor down at ______". I try to include towns, islands and distances.
You can also post messages along the way – "Just caught a 36" mahi – dinner's going to be good!"
You can post messages to Facebook (your personal account and a maximum of one Page that you manage) and Twitter – the link that accompanies the message will show where you were when you sent the message, but NOT your whole track. Again, I try to include towns, islands and distances so that people with limited bandwidth don't have to click on the link to see where we are.
You can send private messages – basically a text message – to any text-enabled phone or to any email account, and they can reply to you via text or a browser on their computer.  Perfect for keeping that promise of "I'll let you know that we arrived safely." There's a limit of 160 characters per message. (Dave likes the private messaging for asking his son how his favorite teams are doing, too!)
Family and friends can also initiate private messages to you if you have given them your link.
Finally, there's an SOS feature that puts you in immediate contact with DeLorme's search and rescue center, which will both notify authorities covering your location and confirm back to you that they received your call for help. It doesn't replace an EPIRB but with the two-way texting capability, you'll be able to give more details of the situation and know that help is on the way. Two-way text messaging could be life-saving in a medical emergency, as doctors could give immediate advice. Want more info on the search and rescue capabilities? Read here.
A few more details . . .
You can pair the inReach with a Bluetooth-enabled smart phone or tablet (Apple or Android) and use the larger keyboard to compose and send messages (you can do everything from the inReach unit, it's just a lot easier to do it on a device with a larger screen!). Documentation with the unit will tell you how to download the EarthMate app to your phone or tablet and how to connect the two.
You need a computer with browser and internet access to set up your account. It'll take you anywhere from 30 minutes to a couple of hours depending on how familiar you are with setting up apps, how much testing you do to try the tracking and checking that others are getting your messages, etc. DeLorme has excellent videos showing how to set it up.
You buy the inReach device and then set up the account, which has various month-to-month and annual plans to choose from.
Two inReach models: the Explorer, which has the capability to have waypoints and routes, and the SE which does not (tracking, messaging and SOS capabilities are the same). Since we already have multiple GPS units, a chartplotter, GPS enabled phones, tablets and laptops, we opted for the less-expensive SE. I think that's probably a good choice for other boaters – the Explorer is designed more for backpackers and the like who don't want the weight or space of multiple gadgets. You can buy the unit at many marine stores, outdoor stores and from Amazon:
Service plans: once you get the unit, you sign up for a service plan on the Garmin site (documentation with the unit explains how to do it; you can't sign up for the plan until you have the unit as you need various numbers off it so the unit is associated with your account). You can get a monthly service agreement (higher fees but turn service off when you're not using it) or annual plan (lower charges but one year minimum commitment).
Within each category, there are various levels of service. We opted for the Expedition plan, which offers unlimited text messages as well as tracking and SOS messages; the next lower level offers 40 text messages a month. We think we want the unlimited messaging so that I can post messages to The Boat Galley's Facebook page when we're out of cell and internet range, but frankly it's impossible to tell until we've used it in remote areas. UPDATE: We loved the unlimited plan in 2016 and have signed up for it again for our 2019 trip to the Bahamas!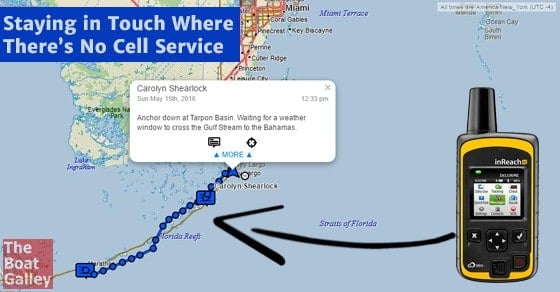 Make Boat Life Better
Making Boat Life Better
Some links in this article (including all Amazon links) are affiliate links, meaning that we earn from qualifying purchases.