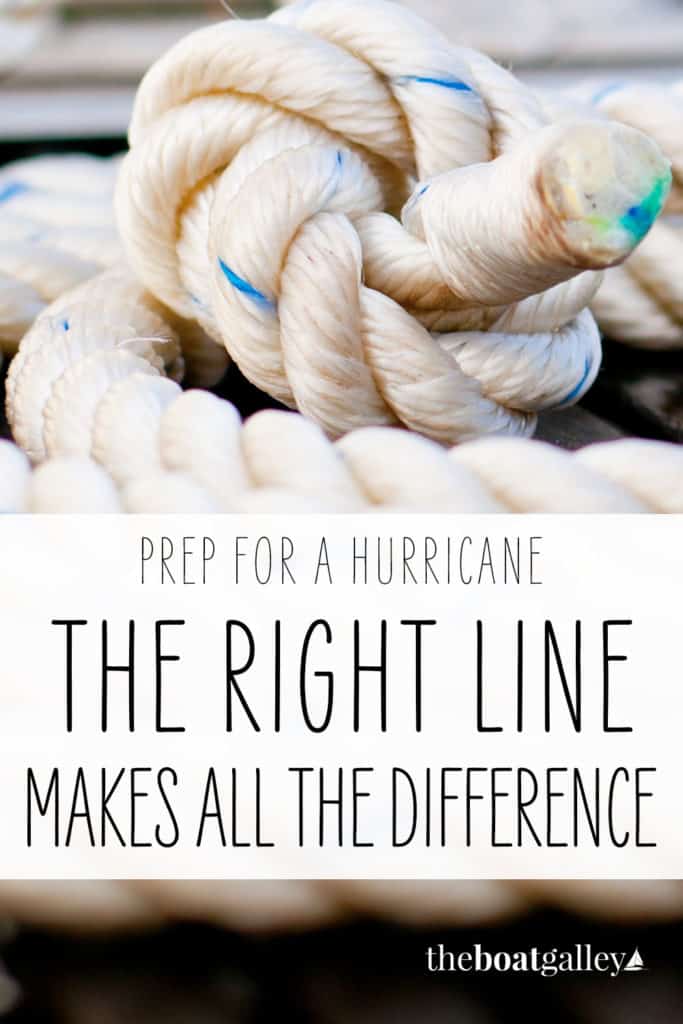 Unless you're hauling out for a hurricane, the lines you use to secure your boat are vitally important.
In Hurricane Irma, in Boot Key Harbor (Marathon, FL) where the eye hit as a Cat 4 storm, over 150 boats were ripped from their mooring balls. Of 226 moorings, only 2 failed according to the marina manager. But only 54 had boats on them by the end of the storm. Taking a wholly unscientific look at a number of the mooring balls missing boats, it was clear that many boats' lines had parted; a lesser number had intact lines with cleats ripped from the boat.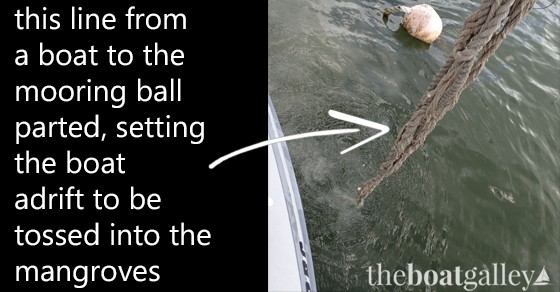 Whether it's dock lines, anchor snubber lines, mooring lines or even lines to tie your boat into the mangroves, they are what will keep your boat in place . . . or not.
Lines can have three problems: the line itself breaks in the absence of chafe; the line chafes through; or the line insufficiently absorbs shock and puts an excessive load on an attachment point (for example, pulling a cleat out of the deck or the anchor out of the bottom).
What I've learned over the years (short version here, keep reading for an explanation of each):
New lines beat old lines.
Three-strand beats double-braid; nylon beats polyester and other fibers.
Quality pays off.
Right-size beats too-large or too-small.
Splices beat knots.
There's a final point, too: You have to protect the lines from chafe.
New Lines Beat Old Lines
Sun, salt, and repetitive work take a toll on lines, significantly reducing their breaking strength. The exact amounts vary by line size, material, and how the lines have been used, but a 50% reduction in two years' use is not out of the question.
We always keep a brand-new set of lines on hand for hurricane use, and once they are used in hurricane-force winds, we retire them. You can see the brand-new primary lines we used for Hurricane Irma in the photo at the top of this article; our backup lines (center) have been previously used.
3-Strand Beats Double-Braid; Nylon Beats Polyester and Other Fibers
For many boating applications, we want low-stretch lines. And at first glance, low-stretch seems like the way to go to keep your boat where you put it.
However, stretch in the line is actually good as it prevents shock loading on the attachment point, absorbing much of the force in the line itself. This results in far fewer cleats, winches and other attachment points being literally ripped out of the hull or dock. If you're anchoring, stretch in your snubber lines keeps the anchor from being ripped out of the bottom, setting your boat adrift.
Nylon line has more inherent stretch than other commonly-used line fibers and a 3-strand line has about double the stretch as similar size/fiber double braid. So we opt for 3-strand nylon.
Quality Pays Off
High-quality line has greater abrasion resistance, due to coatings used in the manufacturing process. We use New England Ropes Premium Nylon 3-Strand, which claims 5 times the abrasion resistance of other lines when wet (in the waves and rain of a hurricane, the line will certainly be wet). Abrasion resistance is not only important in the context of chafe but also fiber-to-fiber within the line as it stretches and contracts.
With time, this coating wears off (according to a Practical Sailor article, which also makes logical sense), which is a major factor in older line's lesser breaking strength.
I know, I know. If you are buying a spool of line for tying into mangroves, it's expensive. But losing your boat — or even a 20% deductible for a named storm — costs far more. We buy our lines from West Marine:
The Right Size
Using the right diameter line is also important. Too small a line and it won't have sufficient strength or mass to resist chafe. And while stretch is generally good, too small a line will stretch so much that it will build up heat internally which also leads to line failure.
Larger line has a greater breaking strength and won't have as much heat buildup. However, too large a line won't stretch but will shock load the attachment points, which can rip cleats or winches out.
For our hurricane lines, we use one size larger than our everyday lines — with our Gemini catamaran, that means using 5/8″ line instead of our usual 1/2″. With the heavier winds and waves of a hurricane, this still stretches to absorb the shocks of gusts and waves while providing a little extra strength and abrasion resistance.
Splices Beat Knots
In Practical Sailor tests (and I've read similar things in other tests), knots reduce the breaking strength of line by about 30% (conventional wisdom says 50% but it depends on the knot used), whereas splices reduce the breaking strength by about 10%. Obviously, with hurricane forces, you want every bit of breaking strength available to keep your boat secured. So that favors splices.
The reality, however, is that splices won't work everywhere (such as tying a boat into mangroves or to pilings), and they are time-consuming to do. One solution is to buy dock lines with pre-spliced eyes or to prepare lines in the off-season. Where you have to use a knot, my research says that bowlines and rolling hitches will preserve more of the line's breaking strength than most other knots.
Our personal experience is that for connecting two lines to form a longer line, using two rolling hitches is better than two bowlines or a sheet bend (this was not in a controlled testing environment but in post-hurricane actual usage — creating a longer line to refloat grounded boats — so I cannot say that it is always better).
Further Resources
Over the years, I've read considerably on lines and hurricane prep. I cannot begin to list all the resources, and I will say that some contradict others and some of the recommendations just do not seem practical in real-world conditions.
I prefer simple solutions that do not involve fancy rigging, special knots or hardware in order to work properly. And that leads to my recommendation for brand-new, high-quality 3-strand nylon lines one size larger than everyday lines, and spliced wherever possible instead of knotted. Other people may make different recommendations.
Here's a good article if you want to read more:
Read Next:
Give your boat its best chance in hurricane season:


Making Boat Life Better
Some links in this article (including all Amazon links) are affiliate links, meaning that we earn from qualifying purchases.