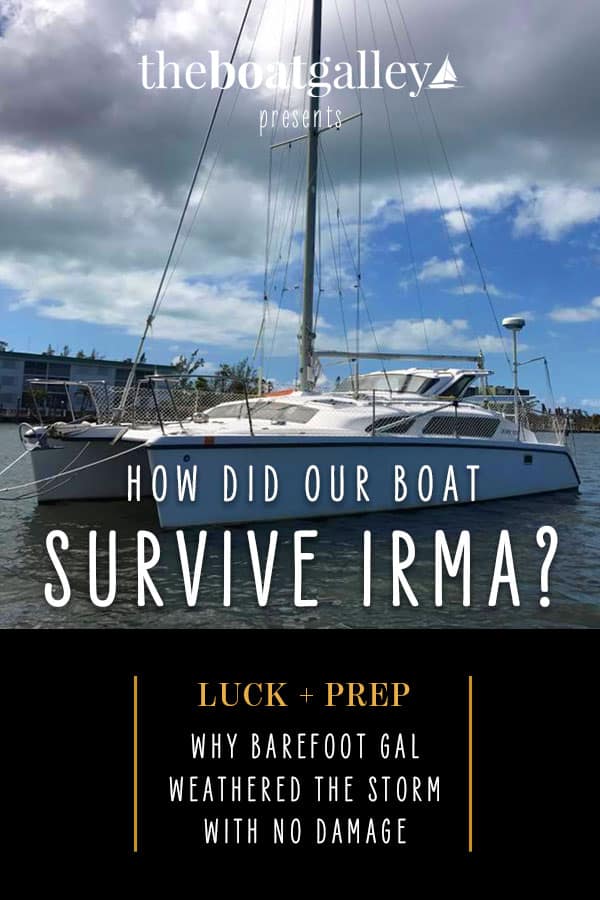 Ah, the $64,000 question. Why did our boat, Barefoot Gal, survive Hurricane Irma when so many other boats in Boot Key Harbor did not?
Approximately 75% of the boats on mooring balls came loose and were swept into the mangroves, into canals or sunk; some will be salvaged but most are a total loss. That's a sobering number: 75% lost. Fifty-four boats out of 220 on mooring balls were still there after the storm.
Make prepping for a hurricane easier and a little less stressful with my 10-point tip sheet and editable hurricane prep checklists. Download them for free: Hurricane Prep Checklists.
So how did BG happen to be one who did? And with virtually no damage?
After seeing what boats survived and talking to four people who were on their boats during the storm, I think there were two factors at play. First, we prepped BG as well as we could (more on this below) to give her a fighting chance.
And second, there was luck. I am normally not a big believer in luck, believing that you making your own luck. But in this case, I do think there was a random element as to what mooring ball she was on in relation to the winds the harbor got.
Together, luck and prep enabled our boat to survive Hurricane Irma.
The Luck Factor
Irma's eye went just west of BKH — in fact, the eastern bit of her eyewall raked the harbor. That means that the winds came first from the east, then the eyewall with the strongest winds from the south, then from the west as the storm moved off. The harbor never experienced north winds.
We happened to be in the southernmost row of mooring balls, with a row of condos on shore to the south. That probably gave BG a little shelter from the worst of the winds.
More importantly, as other boats broke free in the harbor, they were swept to the north, northwest or northeast. No boats litter the southern shore. We just didn't have the volume of loose boats hitting BG that some other areas of the harbor did. Had the storm gone a bit more to the east and there been winds from the north, BG would have been a sitting duck.
According to the people who were here for the storm (not something I recommend), a few boats broke free of their moorings or anchor (not sure if dragged or parted the rode) and became pinballs going through the mooring field and anchorage. One large boat took out the very large dinghy dock even. As more and more boats and dock sections went through the remaining boats, more broke free or were substantially holed and sunk.
As I understand it, the debris field moved west through the harbor in the first half of the storm until largely stopped by the "Bridge to Nowhere" at the western end of the harbor; in the second half of the storm, some of the mess that wasn't trapped in the bridge was swept back through the harbor to the east.
It's notable that few moorings seem to have been pulled loose; the problem seems to be that boats came loose from the moorings. There are two possible causes: lines chafing through or cleats pulling out. Talking to people who have checked some of the balls, chafe seems to be the primary culprit. My guess is that as boats hit boats and piled up, any chafe that was already happening simply accelerated with the additional forces.
Barefoot Gal's Prep
As far as our prep goes, I don't think that there is one all-important item other than removing sails. I think various items may have each contributed 5% or so to the outcome — it's the sum total that's important.
Sails Off and Deck Stripped
We removed all the sails and totally stripped the deck to reduce Barefoot Gal's windage. The grill, stern anchor, cockpit cushions, cockpit lights, winch handles, hatch and window covers and even the clotheslines were removed. Everything that could be removed was. Read more about removing sails and reducing windage.
Bilge Pumps and Battery Power
We did leave our solar panel in place. We had considered removing it but decided that since we were leaving the boat five days before the storm was due to hit we needed to leave it so that the batteries would stay charged up to run the bilge pumps if needed.
And that's another thing. Geminis are built (or were when BG was built) without automatic bilge pumps. Just a few months ago, we had figured out how to run the wiring and discharge hoses and installed bilge pumps and float switches. BG did take on some water (two hatches seem to have leaked) but the bilge pumps kept up with it.
To help the battery power (and also as we didn't know how long we might be gone), I emptied the refrigerator and turned it off.
Lines, Cleats and Chafe Gear
We used brand-new lines that were one size larger than our "everyday" lines to tie BG to the mooring ball. Sizing lines for storm tie-up can be tricky: they need to be big enough that they won't snap, but they also have to be small enough that they will stretch and absorb the shock loading that occurs with gusts. We use high-quality 3-strand nylon line specifically for its stretch characteristics (braid does not stretch as well); our regular lines are 1/2″ diameter, storm lines are 5/8″. See what we use (Amazon).
New line is important: line that has seen squalls has probably been compromised to some extent, as has line with much UV exposure (it's my understanding that UV damage makes it less stretchy and more prone to snapping). Yes, our brand new lines cost over $100 and will be retired immediately. We already have a new set of storm lines in case another storm hits. Read more about lines.
We used the recommended storm tie-up configuration from City Marina. This has two lines with spliced eyes and one backup regular line all tied to the mooring pennant. This method of tying considerably reduces the chafe on the pennant eye – never just loop a line through the eye as it will saw back and forth and quickly chafe through. Each line goes to its own cleat on the boat.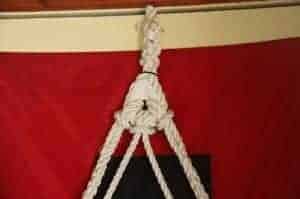 Independent lines and separate cleats are important so that if one line chafes through or pulls a cleat out, the others can still hold the boat. The center line has a bit of slack in it so that it does not take load unless one of the other lines fails.
And then there was our chafe protection on the boat end. We used old fire hose (fire departments give it away free; many marinas get it in bulk as it is replaced and then will give it away). We punch a hole in the hose and then use 1/8″ line to tie the chafe gear to the boat, not to the line. This way, as the line stretches and slides, the chafe protection stays where it is needed.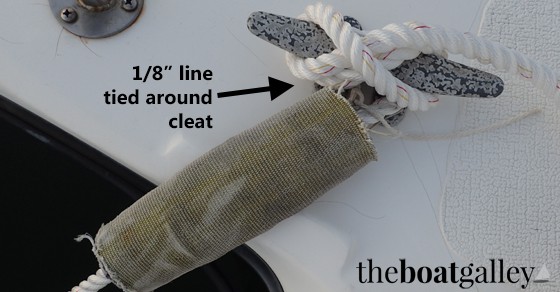 Miscellaneous Bits of Hurricane Prep
Another possibly important thing we did after buying BG was to replace the weatherstripping and latches on all the exterior lockers so that they were less likely to fill with water. We had minimal water intrusion in the two lazarettes and sail lockers and no water in the propane locker, line locker and engine compartment.
The final item that I can think of is that the bottom of the boat was clean. Probably not a huge factor, but in the wind waves and storm surge, reducing the underwater drag probably also helped to reduce the force on the mooring and lines. Every little bit helps.
The dinghy and outboard were stored ashore in the marina workshop area. Unfortunately, the outboard was on the floor and the building had 16″ of water inside from storm surge. Our outboard was submerged; this was our only real damage from the storm.
More Hurricane Prep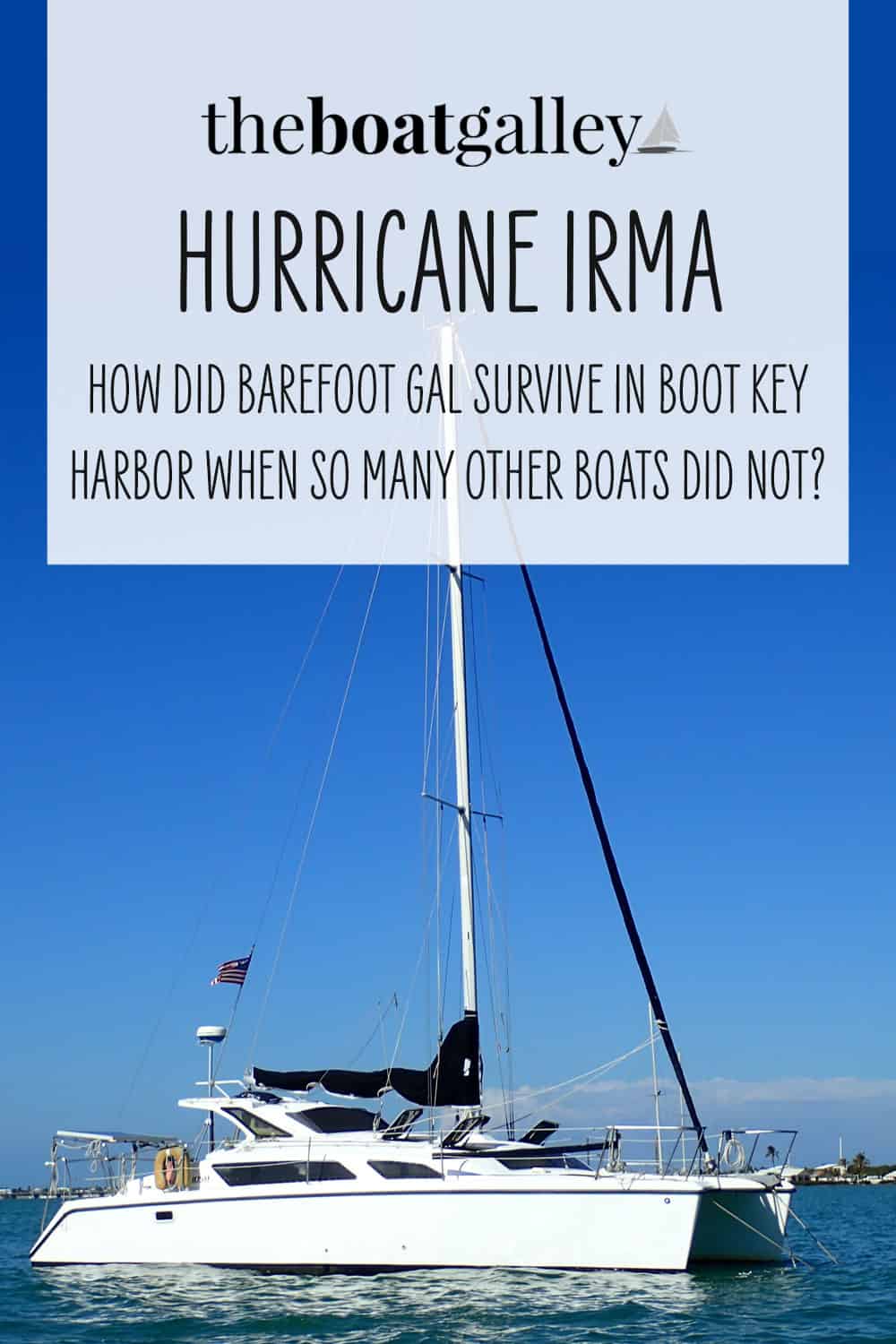 Some links above (including all Amazon links) are affiliate links, meaning that I earn from qualifying purchases. Learn more.