It would be truly wonderful if both ends of a Thermos bottle would screw off, so you could really clean it.  (I got this idea from the Clean Bottle, a water bottle that unscrews on both ends so long distance bike racers can scrub out their sugary sports drinks).  But alas, the folks at Thermos haven't done this.  So how to clean a Thermos?
For simple stuff, like just everyday coffee in the Thermos, it's pretty simple:  a bottle brush (look for them in the baby department, not kitchen or housewares), dish soap and water.  Scrub some, add some more water and shake it up.  Pour it out and rinse.
OK, you probably knew how to do that.  But if you do any Thermos Cooking . . . or make yogurt in your Thermos . . . or use it to keep soup hot on watch . . . or just have been putting coffee in there every day for the last month, there's going to come a day when you need more cleaning power.
So here are six techniques that you can use to clean that gunk out of the Thermos.  Choose whichever one you have the supplies for (I know, some aren't items we normally have on board).  All of these work well on stainless, glass-lined and plastic "vacuum bottles."  And yes, it's easier to clean wide-mouth bottles — but sometimes that's not what we have.
1.  Denture cleaning tablets. Use roughly 1 tablet for every two cups the Thermos holds.  Drop them in and add water (hot is best, but regular will work) — it will foam up, so do this with the Thermos in the sink and don't put the cap on.  Let it sit for several hours — or overnight.  Pour some of the solution out, then use the bottle brush to scrub inside to make sure that all the loosened bits come out.  Pour the solution out and rinse several times.
Denture cleaner is designed to get bits of food and scum off dentures, and is the best cleaner I've ever found for a Thermos.
2 .  Dishwasher powder. Not your regular hand dishwashing liquid, or dishwasher liquid (although that is a second choice), but dishwasher powder.  Not something you normally have on board, and it can be hard to find (and expensive) in less developed countries.
Use about 1 tablespoon per quart (4 cups, 1 liter) that the Thermos holds, and add hot water.  Depending on the brand used, you may have to briefly put the cap on and shake it up — if this is the case, remove the cap carefully as pressure can build up as the detergent foams.  Leave the stopper off and put it in the sink for several hours to overnight.  Follow the rest of the instructions for using denture cleaner.
I find the denture tablets are easier to use and do a little better job of bubbling stuck on bits off, plus they're much easier to store and use.
3.  Baking soda and vinegar. Put about 1″ of vinegar into the bottom of the Thermos (cider vinegar works best as it's the most acidic) and add 1 tablespoon baking soda for every 2 cups that the Thermos holds.  Quickly fill the Thermos with boiling water.  It'll foam a little but not as much as the denture tablets or dishwashing powder; the rest of the directions are the same as above — don't cap, let sit, scrub and rinse.
This is a great fall-back method, as almost everyone has the supplies on hand.  It takes more scrubbing than the methods above, but it's significantly better than just dishwashing soap.
4.  Baking soda and hydrogen peroxide. If you don't have vinegar, you can use hydrogen peroxide in its place; same instructions.  Do not use lemon juice as a substitute for vinegar in a stainless Thermos, I've read that it can damage the welds (but I don't know from personal experience).
5.  Baking soda. You can also use baking soda on its own as a scrubbing powder.  Pour some into the Thermos and use a bottle brush to scrub, then rinse well.  It's much less likely to leave microscopic scratches on the liner than cleansing powder (such as Comet) — and scratches can result in cracks or corrosion.
This works better at getting stuff off the sides of the Thermos than right at the bottom — the bottle brush just doesn't like to get at the bottom to scrub anything.
6.  Ice and salt. Fill the Thermos about 1/4 full of ice (smaller cubes work best — if your cubes are large, put a few in a plastic bag and hit with a hammer, but don't make them too small) and add 2 to 3 tablespoons salt.  Cap and shake.  And shake.  And shake.  The ice and salt are scrubbing away at the side walls as you shake, so by twisting and turning the Thermos, you'll gradually wear away all the gunk.  Discard and rinse.
This works, but it takes a fair amount of effort . . . and ice.
Any other techniques that work for you??
---
Our FREE Provisioning Spreadsheet
Wondering how much of what foods to take on your next trip? Know just how much to buy of what — all arranged by grocery store aisle — with our handy Provisioning Spreadsheet. Includes detailed instructions to edit it for your favorite foods, how much your family eats, and how long you'll be gone. No spreadsheet skills needed!
It's FREE — get it here.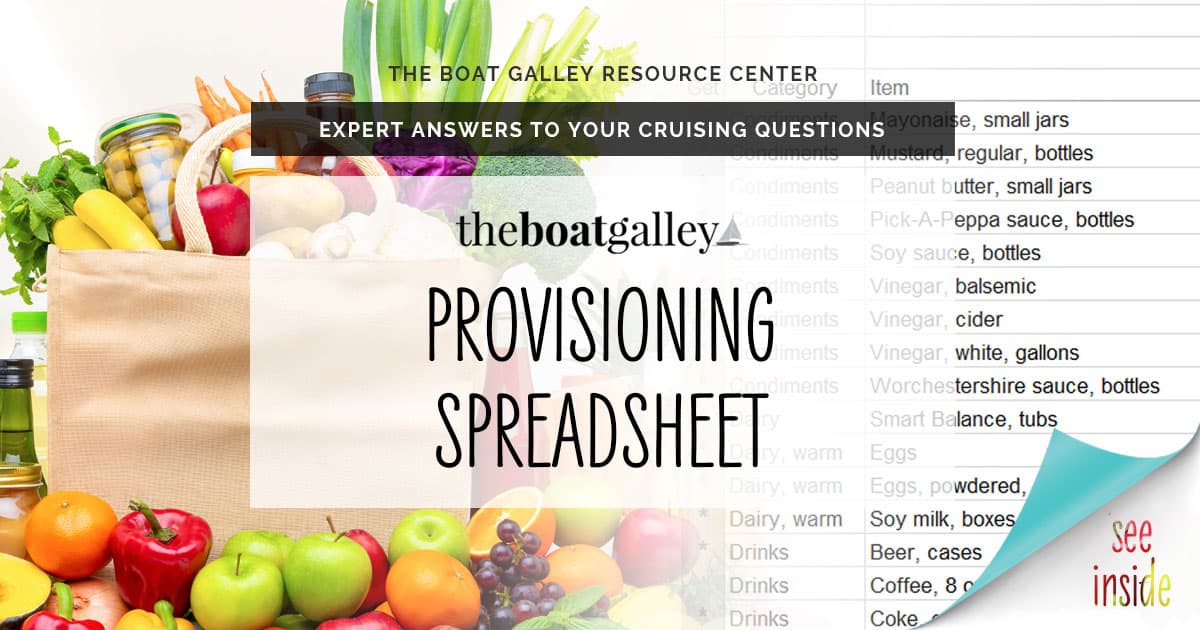 Some links above (including all Amazon links) are affiliate links, meaning that I earn from qualifying purchases. Learn more.