"I'm thinking of putting in an offer on this boat I'm looking at. What's the rule of thumb for how much below the asking price I should offer?"
Learn more about buying and owning a boat, gaining skills, working on your boat, buying stuff for your boat and moving aboard in Prepare to Cruise (free mini-course).
Variations on this question get asked every day. The thing is, contrary to what many people will say, I don't think there's a rule of thumb. I think every situation is different.
How anxious the seller is to sell — already has another boat, can't afford the payments, being sold by someone with no interest in the boat (heirs, or children of elderly parents who no longer can use it), moving to a different area . . . or is just "kinda thinking about selling and if I could l get this much, yeah, I'd sell . . . "?
Is it already priced for a quick sale? (You may just offer the full asking price; we've done this a couple of times.)
What condition is it in compared to the price?
What equipment, spares and other gear (that's worth keeping) does it have that similar boats don't? Only count gear that you care about having and would install if the boat didn't have!
How helpful is the seller? Will they teach you the boat's systems and idiosyncrasies? Will they make themselves available after the sale for questions? (This can be worth quite a bit!)
What oddities does the boat have that might make it less attractive to someone else? Are they already reflected in the price?
What contingencies are you putting in the offer? Subject to financing vs. cash sale? Asking the seller to move it to a different location? Need a delayed closing? Subject to selling your old boat or house? (The more contingencies, generally the more money the seller will want to keep it off the market until the contingencies are met. Cash offers with no contingencies will get you the best deal.)
How perfect is this boat for you? Are there really and truly no others like it? Would your heart be broken if you didn't get it? (There are hundreds of thousands of boats for sale . . . unless it is truly unique, you'll find another.)
Theoretically, a buyer's broker can help you recognize the signals. The reality is that even a buyer's broker is being paid according to the selling price of the boat. There's an inherent conflict of interest: you want to get it for the lowest possible price, they get more if you pay more.
That said, sometimes buying a boat through a broker can get a lower price as the seller's broker can explain to the seller why your offer is a good one (or the best they're likely to get in a reasonable time); sometimes you can get a better deal by talking with the seller directly, either sensing their eagerness to sell or demonstrating why they are the best possible new owners for their well-loved boat, even if their offer isn't the highest.
In other words, there really aren't any givens as to what you should offer. And if a broker tries to tell you of a "rule of thumb," I'd be leery. Do your homework on similar boats. Think about the rest of the buy/sell situation. Come up with what you think is a reasonable number, and make sure it is well within your budget (you will almost certainly put more into initial repairs/upgrades than you expect, so it's nice to have a little leeway in the budget).
Hopefully, you'll arrive at a price that both you and the seller are comfortable with and soon you'll own a new boat!
Let The Boat Galley help you get ready to cruise with a FREE mini course: Prepare to Cruise. Click to learn more and sign up.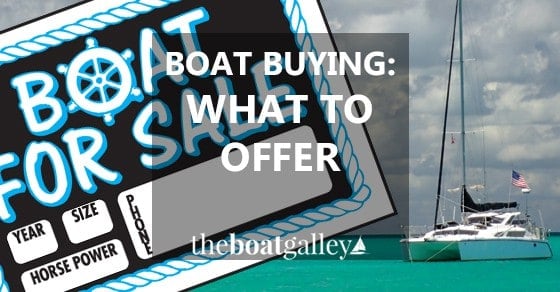 Some links above (including all Amazon links) are affiliate links, meaning that I earn from qualifying purchases. Learn more.