If you're buying your first boat, you may have thought about getting a project boat and fixing it up to be just exactly what you want. I mean, how hard can it be? And by doing the work yourself, won't you save money? And project boats are soooo cheap!
Okay, so what's a project boat? It's the nautical equivalent of a fixer-upper or handyman's special. Basically, a boat that really can't be used as is. Typically they're being sold very cheaply — or even given away — just so the current owner no longer has to pay storage or look at it. There's a certain appeal in buying an old boat and fixing it up . . . and books such as This Old Boat by Don Casey make the process look easy.
Getting ready to cruise? Prepare to Cruise (a FREE mini-course) gives you lots of free resources along with affordable recommended courses and coaching for more in-depth needs.
I hate to burst your bubble, but I strongly recommend that you do not buy a project boat for your first boat. Even if it's given to you, it's not likely to be a good deal.
Instead, get a boat that you can use right now — it doesn't have to be perfect, but usable — and use it. See what you like and don't like and how you use a boat.
Why not?
Getting a boat is a huge learning curve as it is. Trying to figure out what you really want before you've had any experience with a cruising boat is just impossible.
Even with a "ready to go" boat, you're going to be doing a lot of maintence, repair and yes, even upgrades. You'll find plenty of things to do on your boat, don't worry! You'll learn about boat systems and discover if you even like doing boat work.
Skills that you may have gained in building or rehabbing buildings on land will be helpful, but the experience does not directly transfer. If you do not have experience with boats — and I assume you don't if it's a first boat purchase — there will be a formidable learning curve. Things will take longer and you'll find yourself re-doing things that didn't go right the first time.
You are likely to discover that there is more to be done than you initially believe. Without boating experience, it's impossible to know what all will have to be done. Even very experienced boat surveryors miss things.
Boats pack a lot of gear into a tiny space. Learn how it's been done by others (and what frustrates you) before doing it yourself.
The work will take far longer than you estimate. It is likely to take years, not months. Yes, everyone I've known who buys a project boat says "I can do it faster than that." If you haven't installed boat systems before, it is impossible to appreciate the complexity of systems and the time involved to do "simple" things such as run wires.
You will not save money. Boats depreciate quickly, and boat parts are expensive. So buying a "cheap" boat and fixing it up is likely to cost more than buying one that can be used immediately but may not have absolutely up-to-date equipment. And that's without considering the yard bills and value of your time.
Consider why you want to own a boat: do you want to be out on the water or sweating and contorted in impossibly small work areas?
Project boats need to be undertaken as a labor of love with the understanding that you will never get back what you put into one.
I'm not saying that you should never buy a project boat, but they are not good first boats. You really need to know what you're getting into — and having already owned a boat, maintained, repaired and upgraded her will give you a far better sense of what's involved.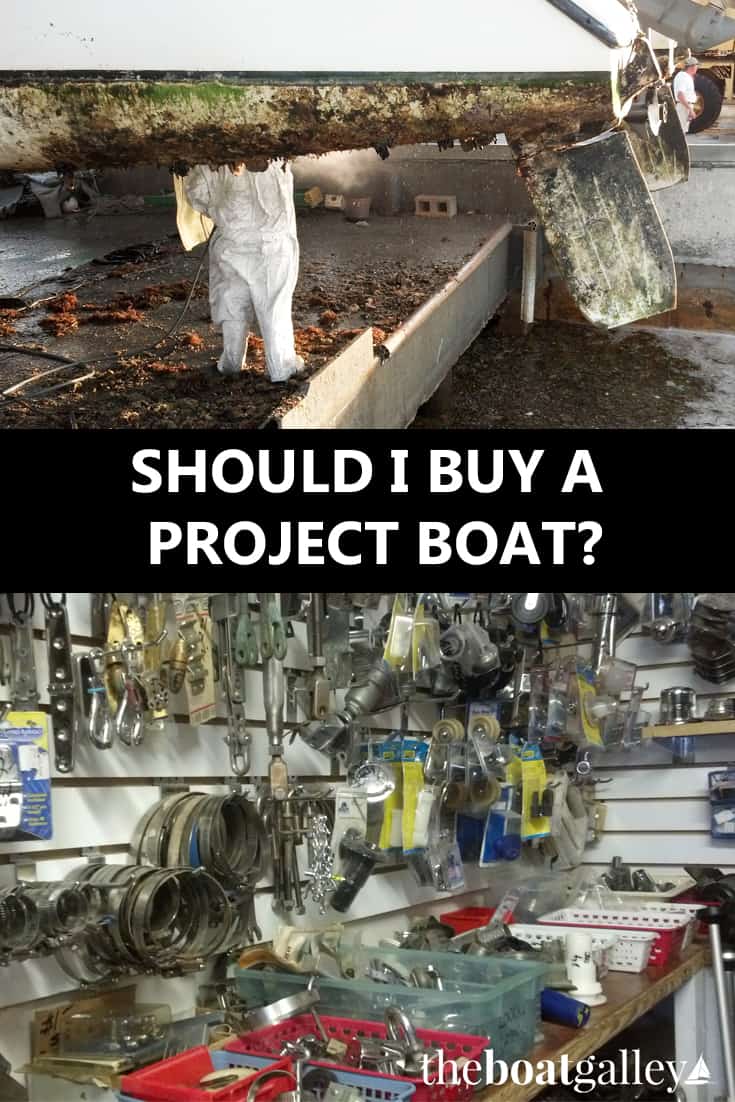 Some links above (including all Amazon links) are affiliate links, meaning that I earn from qualifying purchases. Learn more.