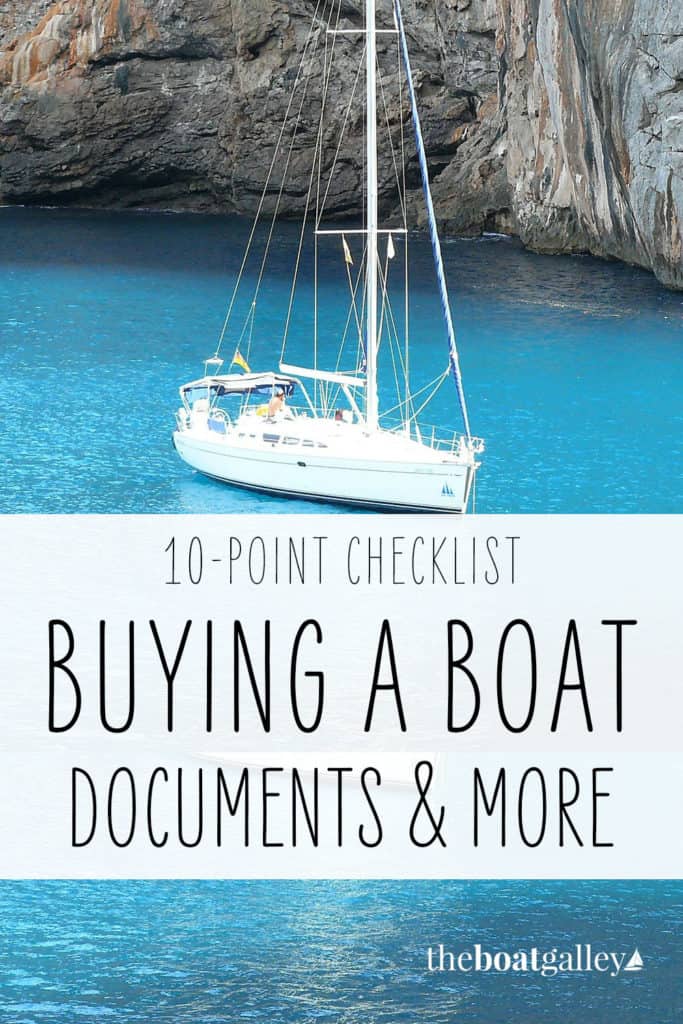 Wondering what you have to do when you buy a boat? Whether new or used, the process is the same and there are there are ten immediate legal and practical items that must be taken care of. Use this new boat checklist before you take that first ride! (Disclaimer: this list is for boats in the US; I don't know requirements in other countries.)
All of these are things you should think about and plan for before the closing. Here's my 10-point new boat checklist:
Title

At the closing, the seller should have signed the title over to you or, if a USCG documented boat, use the appropriate forms. But it's not enough to just receive those forms. You need to mail, fax or hand deliver them to the appropriate office so that title (or certificate of documentation) will be issued in your name. This is your proof of ownership — until you get a title/certificate of documentation in your name, keep a copy of the bill of sale in the boat.

If you used a document service, they should take care of the filing for you but it pays to double-check. And don't forget the dinghy — even if your "big boat" is documented, most states require the dinghy to be titled although a few states do not require title if the dinghy does not have a motor. If your boat has a trailer, it will also need a transfer of title.

State registration

State registration is a tricky topic as the laws vary considerably. I'll give a broad outline, but check the requirements for the state or states that you anticipate boating in. You can Google "State name boat registration" and usually find the requirements.

Most states require that a boat used or in the state for a certain number of days has to be registered there, regardless of where it is titled, whether it is already registered in another state, or whether it is documented. And yes, you usually have to register the dinghy and get plates if there is a trailer.

Sales tax

Unless you bought from a dealer and paid sales tax there, you'll almost certainly have to pay sales tax when you register the boat. If you later register in another state, you'll get credit for the tax you paid in the first state — and generally if it's been longer than a certain amount of time (six months, a year), you won't owe any difference.

State sales tax can add a considerable amount to the purchase price for a boat (7% or more), so it's worth researching carefully. If you are planning to move your boat to another state, you can often save some serious money by considering the tax dates both for not having to register in a particular state and for when "no additional tax is owed" in a state.

Insurance

Once the sale closes, the risk of loss is yours. Know ahead of time exactly what insurance you want and any requirements (such as a survey) for it. Talk to the broker well before the closing and make sure you know what you have to do and by what dates!

Towing insurance

Towing insurance — generally through BoatUS or SeaTow — makes sense in most of the US. Uninsured towing can be expensive, with fees often over $200 per hour. Running aground or needing a tow for repair isn't as uncommon as we'd like to think. Check with local boaters to see which company provides better coverage in your area — both are good companies but which one is better in a particular area varies.

Where you're going to put the boat

Sometimes you can leave it where it is, but more often you need to move it to your own slip, mooring, storage yard or whatever. Figure all this out before the purchase, including the cost and how you'll get it there (have your towing insurance in place before moving it just in case). Don't just assume you'll be able to get a slip, especially if you're planning to live on the boat!

PFDs

Good offshore inflatable PFDs and tethers are expensive. If you don't want to buy them immediately, at least have a sufficient number of basic life jackets for the big boat and dinghy, and have at least one throwable on deck in case someone goes overboard even at the dock. Yes, it happens. Basic lifejackets, more comfortable ones and throwables (note: red are MUCH more visible than the less expensive blue or white — get ones that can be seen in the water) on Amazon.

Fire extinguishers

It just makes sense to make sure you have sufficient fire extinguishers aboard and that they all are in working order (gauge in green or in certification period). We also have two fire blankets as they often put out a fire faster and with less mess. (See my favorite fire blanket on Amazon). If you have a motor on the dinghy, you're probably required to have a fire extinguisher in there, too.

Flares

Be sure you're legal with the required flares for your boat. See requirements here. I really like the new Sirius Signal electronic flares, which are USCG approved, don't expire and don't have you holding burning material on your boat or life raft. See them on Amazon.

Keys

In all the excitement, make sure to get all the keys to the boat from the previous owner — engine, any locked storage areas, companionway, outboard padlock and so on. Make a list ahead of time of all the locks so that you don't forget any!
Download a copy of this checklist and 5 other useful documents for boat buyers and owners for FREE right here.
Read Next
Here's your "Quick Start" to everything you need to know when living on a boat:


Making Boat Life Better
Some links in this article (including all Amazon links) are affiliate links, meaning that we earn from qualifying purchases.