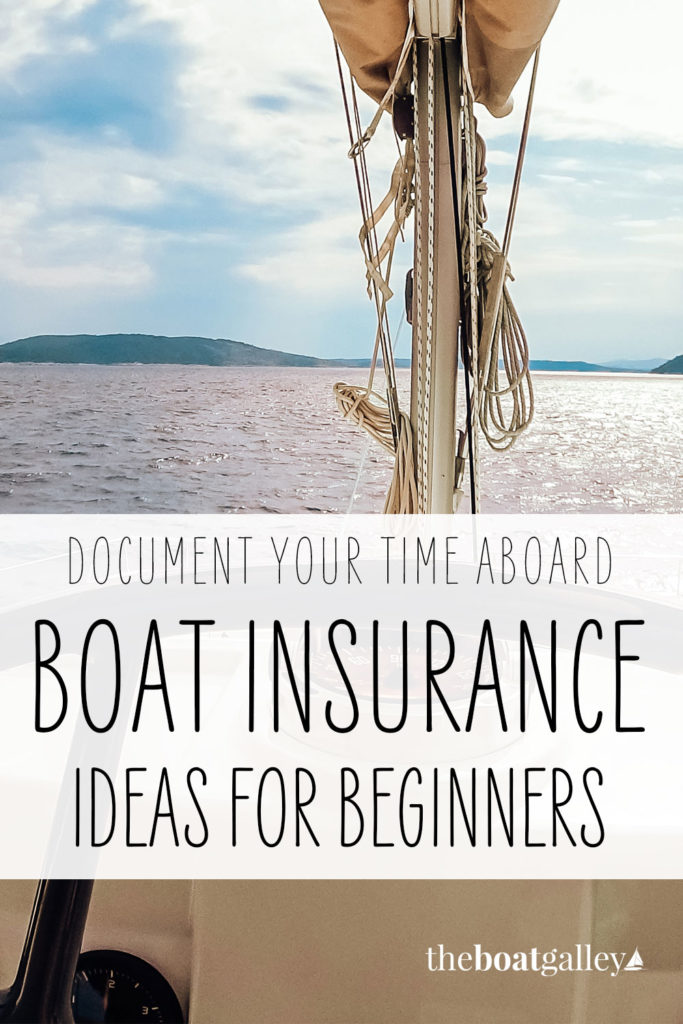 Do you dream of cruising but don't have years of sailing experience? For your own safety, you'll want to learn as much as possible. But you'll also need to document education to insure your boat.
Laura Lindstrom-Croop shares various ways to gain boating experience so you can insure your vessel. Or simply for your own peace of mind.
This is the fifth in her series on understanding insurance when you live on a boat. Check out her previous posts:
---
Lots of people dream of buying a boat and sailing away.
Some people save for years. Others cash out stocks or sell real estate. And some take out a mortgage to buy their dream boat.
But once you own your boat, what's next?
You have to insure it. And one of the first things the underwriter will ask about is your boating experience.
How does a new boat owner learn and gain boating experience?
Gaining Boating Experience
You can gain boating experience in many ways. Some are free, others will cost you, but you can have fun either way.
Free or cheap options
Let's start with free and inexpensive options. Depending on where you live, you may find many or few opportunities.
Google boating safety courses in your town or state and see what comes up.
BoatUS has online courses that are a good place to start. Also, check out USCG auxiliary safety courses.
The US Power Squadron is a volunteer organization with chapters all over they country. Many offer free workshops both online and live. And don't be fooled by the name. Many of their workshops are quite relevant for sailors.
While online learning and land-based workshops are good, the next step will be to get on a boat.
Having boating friends is a great place to start. Go out with them as much as you can, ask lots of questions, and learn from watching experienced mariners. Maybe with time, they will let you drive!
If you don't know people who own boats, maybe you have a sailing club nearby. Check sailing club and yacht clubs. In smaller towns yacht clubs are open to all and welcome people interested in learning how to sail.
Some yacht clubs have a racing night where you can go down to the dock and volunteer to crew. At first, you may just sit on the rail, but you're sailing!
Boat shows are also another good place to learn. You will find sailing seminars and booths with charter companies and sailing instructors.
Also, consider joining Seven Seas Cruising Association. They offer "GAMS" where seminars are given. And you can meet sailors from all over the globe.
If you have the time, another great way to get experience is to offer to crew. Check out websites that feature people who are looking for crew, such as Crewseekers.net, findacrew.net, or sailingnetworks.com.
You might want to start with a short sail, an overnight or two, just in case you don't enjoy it. Then with experience, you can work your way up to longer passages.
I also enjoyed reading books by authors who sailed in the area that I was interested in visiting. A fond favorite was An Embarrassment of Mangoes (Amazon), about a couple who left Canada and sailed to Grenada and back.
But while you can learn a lot from reading and online workshops, you still need to get time on the water. And if you don't live near the water? You'll need to do more research to get experience on the water.
And you'll need to spend more money.
More expensive options
If you don't have a friend with a boat, chartering is your next option.
Pick a waterfront city that you would like to visit and reach out to the local charter boat companies. Tell them you are working on getting experience to operate your own boat one day. They may work with a USCG captain or a sailing instructor who can teach you while you charter. You can charter for a day, weekend, or for a week.
Charters may come with a crew, or bareboat, without crew. For your first time go with a crew. If it goes well, then work up to a bareboat charter.
Sailing school programs are offered through the American Sailing Association (ASA) and the International Sailing School Association (ISSA), as well as others, depending on where you reside. If you are interested in offshore sailing offshore a bluewater course can pack a lot of valuable knowledge in a short time and give you offshore experience. Two well-known programs are Offshore Sailing by the Colgates or NautiEd.
If you have not purchased a boat yet, get as much experience on different types of boats so you will know exactly what features you like and what you do not like.
Start learning on a smaller boat. It's less expensive and a lot of fun to sail. After all, the nautical terminology is all the same whether you're sailing a dinghy or a 40-foot cruising sailboat.
Sailing vacations are another great way to get some on-water experience. You can charter is many beautiful locations such as the Virgin Islands, Mediterranean, or the Sea of Cortez.
Learning on Your Own Boat
If you have already bought your boat, try hiring a sailing instructor or USCG captain to work with you on your boat. They can teach you a lot in a short amount of time. And you're learning on your vessel.
Move on board as soon as possible. Even tied to the dock, you can learn a lot about your boat and liveaboard life. [Note from Carolyn – Living on board before cruising is a great opportunity to learn about and really understand your boat systems. I recommend a systematic approach to exploring all your boat's vital systems.]
Experience and Insurance
Document your experience as you start to sail. All experience counts, whether it's on a friend's boat or a charter boat. It doesn't have to be a boat you own.
Hands-on experience is more important then online learning. But online learning can get you ready for time on the water and will help the training go faster. Time on the water is what the insurance company is looking for.
Your insurance company will give you, credits for training and experience. If you have no experience the premium is higher, if you can get a policy at all. The exact amount varies with company but I encourage people to put down all training whether in class room or at sea. Even if it's on small boats like hobie cats, ski boats, etc.
While most people gather this knowledge and experience before buying a boat, if you simply do not have the time you may still be able to get insurance. But you will probably have to hire a captain/ sailing instructor to operate the boat until you gather all of the skills.
Another option is to call your auto insurance carrier and maybe they can write a policy for you in your local waters.
Sailing is a wonderful adventure, whether it's around your local lake or in the Bay or ocean. I hope I have given you some ideas that can work for you.
---
Laura Lindstrom-Croop has worked as a Claims Adjuster and as an Insurance Agent for over 35 years. She brings a unique perspective to the insurance business as a liveaboard cruising sailor with an Atlantic crossing and over 20,000 miles under her keel over the last 12 years. Her current cruising grounds are from New England to Trinidad. Laura currently works for International Waters Insurance Services, an independent broker that specializes in marine coverages. If you have questions you'd like Laura to address in future posts, leave a comment below or email her at [email protected].
Wondering how to store everything on your boat? Don't worry, we've got you covered:


Make Boat Life Better
Some links in this article (including all Amazon links) are affiliate links, meaning that we earn from qualifying purchases.