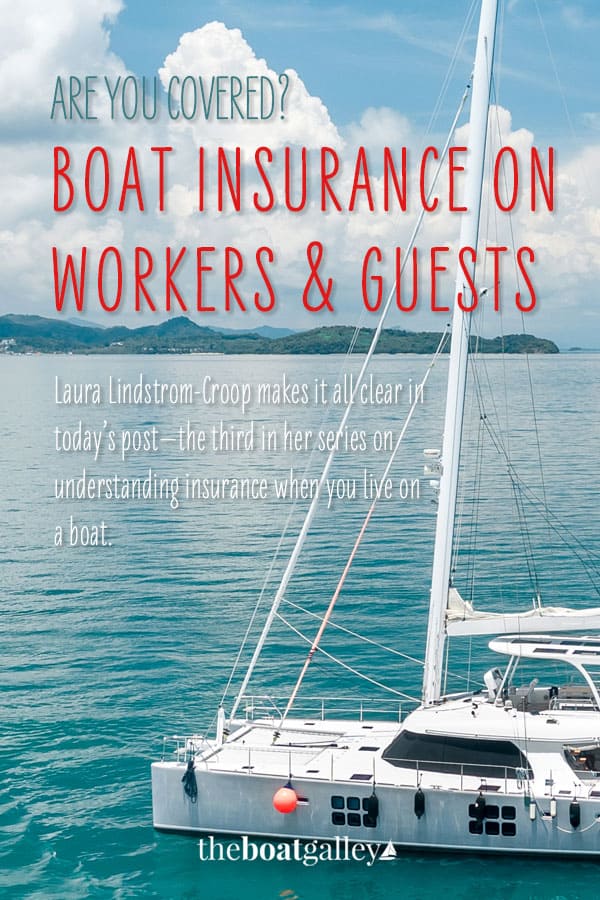 If you own a boat, sooner or later, you'll need someone on board to help you. What if they fall? Will your insurance cover their injuries?
Luckily Laura Lindstrom-Croop makes it all clear in today's post—the third in her series on understanding insurance when you live on a boat. (Check out her previous posts Insurance When You Live on a Boat: Where To Start and Boat Insurance: Hull Values and Premiums.)
---
From time to time we allow people we don't know to come on board our boats, whether it's to repair the watermaker or to help us sail our boat from one destination to the next.
How do our insurance policies affect us? Will your insurance policy cover you if someone gets injured on your boat? These are important questions and ones that you should know the answers to.
Insurance and Boat Work
Let's start with workers on your boat. If you need a specialist to come aboard to help repair something, what happens if they hurt themselves on your boat?
Their employer may cover them if you are in the United States. But what if they workers' compensation doesn't protect them or you are out of the country?
If you are deemed legally liable for their injuries, then the Protection and Indemnity liability portion of your policy will respond. The company will investigate and defend you against any claims that may arise.
An example of such a claim would be a worker walking on your deck when he slips on oil. His injuries were sudden and accidental but somewhat your fault. Your insurance company should cover any resulting claim.
One important thing to remember, if someone gets injured on your boat, don't accept liability. You can be sympathetic and help them get treatment as soon as possible but do not scream out, "Oh no! It's all my fault!"
You can say, "Oh no! I have insurance!" But let the insurance company hash out the details about who pays.
Insuring Delivery Crew
What about the crew you bring on to help with a passage? Ask yourself if you are paying your crew or not. The first question to ask is whether they are paid or not.
Paid delivery crew
Crew coverage is a complex area. But on our boats, most yacht insurance companies offer an endorsement for crew coverage, if you pay your crew.
The wording reads something like this:
"we may at your request extend this insuring agreement to cover any sum or sums you become legally liable to pay and shall pay to hired crew resulting from injury, illness or death occurring whilst in the service of the Scheduled Vessel".
Look for the maximum amount recoverable in case of of crew liability claims on the Declarations page.
To be fully covered if a crew member gets injured on your boat you must add this coverage to your policy. Your insurance company will charge you extra, but if someone gets injured you would be very happy that you have it.
The price varies for how long they will be on your boat, so be sure to let your agent know if they are going to be on board for a few days, weeks, or months.
Unpaid delivery crew
What about non-paid crew? How do you define non-paid crew? Does it count as pay if you buy plane tickets or meals?
Normally, paid means paid for their time on the boat. Most crew charge by the day.
If you are paying for a friend's plane ticket but not paying him anything else, the insurance company would consider him non-paid. But it's best to check with your insurance company.
If you do not pay your crew they are guests on your boat and your medical payments insurance would cover them for small accidents like twisted ankles. But this coverage covers small losses, not major ones.
Medical payment coverage protects the boat owner for accidental body injury claims from getting on, getting off, and while on your vessel. This insurance is in excess of any other health insurance.
If you were liable for an other's injuries, like a back injury from the oil on your deck you would have coverage up to your Protection and Indemnity limit.
Final Considerations for Crew
Confused? When in doubt always check with your carrier or agent.
Think of it this way, anytime you have someone, other than family, on your boat you could be asked to pay a medical bill or be sued if someone gets injured. So it is important to carry the right coverage with a high enough limit to protect your assets.
If you are not paying the injured person, your medical payments limit under your standard yacht policy applies. If you are paying them as crew, it is best to call your agent.
Whether you have guest crew or paid crew, also don't forget to have them approved by your insurance carrier before you let them drive your boat or dinghy.
Most policies are named operator, so your insurance company must approve each person who will spend time at the helm. This may be important for longer voyages where you bring additional crew on board to help. You must add these additional operators to your policy for the duration of time that they will be on board.
These types of claims are rare, but if an accident happens to you you want to know you have full coverage.
Laura Lindstrom-Croop has worked as a Claims Adjuster and as an Insurance Agent for over 35 years. She brings a unique perspective to the insurance business as a liveaboard cruising sailor with an Atlantic crossing and over 20,000 miles under her keel over the last 12 years. Her current cruising grounds are from New England to Trinidad. Laura currently works for International Waters Insurance Services, an independent broker that specializes in marine coverages. If you have questions you'd like Laura to address in future posts, leave a comment below or email her at [email protected].
Give your boat its best chance in hurricane season:


Making Boat Life Better
Some links in this article (including all Amazon links) are affiliate links, meaning that we earn from qualifying purchases.