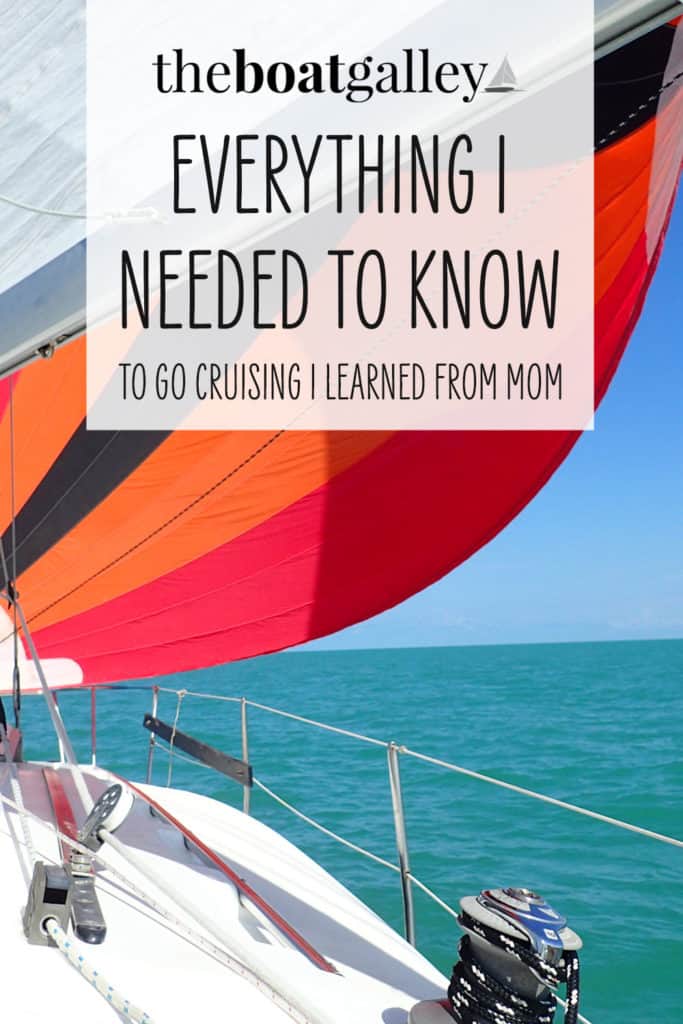 Everything I needed to know to cruise I learned from my mom. No, she wasn't a cruiser, a sailor, a diesel mechanic or an electrician. Those skills would have been helpful, but not as helpful as what she did teach me.
You see, what she gave me was a way of looking at things. Confidence that my husband and I could do something so totally different from anything we'd done before.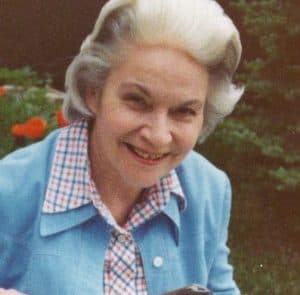 That's my mom, Esther Kaye, less than a year before she died from cancer at a way-too-young 57, when I was just 19. But her words are with me every day.

"If you can read, you can do anything"
Dave and I were life-long dinghy racers when we bought Que Tal and began cruising just a few months later. We had done three charters and twice helped friends deliver boats. That was our only "experience." But we knew how to read . . . and I knew how to order from Amazon.
Within a day of signing the papers to purchase our "new-to-us" (but 24-year-old) Tayana 37, I'd spent several hundred dollars on reference books on everything from diesel engines to 12-volt wiring to navigating with GPS to using radar to anchoring techniques and more. We made sure we had owners' manuals for every system.
We started reading. And with what we already knew, we soon felt confident enough to leave the dock. As new situations arose – and they did, daily – we kept reading and learning. Mom was right: we learned to do everything we needed. We didn't have to know it all; we just had to have a good library.
Prior to cruising, I never dreamed of replacing a voltage regulator. Heck, I didn't even know what a voltage regulator was. But when our batteries just stopped charging in a remote anchorage in the Sea of Cortez, I got the books out, determined that the voltage regulator was at fault and figured out how to install the spare, which was quite different from the previous one. Ah, we could charge our batteries once again.
More often, I was the one perched on the settee, the boat torn apart, reading step by step directions to Dave as he fixed something.
When friends ask us about our most memorable times cruising, we talk of the beautiful anchorages, the wildlife, the countries we visited and get out the smartphone and show pretty pictures. And all that was memorable. But knowing that we both could learn new skills and do things we never dreamed of is what stays in my heart.
Thanks, Mom, for teaching me that I could learn anything from books (and now online) – and that included not just repairs, but the history of the areas we traveled, which fish were the best eating, where the best snorkeling was and more.
Admittedly, not everything went perfectly the first time, which brought out more of Mom's words:
"So it didn't work. What did you learn for next time?"
Almost always, this was accompanied by the story of Thomas Edison searching for the right material for a light bulb filament and trying one material after another with no luck. In her telling, after each unsuccessful try, Edison would say, "No, it's not a failure. I now know one more thing that won't work."
To Mom, not succeeding was never a reason to quit. Instead, it was a cause for analysis, to determine what went wrong and why . . . and, if necessary, make another mistake.
It took us most of our first year cruising to figure out how to keep the halyards from clanking, no matter what the wind did. And our system to hoist the dinghy and motor constantly evolved.
After several times of forgetting something – such as latching all drawers shut – as we left an anchorage, we developed a checklist and taped it inside the logbook. After totally forgetting to provision certain items – toothpaste comes to mind – I developed an inventory and provisioning spreadsheet to make sure we had adequate supplies when cruising in areas without stores.
Two years into our cruising, we spent several weeks "fixing" our refrigerator, which just wasn't staying cold despite running almost nonstop. Something was wrong, but not even the refrigeration repairman knew what. As we went over the whole system one more time, it finally hit us: it wasn't a problem with the refrigerator, it was the batteries. They wouldn't hold a charge. With the voltage low, the refrigerator wouldn't cool – but the thermostat wouldn't let it cycle off. We bought new batteries and installed them. The cold beer an hour later was one of the best I've ever had!
Yes, we had failed to fix the refrigerator . . . initially. But we persevered when the experts didn't have an answer, and success was ours.
Thanks, Mom, for teaching me to keep at a problem, learn from what hasn't worked and never give up.
The final attitude that Mom instilled in me was the most important, though:
"You're never going to feel like you're ready. So just do it!"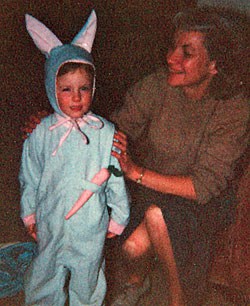 Whenever I was hesitant about a new venture, she'd push me to go outside my comfort zone. One of my earliest memories is Halloween, when I was probably 4. For several days before, Mom had me practice ringing our doorbell and saying "trick or treat" when she'd open the door.
The big day arrived, and I was still nervous about the whole thing. I knew I couldn't do it.
Mom and Dad walked me over to the neighbor's house. But they didn't go up to the door with me. Oh no. They stayed on the sidewalk. I walked halfway to the door, then ran back to Mom and Dad. "I can't!" I wanted more practice.
I very clearly remember Mom crouching down and looking me in the eye. She told me I'd never feel ready, and the only way to do it was just to do it. If I tried it and hated it, we'd go home.
Of course, when the neighbor gave me a chocolate bar and Mom said I could eat it right then, I wasn't about to go home. I went to every house on our block.
Mom believed that you could only "prepare" so long. You had to go out and actually do it. You couldn't know if you were ready until you tried.
Looking back, I think when Mom was telling me to "go do it," she was equally telling herself to let me try on my own. It would have been easy for her protect me, to do things for me, to tell me "no" when I wanted to do something that might get me injured. I'm sure she didn't feel ready to send her 6-year-old (me!) off on a plane – by herself – to visit a friend who had moved away. But instead of showing how worried she was, she told me about the great time I was going to have on my big adventure. She was facing her fears just as she wanted me to overcome mine.
Thanks, Mom, for not just telling me to go outside my comfort zone, but showing me how to do it . . . with a smile to hide the fear.
And in the end . . .
My first overnight passage brought all of Mom's teachings together. Dave and I had offered to help a friend move his boat from the Bahamas to his summer cruising grounds in New England. The first couple of days we hopped up the ICW, waiting for a weather window to go offshore. And as we did the first overnight passage, it hit me that I was not remotely ready to stand watch in the dark in the middle of converging shipping lanes. Frankly, I was terrified. Dave ended up standing watch with me. Although I'd agreed to be the third crew, Dave told me he'd ask Jack to change course for the nearest town with an airport; I could fly home and he'd continue on.
Almost immediately, I could hear what my mom would be saying: Okay, so it didn't work. What was the problem? What do you need to do differently?
ME: Well, I don't really get how to use the radar, I only have a basic understanding of the lights on the big ships, and there are LOTS of big ships.
MOM: Okay, aren't there owners' manuals and books on board that could explain the radar and show the lights? C'mon, you know how to read!
I spent the day reading and learning, practicing with the radar in daylight and relating what was on the screen to what I saw. I wasn't quitting.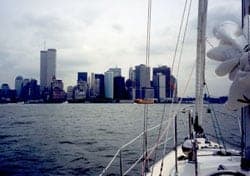 When Dave woke me at 4AM, I still didn't feel ready, but I knew it was time to do it. I got out there and stood my watch. By myself. And it wasn't bad. The next day I read more and asked more questions. The next night was even better.
Coming through New York harbor a few days later, past the Statue of Liberty and the World Trade Center (a few months before 9/11), is a memory that will stay with me forever. One I wouldn't have if I'd given in to my fear.
A year and a half later, Dave and I had purchased Que Tal. We had all sorts of reasons we shouldn't leave the dock. We hadn't inventoried all the spares the previous owner left for us. We didn't completely understand the local weather. We hadn't practiced heaving to. I still had to use a cheat sheet to send e-mail on the SSB. I didn't have a Ham license. In short, we weren't ready.
We left anyway. We learned as we went. We've had the time of our lives.
Thanks, Mom. You taught me what I really needed to know to cruise.
Read Next:
Give your boat its best chance in hurricane season:


Making Boat Life Better
Some links in this article (including all Amazon links) are affiliate links, meaning that we earn from qualifying purchases.