"I could never do that!"
"Why not?"
"I'm not brave like you."
The thing is, I don't think I'm particularly brave. In fact, I'm often scared the first time(s) I do something.
Several times this summer, I've had similar conversations with granddaughters and a couple of friends. Mind you, we weren't talking about adrenaline junkie kind of stuff, but things that would fall on the "mildly adventurous" end of the scale. For one, it was going tubing — even at low speed. For another, roller coasters (never been on even a small one). Snorkeling (she's a good swimmer). Learning to drive.
And I've had some similar email correspondence with readers: I don't want to take the boat into a slip; drive the dinghy; let the boat heel. How do I get over my fear?
I'm emphatically not making fun of anyone's fears here (I have a dog who isn't fazed by fireworks but is terrified of eating from a white bowl; fears have no logic). Everyone has a comfort zone and some things just plain fall outside it.
I'm not sure you really do "get over" your fear. For me, it's a matter of pushing past it. Deciding that I'm going to do whatever it is.
In short, I just try really hard to say "yes" to things that I find myself uncomfortable with. Most have ended up being fun, none have killed me (yet), my comfort zone gets bigger with each one and my life has been far more interesting.
Hence the phrase at the top of this post: Life's more interesting when you say yes. I say it to my granddaughters frequently.
Some things may require training; others may come in baby steps. Some require "just doing it" (apologies to Nike).
Saying no is easy; yes takes lot more mental energy. But no can lead to regret in the future while yes usually enriches our lives.
I've talked before about being terrified on my first overnight passage (read the story here). But I stuck with it and was rewarded by an amazing trip past the Statue of Liberty, the World Trade Center (pre-9/11) and the UN. And then of course all our cruising experiences.
I'm a strong swimmer but my first scuba lesson was a disaster when I had to flood my mask. Total panic on my part. After class I thought long and hard about quitting and decided that tons of other people got their certification; I could too. I walked into the next class determined not to panic and was amazed at how much easier it was. While I snorkel far more than dive, the skills I got from being certified have greatly enriched my life.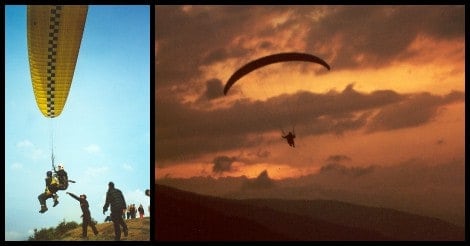 When we were in South America, I got the opportunity to paraglide — tandem with a guy who had just won an international competition for time aloft. I said yes and then nearly backed out as we went up the mountain to the departure point. But I stuck with it (I mean, the guy obviously knew how to keep the thing in the air!) and had a fantastic experience. Not to mention one of my favorite photos.
Actually, Dave and I both really stretched our comfort zone just to decide to take that South America trip. I wanted to travel through the Andes; Dave absolutely hates driving along cliffs (and there are many in the Andes). Dave was keen to see the Amazon basin; I'm terrified of snakes, crocodiles/alligators and piranha (and there are many . . .).
We made a pact that we'd do a trip with what we both wanted and we'd both grit our teeth as we hit the edge of our respective comfort zones. Admittedly, on the "edgiest" road in the Andes, Dave spent a couple of hours sitting on the floor of the bus so he couldn't see out (and had a beer at 8AM) but he loved our time in the Andean villages and trekking to Machu Picchu.
My worst day had big snakes, crocs and piranha all within an hour of each other. But I conquered my fear to the point of taking pictures of all and even jumped into the lake where the piranha were (photo is of Dave diving in since no one took one of me!).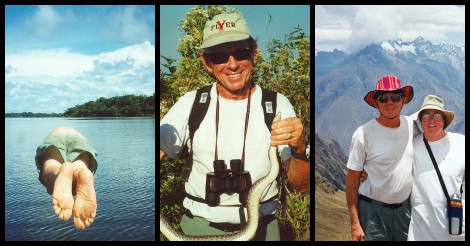 Saying yes despite our fears and discomfort gave us incredible experiences.
But that's not to say that there weren't times we just hit the limit of "YES" — I never held a snake and Dave couldn't bring himself to try paragliding. And that's okay. There are limits to expanding your comfort zone. It's not a failure to occasionally say no or not today. Trying hard to say yes doesn't mean you always can.
But when you do, sometimes you end up having the time of your life.
Just last weekend I was talking with Jan, my cookbook co-author (she writes CommuterCruiser too), about their planned trip to Utah next spring. She wanted to know our highlights when we'd been there. One that I mentioned was rafting the Colorado river out of Moab. Jan looked as me as if I was nuts and said there was no way she was going whitewater rafting. We talked a bit about the fact that there are "easy" whitewater trips and told her I thought she'd love it. And of course I gave my "life's more interesting" pitch.
This past weekend, she and her husband David went to Denver to visit her son and his girlfriend. And imagine my surprise when this photo popped up in my Instagram feed: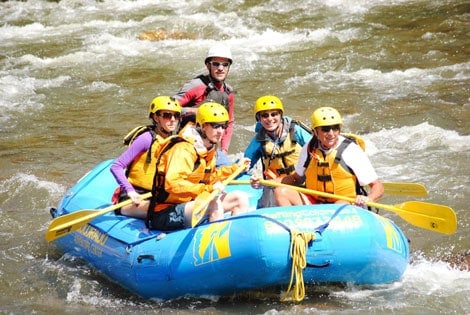 See that person with the HUGE grin? That's Jan! Her comment in her Instagram feed: "I loved every minute! I'll need the name of the place in Moab that you & Dave enjoyed!"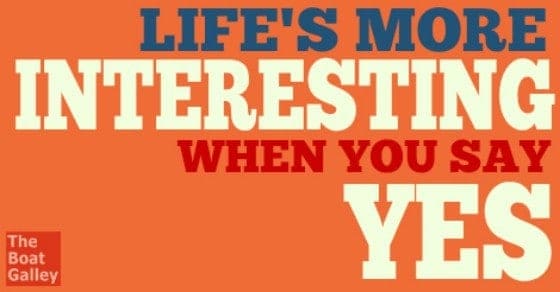 Some links above (including all Amazon links) are affiliate links, meaning that I earn from qualifying purchases. Learn more.