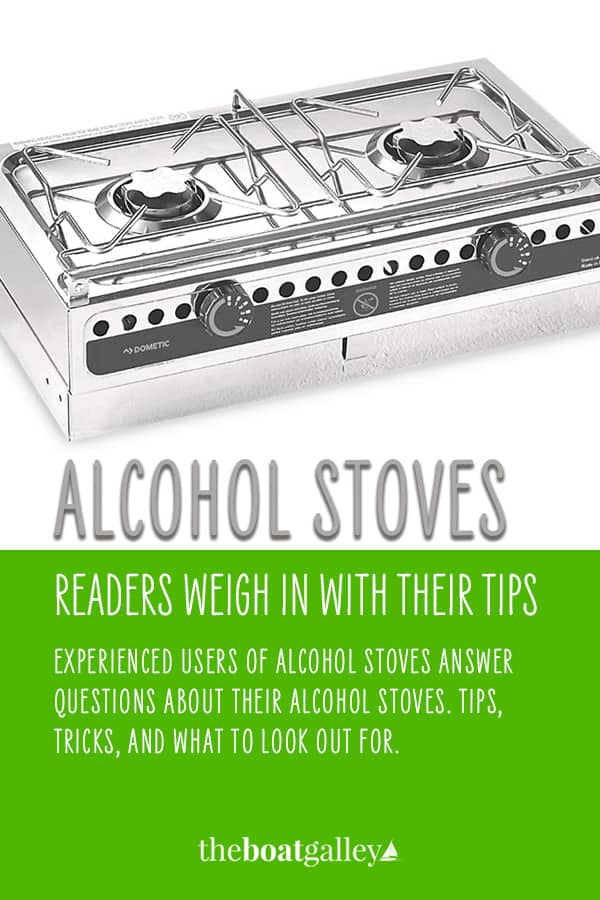 A couple of weeks ago, I got a question from Janice about using an alcohol stove:
We are in the process of purchasing a boat with an alcohol stove. I know nothing about them. I have only had propane. Have you had any experience with this type of stove? I'm curious of its safety and how difficult it is to find alcohol. Also, if there are any difficulties with use. Basically anything you can give me.
Well, I've only used one a couple of times, on friends' boats, and it was over 15 years ago. So I did what I usually do when I need help answering a question: I turned first to TBG readers on Facebook. And they gave me quite a bit of info, which I then supplemented by a few Google searches.
To begin with, most alcohol stoves used on boats are "non-pressurized." These don't have to be primed and are considered far safer than the pressurized type. The most popular brand for boats is Origo, and they have several models, including some with an oven.
Let's begin with what other readers said on The Boat Galley's Facebook page. I've compiled the comments here, editing a bit for clarity:
Liz Mehrtens We have an Origo and just love it. Not hard to get alcohol. We like the brand at Lowe's best. Filling can be tricky but there are several tips online that have proven to make it an easy job. [Note from Carolyn: the link Liz gave me was by subscription only, I found the following description but it is no longer available] You can get the Spill Saver device pretty cheaply on Amazon (US) if it's not available at an automotive store near you (NOTE: one reader reported that this does not fit her metal cans)
Gina Smith commented on the fact that alcohol stoves just don't burn as hot as propane, CNG or kerosene and cooking times will be longer.
Chris Link I use my alcohol oven and stove a lot, easy to get denatured alcohol at hardware, paint and boating stores, even readily available in Marsh Harbor, Bahamas.
Ritchard Findlay I use my Origo stove all the time. Easy, safe, convenient. I use what we call Methyl Hydrate here in Canada. It's as Chris says above, available at every hardware store in North America in the paint dept. I pay about $8 a gallon, and that lasts a long time. You can buy stove alcohol at chandleries, but I am really not aware of any true advantage, and it costs 4x as much. If the stove doesn't have them, find some of the neoprene gaskets that seal the top of the fuel canister when not in use. Otherwise the fuel evaporates quickly.

The most important safety rule is to remove the canisters from the stove to refill.
Al Felker We have used these stoves in the past. Do not get the pressurized alcohol version. They have a bad history of clogging/malfunction/flareups.

Filling the pots is a science. Hold at 45 degree angle while slowly filling pot. When you see fluid at lip, stop filling.

You can also use HEET® brand Gas-Line Antifreeze & Water Remover as well. We have used it many times and is much cheaper as well.
Steven K. Roberts I know in a pinch Everclear works.
Alan Heaberlin Everclear is a wonderful substitute for ordinary denatured alcohol. You can drink it in a pinch. When I was a backpacker I would carry a small quantity for mixing with Crystal Light, making a nice evening cocktail as well as making the stove roar!
Radar House Walmart used to sell alcohol in their paint dept…….haven't bought any in a while…..
No one mentioned it on Facebook, but a small minority of people find the smell that alcohol stoves give off when burning really bothers them.
Another important thing to know about alcohol stoves is that there is typically very little color to the flame. It can be hard to tell when one is lit — or if it goes out accidentally. A friend of mine burned her hand by not realizing that a burner was lit.
A good safety practice is to remove the fuel canisters and fill them away from the stove area — and be sure to wipe up any spilled alcohol. If alcohol spills right near the stove, it can be easy to miss it — and then it can light when you're lighting the stove. There have been comments about this on my Fire Aboard and Using a Fire Extinguisher articles.
The Origo Operator's Manual also gives lots of useful information about using an alcohol stove.  You can read it and download it (PDF format) here.
And finally, Good Old Boat has a very comprehensive article on its website, comparing pretty much all the varieties of stove fuels and giving many tips about each
Read Next
Want some help with that tiny refrigerator? Check out our step-by-step how-to:


Making Boat Life Better
Some links in this article (including all Amazon links) are affiliate links, meaning that we earn from qualifying purchases.