If you have a composting toilet, you know about keeping the "pee container" clean. The various toilet manufacturers recommend using either vinegar or sugar to keep the container odor-free and to keep deposits from building up in the bowl and tank. We tried both and felt that vinegar was by far the better. We'd put about a half inch of white vinegar in the urine container after we'd dump it, and then spray down the bowl with a 50/50 vinegar/water mix after every time we used it.
This worked okay, but there were a couple of problems. First, solids would collect in the container, despite our best efforts to rinse it out. Second, while we took several gallons of vinegar with us to the Bahamas when we last went, we didn't have room for enough for three months. And it turned out that gallons of vinegar were VERY expensive in the Bahamas. We ended up using the less satisfactory but way more affordable sugar for the second half of our trip.
Then Sean, a reader, left a comment on my Composting Toilet article, telling about Urine Digester. It's a bio-enzymatic liquid designed for treating pet accidents in carpet and the like. We definitely prefer it to vinegar or sugar.
Urine Digester has several advantages:
It is equally effective as vinegar in stopping urine odor; more effective than sugar.
It smells better in the head when spraying it after using the toilet.
It is more effective than vinegar or sugar in preventing any deposits building up in the toilet or urine container.
We use way less Urine Digester than we did vinegar. One gallon will last close to 3 months.
We fill a spray bottle 50/50 with Urine Digester and water. When we empty the urine container, we put about a cup of water in and swish it around, then empty. Then we give three or four sprays with the Urine Digester inside the container and it's good to go. Then every time we pee, we spray two or three squirts in the bowl after. This both cleans the bowl and adds a bit more Urine Digester to the container.
A gallon of Urine Digester costs about $20 but lasts close to 3 months. In the US, pretty equivalent to what three months' worth of vinegar would cost. But it's decidedly cheaper than vinegar in the Bahamas (we paid almost $20 for one gallon on Eleuthera). Further, we don't have to carry nearly so much with us, which is always a huge benefit on any small boat.
The only place I've found Urine Digester is Amazon:
It is also available in quart bottles, which would last about 3 weeks of full-time use, and also in other scents.
---
Our FREE Provisioning Spreadsheet
Wondering how much of what foods to take on your next trip? Know just how much to buy of what — all arranged by grocery store aisle — with our handy Provisioning Spreadsheet. Includes detailed instructions to edit it for your favorite foods, how much your family eats, and how long you'll be gone. No spreadsheet skills needed!
It's FREE — get it here.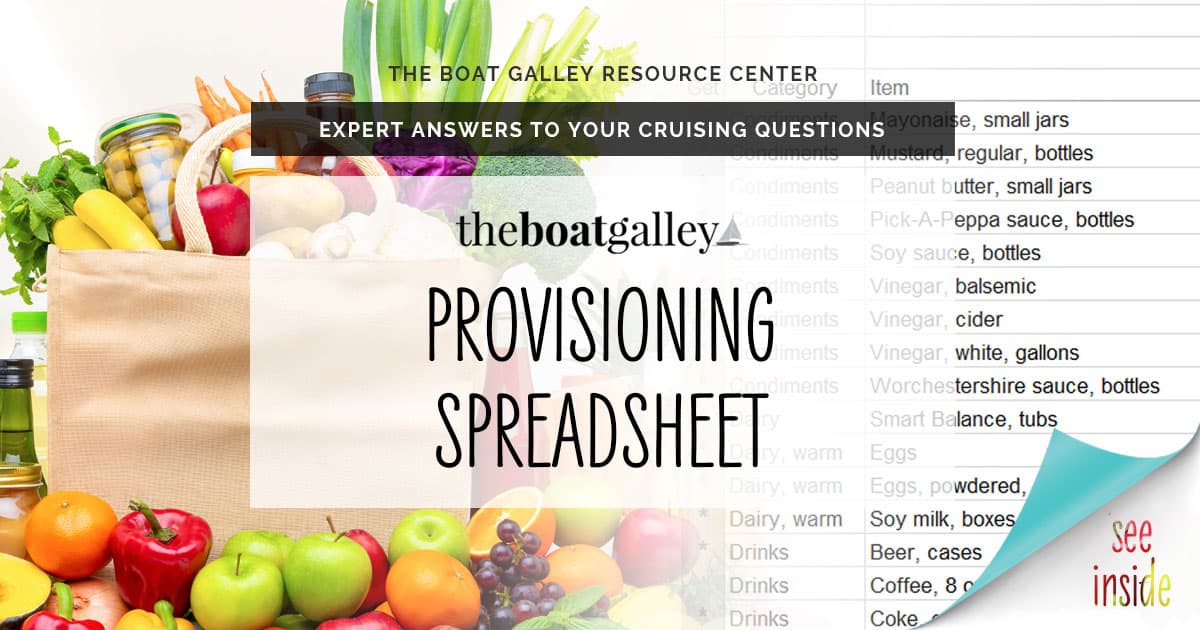 Some links above (including all Amazon links) are affiliate links, meaning that I earn from qualifying purchases. Learn more.